Syria Civil War: 5 Children Killed By Assad's Forces, Human Rights Group Claims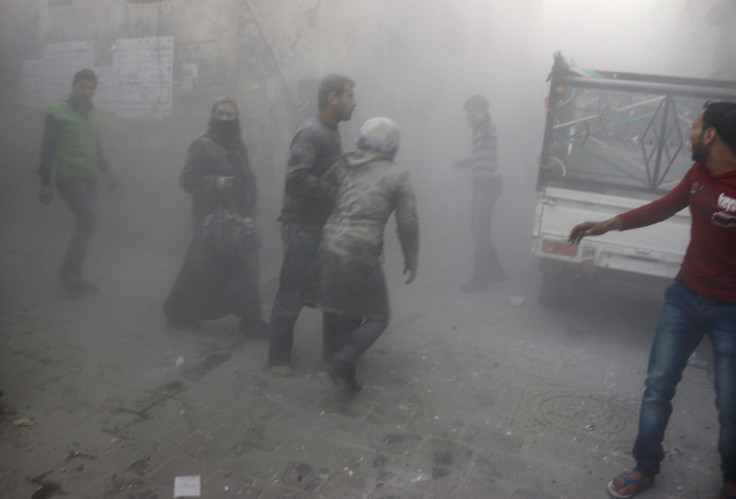 Five children were among at least 10 people killed in Syria when forces loyal to Syrian President Bashar Assad bombed suburbs of the capital Damascus, where fighting between Syrian government forces and rebels, including militants from the Islamic State group, has intensified, Al Jazeera reported Thursday, citing the Syrian Observatory for Human Rights. The U.K.-based watchdog group said Assad's forces have conducted more than 1,700 airstrikes since the beginning of the month, including 725 strikes in and around Damascus.
Since the city of Idlib fell under rebel control last month, fighting has intensified in the suburbs of Damascus, Beirut-based Al Jazeera reporter Mohamed Jamjoom told the network. "In the intervening time, there has really been an upswing in the ongoing aerial bombardment by Syrian forces," he said. "It is getting bloodier and bloodier by the hour."
Zabdean, a suburb of Damascus, was hit by airstrikes on Thursday that left 10 people dead, including the five children. In Aleppo province, in northern Syria, two children were wounded when warplanes bombed the city of al-Bab, the observatory said.
A Saudi commander of Jund al-Asqa, one of the rebel groups fighting the Assad regime, was one of the casualties in clashes in the Damascus suburb, according to the observatory. Three Islamic State group militants were also killed in the fighting and "many civilians" were wounded when Syrian military planes bombed the village of Mashmashan.
In Duma, another Damascus suburb, a man was killed by an "aerial bombardment," while a man and child died "due to poor life conditions in the city," according to the observatory.
Meanwhile, the group also reported Thursday that the Yarmouk refugee camp in Syria's capital city, home to many Palestinian refugees, is 80 percent controlled by the Islamic State group, also known as ISIS or ISIL. Many refugees evacuated earlier this month as ISIS forces closed in on it.
© Copyright IBTimes 2023. All rights reserved.
FOLLOW MORE IBT NEWS ON THE BELOW CHANNELS