Syrian Military Denies Reports Government Used Chlorine Gas In Attack That Killed 6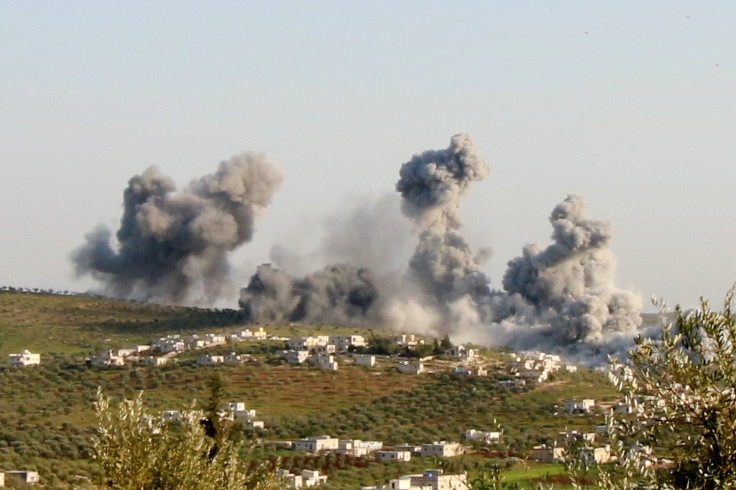 The Syrian Observatory for Human Rights said Tuesday that government forces conducted a poison gas attack on Monday that killed six people, including three children, while a dozen others faced suffocation. Medical personnel had posted videos online showing children who had suffocated from barrel bombs, SOHR reportedly said.
A statement from the observatory on Tuesday claimed that government forces had used chlorine gas in the attack even as warplanes reportedly continued to raid Sarmin village in the northwestern province of Idlib, injuring many people. SOHR added, citing sources, that among the people killed in the gas attack were a man, his wife, three children and another woman. An army statement had previously said that many militants were killed overnight during clashes in other areas of the province, Reuters reported.
A military source denied SOHR's claims and dismissed them as propaganda, according to Reuters. "We confirm that we would not use this type of weapon, and we don't need to use it," the source reportedly said. The Syrian government has previously denied accusations that it used chemical weapons during the ongoing civil war.
The Syrian Civil Defence rescue organization had posted several videos on YouTube, one of which showed a woman and three children in an unconscious state, the Reuters report said, adding that the videos were reportedly posted sometime during the night. The videos, which reportedly show a medical center in the background, bore Monday's date, and a recorded voice states the village's name as Sarmin.
A male voice reportedly says in the video: "One of the infants, only a few months old," showing a baby lying on a gurney, and the video also shows a man wearing a gas mask bringing two more infants while another man carries a young girl, according to Reuters.
The Organization for Prohibition of Chemical Weapons, an international watchdog, had said in January "with a high degree of confidence" that chlorine gas had been used against civilians in Syria last year, killing at least 13 people.
© Copyright IBTimes 2023. All rights reserved.