Syrian Refugee Crisis Deepens, Showing No Signs Of Slowing Down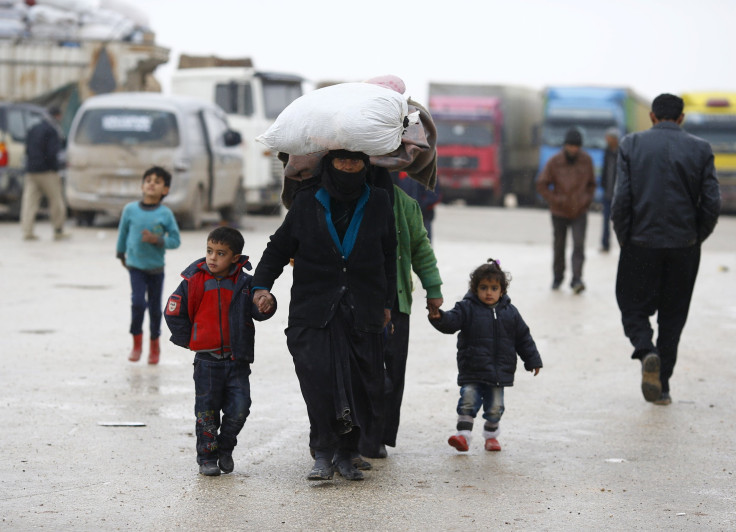 Turkish officials said Saturday the number of Syrian refugees trying to cross into Turkey after a surge of fighting in Syria nearly doubled in just one day, pointing to a worsening of the crisis.
The BBC reported the Turkish border province of Kilis estimates about 35,000 refugees at the Syrian border — up from 20,000 Friday. And many of those refugees were forced to hole up at the border as Turkey shut down its entrance.
King Abdullah of Jordan announced last week his country was at "a boiling point" over the influx of hundreds of thousands of refugees. Jordan has welcomed refugees from Palestine, Iraq and Syria for decades — so many that they make up 20 percent of the country's population. But that can't continue, he said.
"For the first time, we can't do it anymore," he said.
The most recent increase is most likely due to a Syrian government response to rebel fighters in Aleppo where government forces cut a key supply route with the help of Russian airstrikes. But Syria's five-year civil war is continuing to have an incredible impact as refugees pour into not only neighboring countries but Europe as well.
The Economist reported more than 1 million illegal immigrants from Syria fled to Europe last year, most of them seeking refuge in Germany. European governments lack a consistent approach to the refugees, and many have closed their borders or tightened asylum rules. The result is more and more refugees using criminal smuggling services to flee to safety. About 4.6 million refugees have fled Syria so far — and the number is growing.
German Chancellor Angela Merkel, who has had a welcoming policy toward refugees, is facing extreme political pressure to clamp down on the surge. If Germany ends up closing its borders, other countries could follow — especially as anti-immigrant sentiment is growing across Europe.
Even institutions that have typically emphasized the importance of aiding refugees have seemingly reached their limit. While Pope Francis has called for mercy and aid in the refugee crisis, the German Catholic church Saturday called for a reduction in the number of refugees entering Germany.
"As a church we say that we need a reduction in the number of refugees," Cardinal Reinhard Marx, chairman of the German bishops' conference, said in an interview with a German newspaper Saturday.
Britain, however, has pledged to do more. U.K. Prime Minister David Cameron said Thursday more "money is needed to tackle this crisis and it is needed now." The British government is pledging 1.2 billion pounds ($1.74 billion) in aid for Syria and its neighbors. The funds will go toward humanitarian relief, jobs and education in Syria, Jordan, Lebanon and Turkey. At a refugee donors conference in London, dozens of countries pledged to reach the targeted $9 million goal for Syrian refugee and humanitarian aid.
© Copyright IBTimes 2023. All rights reserved.