Syrians Fleeing ISIS, Assad Faced With Confusing New Refugee Laws In Turkey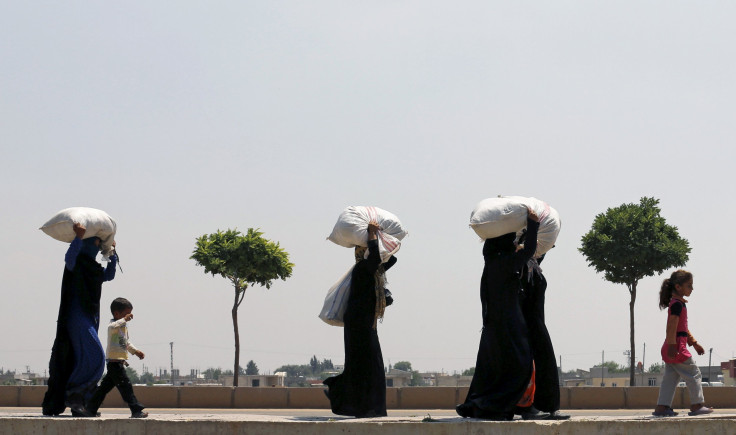 When Abdullah Nasser traveled to Turkey from his home in Deir Ezzor, Syria, in 2011, he crossed the border not knowing where he would live or how he would make a new life for himself. He was told by friends who had already fled the country that humanitarian organizations were in the process of setting up camps and providing rations of food for those fleeing the war. But when he reached Turkey, Nasser, looking for the blue UN signs or tents, found none, and no humanitarian workers.
Nasser, now 26, was in the first massive wave of refugees to enter Turkey after the start of the Syrian war in 2011. In the four years since, the number of refugees in Turkey has swelled to more than 1.59 million, the majority of them Syrian, according to a report published Thursday by the United Nations High Commissioner for Refugees (UNHCR.) Turkey is now the largest refugee host country worldwide, housing 11 percent of the total number of refugees globally, according to the report.
Unlike other countries in the region, Turkey is overseeing the humanitarian crisis on its border almost entirely on its own. It manages the refugee camps and the registration and resettlement process, though the UN helps with the logistics. But the sheer number of refugees is limiting the government's ability to oversee everyone flowing into the country and to provide services for people fleeing active war zones, refugees in Turkey and experts said.
"They are pretty much on their own, they don't have much assistance," said Kathleen Newland, an expert on Turkey's refugee policies at the Migration Policy Institute, a research group based in Washington. Turkey has not implemented basic services offered to refugees living in other countries such as Jordan and Lebanon, Newland said, such as cash assistance or food service programs.
Until recently, Turkish law required the government to treat refugees from everywhere other than Europe as "guests". Syrians, then, were not afforded the same rights as millions of other refugees around the world who are protected under an international convention -- which Turkey signed with a provision that allows it to apply it only to refugees from Europe.
Within the past three months the Turkish government has begun to implement a new law, one that is supposed to afford Syrians more rights, like granting them official legal status instead of just temporary protection. The new law, though a step forward for refugees, stops short of granting Syrians -- who are fleeing the twin brutality of the Assad regime and the Islamic State group -- official refugee status, meaning that they are not entitled to various benefits such as housing, public relief, and other social services.
In theory the new law is supposed to allow Syrians to work, Newland said, but refugees on the border of Syria say that new policy has yet to be implemented, or explained to people who are unfamiliar with the bureaucracy.
"The government is just registering people, but only people who go to a police office and know (how) to do it," Nasser said. "A lot of people don't register or have to go to the camps to figure out what to do."
When Syrians come through the border Nasser said, they do not know what to do or who to talk to about settling in a camp or registering. The only way to figure out how to register is by word of mouth.
Newland said Turkey is doing a "more than adequate" job at handling the refugee situation on the ground, considering the number of people it is trying to assist.
"They have more rights than Syrians in a lot of the other countries," Newland said. "For example, they can get a work permit or a card that says they are a resident." But that is not true in practice, Nasser said.
"Turkey says they have implemented this new law and that we can work, but we can't," he said. "Turkey is changing what they say about Syrians all the time. It is all a political game."
Another Syrian refugee, who requested to remain anonymous for security reasons, said that he received an identification card from a police station in Istanbul and tried to find work, but no one would hire him.
"A lot of the banks here don't let us take out money or use their Western Union [money transfer] services," he said.
After crossing into Turkey, Nasser said he made his way to Gaziantep, a growing metropolis in the eastern part of Turkey where thousands of other Syrians have also settled. But, Nasser said, his journey there was his individual initiative. He received virtually no help from humanitarian organizations or the Turkish government, despite the fact that he was a refugee fleeing a rapidly escalating war.
The Turkish government built camps for the refugees, many of them well managed, he said, but only a fraction of Syrians who escaped the war live there. The rest of the Syrians, he said, are living in with family or friends in cities such as Istanbul or Antakya in an effort to start a new life.
But, in order to do that, he said, Syrians need to be able to find work.
"We are still assessing what kind of access people will have," Newland said. "But there is a widespread expectation that these people need to be integrated into Turkish society."
© Copyright IBTimes 2023. All rights reserved.