In Syria's North, Opposition Is Making A Major Comeback Thanks To One Rebel Group, And To Turkey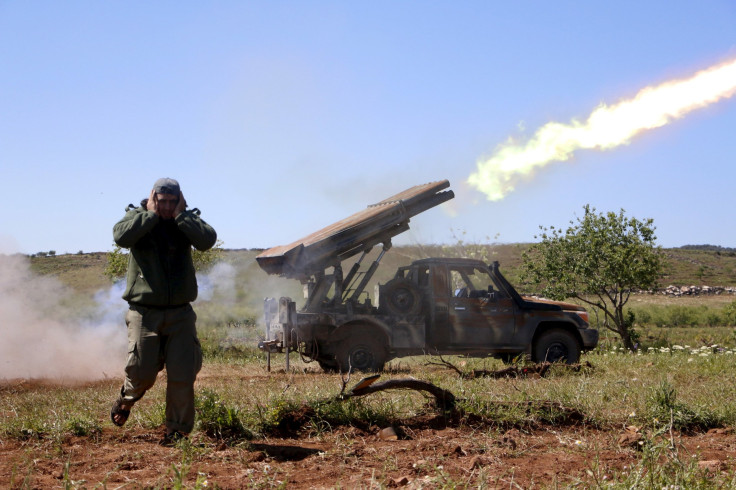 A rebel group that is quickly becoming the leading opposition force in the north of Syria began recruiting heavily this week, as part of its effort to consolidate power near the border with Turkey. Ahrar al Sham, an Islamist militia more moderate than al Qaeda's Syrian branch and opposed to the Islamic State group, also known as ISIS, has established a training program that's attracting hundreds of men from key Syrian cities such as Aleppo and Idlib, following the group's string of victories over the past four months, rebel fighters said.
Rebels with Ahrar al Sham also told International Business Times that Turkey has sent them weapons through the northern border for years, in an attempt to create a rebel force that can topple Syrian President Bashar Assad. That effort is now paying off, with Ahrar's victories enlarging its numbers.
More than 500 men have enlisted in the new program, which is run by the group as part of a wider umbrella organization known as Jaysh al Fatah, or "Army of Conquest." Those new Ahrar recruits will fight under the banner of Jaysh al Fatah against the regime and secondarily also against ISIS, rebels said. The recruits will be trained at a new military center to the north between Aleppo and Idlib.
Ahrar al Sham, Arabic for "Free Men of the Levant," is also taking a page from ISIS' tactics and ramping up its propaganda to gain support from locals. It published a video on YouTube similar to those routinely disseminated by the ISIS, showing its fighters on the battlefield. The video describes the ideology behind Jaysh al Fatah and how it wins battles.
The massive recruitment effort established by not only Ahrar al Sham but the wider Jaysh al Fatah organization rejuvenated what until recently has been a teetering opposition movement in the country, Ahrar al Sham fighters told International Business Times.
For years, the Free Syrian Army (FSA), an opposition coalition that spearheaded the original resistance against Assad's regime in 2011, was the leading rebel force in the country. Factions within the group held discussions with Western countries and even entertained the idea of negotiating with Assad. The FSA lobbied for American weapons, and the U.S. established a CIA program that sent arms to vetted moderate battalions within the organization.
But the emergence of better-armed, ruthless ISIS on the battlefield in Syria last year marked the beginning of the end for the opposition groups the U.S. dubbed the "moderate rebels." Now, the FSA has all but dissipated.
"There is no such thing as the Free Syrian Army," Rami Jarrah, a prominent Syrian activist and co-founder of ANA Press, a Syrian news outlet, told IBTimes in March. "People still use the term in Syria to make it seem like the [moderate] rebels have some sort of structure. But there really isn't."
Moderate groups disbanded and joined organizations with more extremist ideologies such as Ahrar al Sham. Thanks in part to the influx of those fighters, in the past four months Ahrar al Sham has won major battles in the northern part of the country that have not only routed ISIS fighters but have pushed back regime forces.
The group formed in 2011, recruiting from the ranks of radical Islamist men predominantly in the Idlib and Aleppo areas. While the regime captured most of its founders, Ahrar al Sham continued to thrive, experts said, thanks to the support of wealthy businessmen in the Persian Gulf region and of Turkey. The group has in the past been linked to Jabhat al-Nusra, the al Qaeda offshoot in Syria, and is known for its extremist and anti-Western political values. But like Jabhat al-Nusra, it does not have a reputation for brutality, and it does not behave like ISIS, which in fact it fights.
Ahrar also gained the support of locals in Aleppo and Idlib regions, say experts. Following its victory in Idlib, the larger Jaysh al Fatah organization started gaining traction among locals by establishing quasi-governmental programs, like food assistance projects.
It is one of the most consistent opposition organizations in the country, said Aaron Zelin, an expert on Syria at the Washington Institute for Near East Policy, a think tank based in Washington.
Ahrar al Sham "has basically remained a political and religious constant," Zelin wrote on his blog. "The revolution around Ahrar al-Sham has changed with time; Ahrar has not."
It also behaves democratically, to an extent. "Ahrar refuses to put the sovereignty of God up for a vote, but electoral structures are acceptable as part of the implementation of Islamic rule," Zelin wrote. And that kind of governance is what the people of cities such as Idlib and Aleppo want, rebel fighters told IBTimes.
Despite Ahrar's gains, the U.S. is still wary about backing a group that has connections to more extremist entities such as Jabhat al-Nusra. Washington also wants Syrian rebels it may support to focus on eliminating ISIS, while Turkey wants them to get rid of Assad first.
Turkey's support for Ahrar al Sham is representative of a larger conflict between President Recep Tayyip Erdogan's government and the U.S. that is now coming to what analysts are calling a tipping point. At the breakout of the Syrian civil war in 2011, Turkey and the U.S. agreed on the need to remove Assad from power. But that calculus changed with the rise of ISIS, and the U.S. has since focused first on defeating the Sunni militant group.
The main objective of Ahrar al Sham and the other militants grouped under Jaysh al Fatah is regime-held Aleppo, Syria's largest city and economic hub, while the heartland of ISIS lies further to the east. But Ahrar al Sham is expected to grow stronger thanks to its new recruits, rebels say, especially if Turkey continues to supply them with arms -- and a stronger, ascendant Ahrar may soon have the ability to effectively take on ISIS as well as on Assad.
© Copyright IBTimes 2023. All rights reserved.