Taiwan Intercepts 8 Chinese Military Aircraft, 5 Naval Ships Amid War Drill Threats
KEY POINTS
Taiwan carried out its latest combat drills Wednesday amid growing threats in the region
Last month, China said it will continue to maintain its military presence in the Indo-Pacific
Since U.S. House Speaker Nancy Pelosi visited Taiwan last month, China has been holding exercises around Taiwan
Taiwan on Tuesday tracked eight Chinese military aircraft and five naval vessels around its island, amid growing threats from Beijing.
China has continued its military posturing around the island nation, with People's Liberation Army (PLA) military aircraft entering Taiwan's Air Defense Identification Zone (ADIZ) in recent weeks.
The Ministry of National Defense (MND) said of the eight PLA aircraft, three crossed the median line in the Taiwan Strait, including two Xian JH-7 fighter bombers in the southwest sector of Taiwan's air defense identification zone and one Sukhoi Su-30 fighter jet in the northeast section of the zone.
One U.S. military aircraft also entered Taiwan's ADIZ the same day, reported Taiwan News.
In response to China's recent activities, Taiwan sent combat patrol aircraft, naval ships, and used land-based missile systems to monitor the PLA aircraft and vessels. The country also issued radio warnings.
Amid the growing threats in the region, Taiwan carried out its latest combat drills and tanks pounded targets and fighter jets flying Wednesday.
Since U.S. House Speaker Nancy Pelosi visited Taiwan last month, China has been holding exercises around the self-governed island.
"Ground combat readiness training is an essential duty of the armed forces and is also something that we have to do each day and every moment," defense ministry spokesman Sun Li-fang told reporters, according to TVP World.
So far this month, Taiwan tracked 109 Chinese military aircraft and 30 naval ships around the country.
Last month, China said it will continue to maintain its military presence in the Indo-Pacific as the PLA announced plans to deploy H-6K bombers and aerial tankers for "regular" patrols near Taiwan.
PLA Air Force spokesman Senior Colonel Shen Jinke said the long-range strategic H-6K bombers had already conducted "countless" operations near the island in the last few years.
"The H-6Ks – along with other fighters, reconnaissance aircraft, early warning aircraft and [aerial] tankers – will continue to fulfill these missions," Shen was quoted by South China Morning Post at the time.
Taiwan had also announced its troops fired at a Chinese drone that flew over Kinmen Island late last month. However, Beijing dismissed the incursions, saying: "Chinese drones flying over China's territory — what's there to be surprised at?"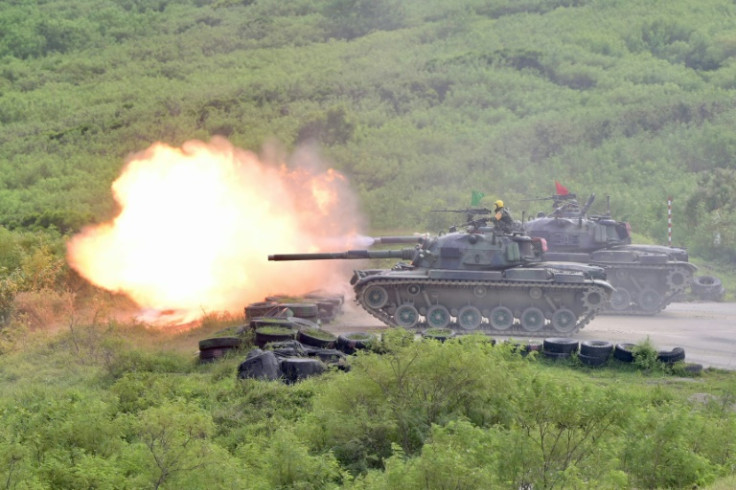 © Copyright IBTimes 2023. All rights reserved.