Taiwan Presidential Contender Says He Wouldn't Meet China's Xi Without An Agenda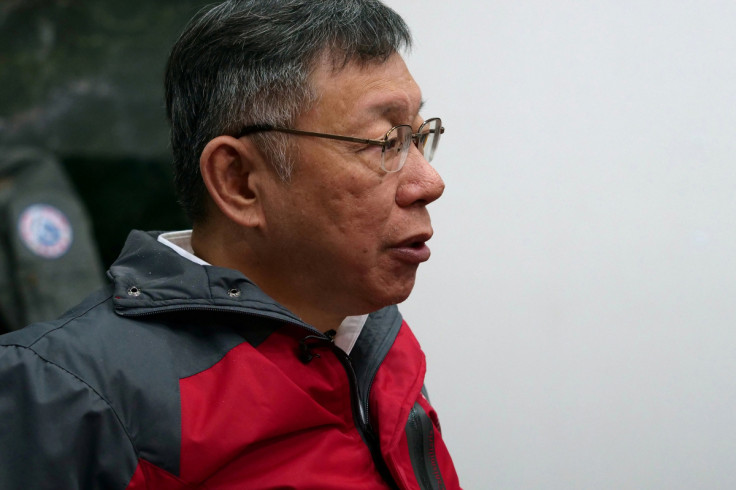 The head of a small Taiwanese political party who is rising in the polls in his bid for the presidency said on Wednesday that he would not meet Chinese President Xi Jinping just for the sake of it and that there must be a clear aim for such talks.
Former Taipei mayor Ko Wen-je founded the Taiwan People's Party in 2019, and formally announced last month he would run in January's presidential election.
Although his party has only a handful of lawmakers, Ko has risen in the polls in recent weeks, with some showing him ahead of Hou Yu-ih of Taiwan's main opposition party the Kuomintang (KMT), but behind Vice President William Lai, the governing Democratic Progressive Party's candidate.
Ko sought engagement with China while he was mayor, though last year he criticised China's military pressure during a virtual meeting with Shanghai officials.
Speaking to Reuters during a trip to Tokyo, Ko, a surgeon, said there was "no problem" with cultural exchanges with China and that there could be economic cooperation.
"Politically, at the present stage there are different political systems and ways of life - here there is no way," he said.
The KMT's Ma Ying-jeou is the only Taiwanese president to have met a Chinese president: Xi in Singapore in late 2015. China has rebuffed multiple offers of talks by Taiwan President Tsai Ing-wen, calling her a separatist.
Asked whether he would be willing to meet Xi, Ko said: "what would the aim be, what would be the advantage for Taiwan?"
"So let's not meet for the sake of meeting," he added. "Much of this is performance. For me, it has to be pragmatic: what would the talks be about, what is the aim?"
China, which views democratically governed Taiwan as its own territory despite the strong objections of Taipei's government, has been ramping up military and political pressure to force the island to accept Beijing's sovereignty.
Ko, who met U.S. officials in Washington D.C. in April, said Taiwan needed to be able to defend itself.
"On Ukraine and Russia, no country has sent troops to Ukraine, at most they have sold weapons only. So we have to rely on ourselves," he added.
The United States has been pushing Taiwan to make its armed forces more lethal and agile, turning the island into a "porcupine" that is hard to attack, a modernisation strategy Tsai has enthusiastically backed.
Ko said they would "buy the weapons they need" from the United States, but not "whatever the Americans tell us to buy".
© Copyright Thomson Reuters 2023. All rights reserved.