Taiwan's New President Tsai Ing-wen Calls For Peace And Dialogue With Beijing, But Avoids Endorsing "One China Policy"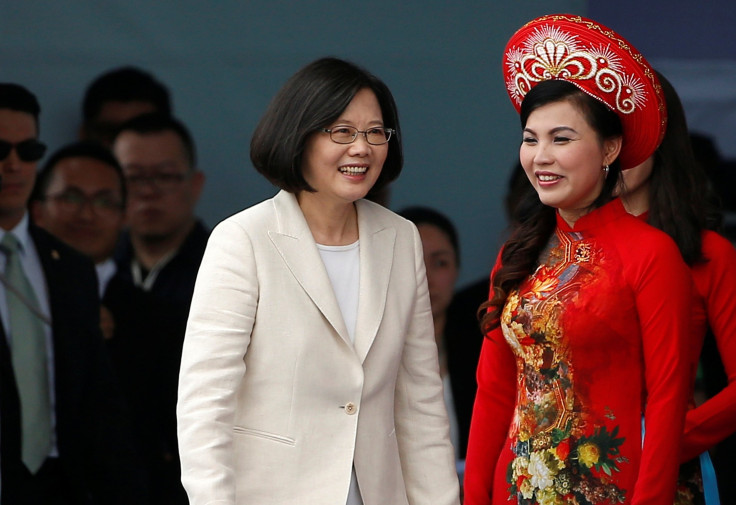 SHANGHAI — Taiwan's new President Tsai Ing-wen was sworn in Friday, and she pledged to promote peace, stability and dialogue in relations with China, which claims the island off its southeastern coast as part of its territory. But she avoided reference to the "one China policy" in her inaugural speech, which Beijing says should be the basis for talks between the two sides.
Analysts said the speech confirmed that while Tsai is likely to take a more conciliatory line toward Beijing than when her Democratic Progressive Party (DPP) was last in power, from 2000 to 2008, relations between Taiwan and China would be rockier than under outgoing President Ma Ying-jeou. And one Chinese newspaper said Friday the two sides were entering an "era of uncertainty."
Tsai, Taiwan's first female leader, has downplayed the DPP's traditional goal of achieving formal independence from the mainland — instead suggesting she will maintain the status quo of de facto independence that has persisted since 1949, when China's former ruling Nationalist Party (Kuomintang or KMT) fled to Taiwan after losing a civil war on the mainland. And she made it clear in her speech that her first priority would be to tackle Taiwan's slowing economy and a litany of social and environmental problems, saying the island "urgently needs a new model for economic development," and pledging to build "a better country for the younger generation."
But the 59-year-old Cornell law graduate also stressed that Taiwan should enhance its international and regional profile — something Beijing opposes — and made it clear that its economy should become less dependent on China, with which it has annual trade worth about $200 billion.
Tsai said it was time to "bid farewell to our past overreliance on a single market, and elevate the scope and diversity of our external economy" by focusing on trade with other nations in Asia, and on joining international structures like the U.S.-backed Trans-Pacific Partnership.
Tsai gave a nod to past dialogue between China and the KMT, which signed a series of economic accords with Beijing under outgoing President Ma. She said she "respect[ed] the historical fact" of an understanding reached between the two sides in 1992, which forms the basis of Beijing's cherished "one China principle" — an effective agreement that Taiwan has been and should remain part of a larger China, even if Beijing and Taipei differ on who the rightful government of that China should be.
Tsai also said that both sides should "cherish the results of their dialogue and cooperation" in the past two decades. She referred several times to the constitution of the Republic of China — Taiwan's traditional, official name — something experts said was designed to reassure Beijing that she did not plan to abandon historical links between the two sides.
Jean-Pierre Cabestan, a Taiwan specialist at Hong Kong's Baptist University, told International Business Times that this was as far as Tsai could go in terms of conciliatory gestures to Beijing, given her party's constitution has not dropped its call for formal independence. He added that Tsai had so far succeeded in uniting her party around a pragmatic approach and a focus on economic issues.
"The DPP now is very different from in 2000," he said. "It's much more aware of the constraints, including economic dependence on China. They have to maintain stable relations with China. And Tsai's political appointments so far show that the economy is a priority," he said.
Yet, while she said she wanted to "establish mechanisms for intensive and routine communications" between Taipei and Beijing, Tsai's calls for the ruling parties on both sides to shelve their differences and "set aside the baggage of history" are unlikely to go down well with China, which bases its claim to Taiwan on historical legitimacy, and says it reserves the right to use force if the island ever moves towards a formal declaration of independence.
China's Global Times newspaper said in a commentary Friday that while the DPP under Tsai was "expected to take a softer approach to independence" than under firebrand leader Chen Shui-bian from 2000 to 2008, Beijing should not be taken in by what the newspaper called a "flanking tactic to avoid direct confrontation." It suggested this was a ploy to promote "soft independence," and said there was no doubt that Tsai's presidency "will make the suggestion of Taiwan independence further expand in Taiwan society, and take a large step away from the mainland."
It warned that if Beijing tolerated this "significant regression in the one-China principle … the result could be that all our previous efforts are lost." The alternative, the Global Times suggested, was "piling pressure on Tsai's administration from every single aspect, including politics, economy and military… Perhaps a new round of contention is inevitable to completely drive the topic of Taiwan independence away while making the one-China principle the one and only starting point to maintain the status quo," it said.
Not everyone in China is backing such a tough line: One Chinese expert, Liu Guoshen, dean of the Taiwan Research Institute at Xiamen University, said at the time of Tsai's election: "If she acts in a pragmatic way and seeks more common ground with the mainland, cross-straits relations will be likely to proceed."
Cabestan of Hong Kong Baptist University noted that the Global Times — an often firebrand tabloid published by the official People's Daily — was recently criticized by central authorities for tough statements on Taiwan after it published an opinion poll saying that 85 percent of readers wanted reunification with the island by force, preferably within five years.
Cabestan said China's top leaders, preoccupied with a range of issues including tensions with the U.S. over the South China Sea, were likely to respond more cautiously to Tsai's election, though they would watch her actions closely. China may downgrade regular meetings between the two sides from ministerial level to working level discussions, as during the previous DPP administration, he said, and will keep calling on Tsai to accept the one China principle, and continue its attempts to "make Taiwan more dependent on China, more linked to China, economically, culturally."
Beijing has already taken measures to restrict Taiwan's international space, establishing diplomatic relations with the Gambia — formerly one of the handful of countries that have formal diplomatic links with Taiwan — and ensuring that a group of Taiwanese criminal suspects arrested in Kenya were repatriated to mainland China, not Taiwan. Beijing could also impose restrictions on Chinese tourists visiting the island — an estimated four million mainland visitors annually contribute significantly to Taiwan's economy.
China was also aware that an overly harsh line would run the risk of alienating many on the island, Cabestan said. In the run up to the election in January, many Taiwanese voters were believed to have been swayed to support Tsai following a controversy over a mainland performance ban on a teenage Taiwanese pop singer who was photographed with a Taiwanese flag. He said Beijing was hoping it could discredit Tsai, while seeking to show that it wanted to retain good relations with the KMT and Taiwan's electorate as a whole, in the hope that the KMT would return to power at Taiwan's next elections.
"Their strategy is to make sure that Tsai won't be re-elected in four years' time," said Cabestan. "They want the KMT back in power. So they won't give her any [diplomatic] gifts. They will keep the pressure on — and they'll stick by the KMT in the hope it will become credible again."
It's a fine tightrope to walk, however, and the Global Times comments are a reminder that calls for adopting a tougher line are not far below the surface in China. This week, the country staged war games, including a simulated coastal landing exercise, off its eastern coast, opposite Taiwan. Chinese officials said they were routine operations, but few in Taiwan were in any doubt as to their aim. Some analysts say that if China were to face growing social and economic problems in the coming years, this could make a tough line towards Taiwan appealing to the country's leaders as a way of boosting their legitimacy — though Beijing is aware that the U.S., which continues to supply arms to Taiwan, would likely back the island if China invaded.
Tsai Ing-wen, who promised at her inauguration to promote social justice and inclusion in Taiwan, also said she would set up a truth and reconciliation commission to heal old wounds on the island, referring to the KMT's four decades of martial law which went on till 1987, a period in which thousands were jailed or killed. Tsai said she hoped this process would be completed within three years, and in the future, "history will no longer divide Taiwan. Instead, it will propel Taiwan forward," she added.
However, many experts say the historical divisions between Taiwan and Beijing are unlikely to be resolved so rapidly.
FOR FREE to continue reading
✔️ Unlock the full content of International Business Times UK for free
offer available for a limited time only
✔️ Easily manage your Newsletters subscriptions and save your favourite articles
✔️ No payment method required
Already have an account?
Log in
© Copyright IBTimes 2023. All rights reserved.