Takata Air Bag Recalls: Nissan Identifies New Problem With Japanese Supplier's Safety Equipment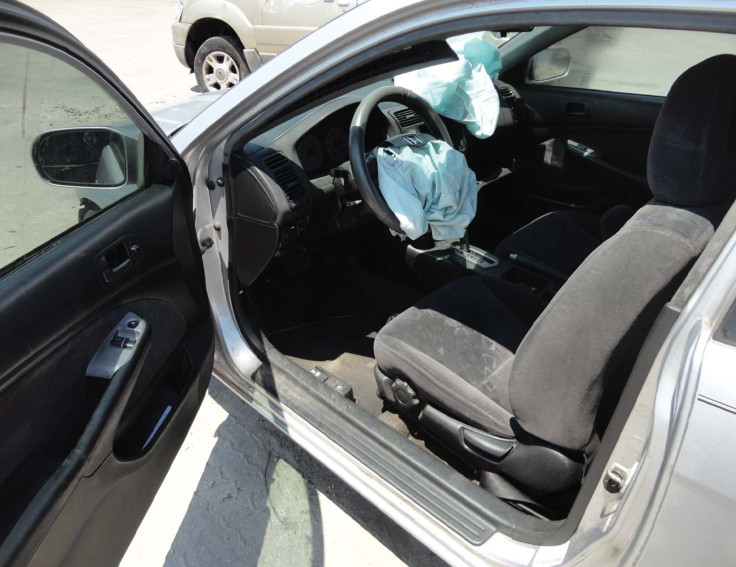 Nissan says it's recalling 1,848 Infiniti QX56 and QX80 full-sized SUVs in the United States to fix a problem that can cause the driver's side air bag inflator to rupture, potentially spraying metal fragments into the cabin. The component is made by Takata Corp., the Japanese parts manufacturer linked to the recall of 16.5 million cars worldwide from 11 manufacturers since 2008, but Nissan says this defect is different.
In a report posted to the U.S. National Highway Traffic Safety Administration (NHTSA) on Friday, Nissan said Takata informed it earlier this month that the air bag inflators contains an incorrectly installed baffle, a component that regulates the flow of the gas used to inflate the bag. The flaw blocks the flow of air to the bag. Nissan says it's not aware of any injuries related to the problem.
"Please note that this particular Voluntary Safety Recall Campaign is unrelated to two earlier campaigns that involved Takata passenger front air bag inflators on some older model Infiniti vehicles. This issue involves a much newer inflator and is a different, more isolated, Takata quality control issue," Nissan said in a letter dated Oct. 23 that wasn't posted to the NHTSA site until Friday.
The original Takata air bag defect involves the propellant inside the air bag and/or an improperly installed bag leading to too much pressure, which can cause the inflator to explode. The difference between the previous recalls and the one made public on Friday is that the previous recalls aren't linked to an incorrectly installed baffle.
Takata said on Thursday it was increasing production to speed up the deployment of fixed air bags to deal with the millions of cars that need to have the systems replaced. On Friday, NHTSA officials said Takata might need to boost efforts further.

"It's unclear yet whether that would be sufficient to meet demand," NHTSA Deputy Administrator David Friedman said in a statement released Friday.
© Copyright IBTimes 2023. All rights reserved.