Tamir Rice Cleveland Shooting 'Reasonable' In Independent Probes, But What Constitutes Unreasonable Lethal Force?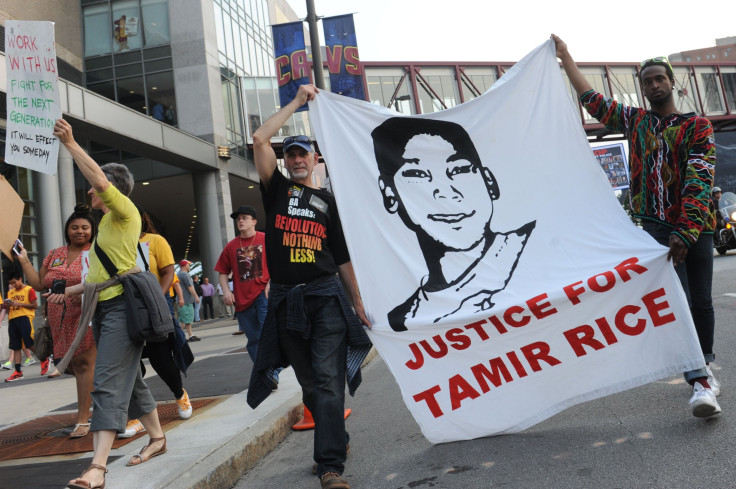 Timothy Loehmann, the rookie Cleveland police officer who fatally shot 12-year-old Tamir Rice last year, would have had to know his target was a minor carrying a replica handgun and not an adult male brandishing a loaded pistol, to be unjustified in his use of lethal force, an independent expert who reviewed the shooting case concluded. The shooting sparked national outrage amid intense focus on police brutality cases and the likelihood officers who kill citizens are considered fairly for prosecution.
Kimberly Crawford, a retired FBI agent who reviewed the Rice case at the behest of a Cleveland-area prosecutor, said officers' use-of-force training and the U.S. Constitution's guidelines for unreasonable police interaction provide some clarity on the issue. It was reasonable for Loehmann to shoot Rice because that's how he was trained, and he had a reasonable, "split-second" fear for his safety, Crawford determined in a case review released last week.

Police officers are trained to recognize when a person with malicious intent may pose a significant or lethal threat to the public and to themselves, Crawford wrote in the report released Saturday by the Cuyahoga County Prosecutor's Office. "The question is not whether every officer would have reacted the same way [Loehmann did]," she said. "Rather, the relevant inquiry is whether a reasonable officer, confronting the exact same scenario under identical conditions, could have concluded that deadly force was necessary."

While there is no universal police standard for what is deemed reasonable conduct when use-of-force cases are justified, in those instances law enforcement leaders should inform the public of their policies governing lethal force, some police advocacy groups and forensic experts say. But if hastily shooting a minor who is holding a lookalike firearm is considered reasonable for U.S. police, then it raises the question: What would be unreasonable?
The Fourth Amendment OKs the use of deadly force "when it is reasonably necessary to protect oneself or others from the imminent threat of death or serious physical injury" and to "prevent the escape of a dangerous person," Crawford said in her analysis. Any extrajudicial uses of force are presumably unreasonable, but are generally handled on a case-by-case basis.
So few members of the public understand the principles that govern use of force, that few are likely to accept police explanation after a case like Rice's, said Ron Martinelli, a California forensic criminologist who has served as an expert witness on numerous police-shooting cases. "It is important in an independent review that everyone is advised as to what the standards of proof [for wrongdoing] are going to be," Martinelli said by phone Tuesday.
"If you don't do that, the general public is either uninformed or misinformed," Martinelli continued. Inconsistency in reasonable and unreasonable use of force determination fosters anger and agitation, not only among the public, but also within the police force, he added.
Social justice activists have decried how these determinations are made by state and local prosecutors, who they say will convene grand juries with evidence and testimony slanted toward a desired outcome. Michael Slager, the former North Charleston, South Carolina, police officer who fatally shot Walter Scott as the unarmed black man fled on foot to avoid arrest in April, was not justified in his use of force, authorities have said, presumably because Scott posed no threat as he was shot. Slager has since been indicted for murder.
On the other hand, the use of lethal force by Darren Wilson, the former police officer in Ferguson, Missouri, who shot Michael Brown last year after he and the unarmed black teen engaged in a physical struggle, was legally justified. Brown's case sparked massive protests and a few days of local riots after a grand jury cleared Wilson of wrongdoing.
Rice's death has been reviewed numerous times since Loehmann shot him Nov. 22, 2014. Activists have said it's a clear case of police brutality, given that Loehmann and his partner, Frank Garmback, drove their police cruiser within several feet of Rice and, seconds after arriving, Loehmann opened fire on the boy. A dispatcher told the officers Rice was an adult male waving a firearm in a park outside the community recreational center. But the boy's age, his proximity to the officers, and the fact he was carrying an imitation handgun are not relevant to Loehmann's decision to use force, independent reviews found.
"It could be argued that the officers enhanced that risk [to themselves] by entering the park and stopping their vehicle so close to a potentially armed subject," Crawford, the retired FBI agent, wrote in her report. "However, this type of 'armchair quarterbacking' has no place in determining the reasonableness of an officer's use of force."
S. Lamar Sims, a prosecutor from Colorado, also reviewed the Rice case and arrived at the same conclusion as Crawford. Both said they used the U.S. Constitution, not Ohio state law, as a guide for their analysis.
The lack of understanding of the principle governing use of force policies only hurts police-community relations and potentially puts the lives of officers and residents at risk, said Thomas Manger, president of the Major Cities Chiefs Police Association, a national police leadership advocacy organization. "I don't know that we're ever going to get to a point where people fully understand why cops do what they do, to the point that they can accept something that looks very disturbing," said Manger, who heads the Montgomery Country (Maryland) Police Department.
Officials have gotten more savvy about quickly communicating relevant information that educates the public about those standards, but that's not enough, he added. "A shooting may be justified legally, but then the next question from the public is usually, 'Was it necessary?' " Manger said. "Police departments have to communicate that they understand the sanctity of life [and that] using deadly force is absolutely the last resort."
Number of People Killed by Police by State in 2015 | FindTheBest
© Copyright IBTimes 2022. All rights reserved.
FOLLOW MORE IBT NEWS ON THE BELOW CHANNELS