Tampon Tax 2015: Ohio Lawmakers Introduce Bill To Eliminate 'Pink Tax' On Feminine Care Products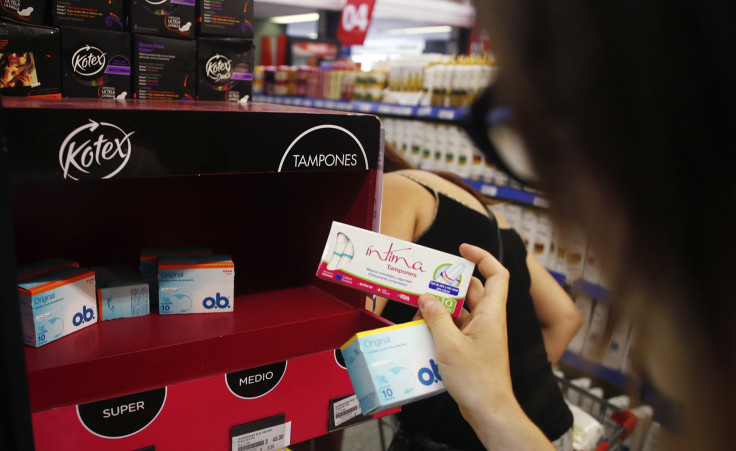 A trio of lawmakers in Ohio announced a proposal this week to eliminate sales tax on feminine care products. Democratic State Reps. Greta Johnson, Emilia Sykes and Kevin Boyce introduced a bill Monday that would slash the state's so-called "Pink Tax" on tampons and pads, the Columbus Dispatch reported.
"Women only earn 77 percent compared to their male counterparts in Ohio but are forced to spend a significant amount of their wages on these essential healthcare products," Sykes said in a news release. "The 'Pink Tax' is an additional burden placed on women that intensifies the gender wage gap and makes preventative healthcare for women more expensive."
The legislators said that cutting the tax would "level the economic playing field for women in Ohio," who may try to stretch products' use if they can't afford to buy them regularly, the Dayton Daily News reported. No more "Pink Tax" would mean more money in their pockets.
The revenue Ohio gets from the taxes is minimal, Johnson said, whereas women pay between $6 and $10 in taxable money to get menstrual care products each month. This adds up quickly for females, who spend more than 2,000 days on their period in a lifetime, she said.
"No one should face extra economic challenges simply because of their gender," Boyce said in the release. "The hidden costs of taxing essential products are real for too many Ohio women and families, especially in communities with high poverty or where women are the head of households. By eliminating the 'Pink Tax' we can take on step further toward making Ohio a truly equal opportunity state."
The Buckeye State wouldn't be the first to scrap the tax on menstrual care products. Maine, Maryland, Minnesota, New Jersey and Pennsylvania have all thrown out the "Pink Tax" in recent years. Australia and Canada have followed suit abroad.
© Copyright IBTimes 2023. All rights reserved.
FOLLOW MORE IBT NEWS ON THE BELOW CHANNELS