'Target Destroyed': Ukraine Downs Russian UAVs, Kills 41 More Soldiers As Fight Intensifies
KEY POINTS
Latvia's parliament designated Russia as a "state sponsor of terrorism" Wednesday
Ukraine has been receiving support from the U.S. and other NATO members
Britain said it will supply Kyiv with more multiple-launch rocket systems
Ukrainian forces have reportedly killed 41 Russian soldiers, and destroyed military equipment on the southern front.
Ukrainian aircraft also struck Russian ammunition warehouses and a command post in the region, according to South Operational Command said this in a Facebook post.
At least six airstrikes were launched on enemy positions Wednesday, Ukrinform reported. A stronghold and concentrations of manpower, weapons and equipment of the Russian forces in the Beryslav district, Kherson region, were attacked twice.
Anti-aircraft gunners also shot down two Russian operational-tactical drones on the Luhansk and Kharkiv fronts Wednesday.
Ukrainian bomber aircraft also attacked two ammunition warehouses and equipment in the Bashtanka district, Mykolaiv region. Other than the loss of lives, three Msta-B howitzers, and seven armored vehicles and cars were also eliminated, authorities said.
Meanwhile, a Russian Su-25 attack jet was downed by a serviceman of the National Guard of Ukraine during aircraft's sortie on the Zaporizhzhia front, an update on Facebook read.
"Rashistov has minus one more Su-25 attack aircraft. During an enemy raid in the direction of Zaporizhzhia, a National Guard fighter launched a missile from an IGLA MANPADS system at a Su-25 aircraft," the statement read [Google Translate showed]. "After hitting the target, an explosion occurred behind the forest strip. The downing of an enemy plane on the occupied territory was confirmed. Target destroyed."
"The fatal shot was made by the brother of the already well-known 'Zaporizhia avenger' - also a soldier of the National Guard of conscript service."
However, Russia has not confirmed any reports of damages.
International Business Times could not independently verify the claims.
As the fight in Ukraine intensifies, with both countries battling for more than five months, NATO and other Western countries have condemned the war.
On Wednesday, Latvia's parliament designated Russia as a "state sponsor of terrorism."
However, Russia reacted to the resolution by saying: "Considering that there is no substance, except for animalistic xenophobia, behind this decision, it is necessary to call the ideologues nothing more than neo-Nazis."
The comments were made by Russia's Foreign Ministry spokeswoman Maria Zakharova on Telegram, according to Al Jazeera.
Ukraine has been receiving support from the U.S. and other NATO members to fight Russia. On Thursday, Britain said it will supply Kyiv with more multiple-launch rocket systems that can attack targets up to 50 miles away.
"This latest tranche of military support will enable the Armed Forces of Ukraine to continue to defend against Russian aggression and the indiscriminate use of long-range artillery," Defense Secretary Ben Wallace said in a statement, Al Jazeera reported.
"Our continued support sends a very clear message, Britain and the international community remain opposed to this illegal war and will stand shoulder-to-shoulder, providing defensive military aid to Ukraine to help them defend against Putin's invasion."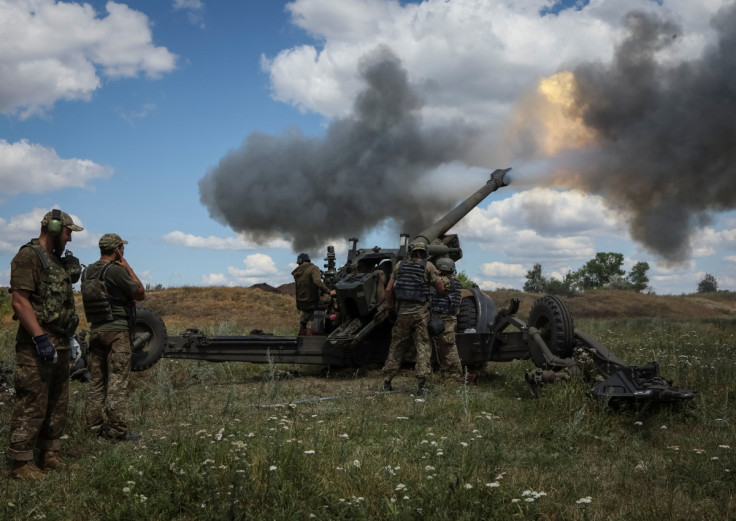 Read more
Ukraine Claims 9 Russian Military Planes Destroyed In Blasts
Ukrainian Soldier Single-Handedly Takes Down Russian Attack Jet
© Copyright IBTimes 2023. All rights reserved.