Taye Montgomery Maced: 10-Year-Old Minneapolis Protester Pepper Sprayed At Police Brutality Rally [VIDEO]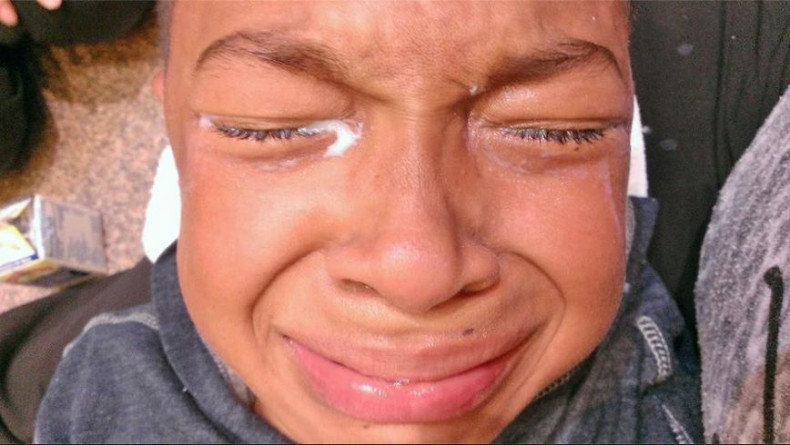 Officials in Minneapolis on Friday continue to investigate what prompted an officer to spray mace into the eyes of a 10-year-old boy during a protest this week against police brutality. The protest was organized by a local Black Lives Matter group and video captured Taye Montgomery's piercing screams after his apparent macing, which his mother said happened without warning by officers monitoring the protest.
Minneapolis police launched the investigation Thursday, after the protest group staged another demonstration in support of Montgomery and called for punishment of the aggressive tactics by officers, the Minneapolis Star Tribune reported. Police have said that some of the protesters became unruly, which prompted the officers' aggressive stance. They have not explained how Taye became the target of the macing.
"It is critical for everyone involved that we complete a thorough investigation, so I need the public's help," Police Chief Janeé Harteau said. "We must have the full set of facts." In a report detailing Wednesday night's protest, authorities said about 100 protesters had repeatedly "engaged motorists, jumping on cars and trying to pull open doors," the Minneapolis Police Department wrote. "Officers pushed back the crowds to get the motorists out of harm's way. … Chemical aerosol was used to drive back the hostile crowds."
The group organized the protest in solidarity with protests in Madison, Wisconsin, where on Tuesday authorities announced that the police officer who fatally shot 19-year-old Tony Robinson in March would not face criminal charges.
Taye Montgomery's parents, who are residents of St. Paul, said an unnamed Minneapolis officer hopped out of his vehicle and, without warning, sprayed mace in the direction of the 10-year-old. In a video clip recorded during the protest, the boy's screams of pain can be heard over commotion in the background. Susan Montgomery told the Star Tribune that she was forced to carry her son into a nearby hotel, where staff then poured milk over his eyes to reduce the pain.
A statement by the Black Liberation Project, part of the group that staged Wednesday's protest, said they were confident that the video provides clear evidence of wrongdoing by the officer who sprays the chemical into Taye's eyes. "Our demonstration was non-violent and there was no property damage even though multiple different vehicles drove into the crowd of protesters," read the statement reported by the Daily Mail. "The children in our community should feel safe to exercise their rights, including their right to protest. Indiscriminately spraying mace is unacceptable police conduct and the officer should be fired."
On Thursday, Taye Montgomery led the protest that called for punishment of the officer's aggressive tactics.
© Copyright IBTimes 2022. All rights reserved.