Tony Robinson Protest: Madison Students Play Role In Justice Demonstrations, With Quiet Support of Public School Officials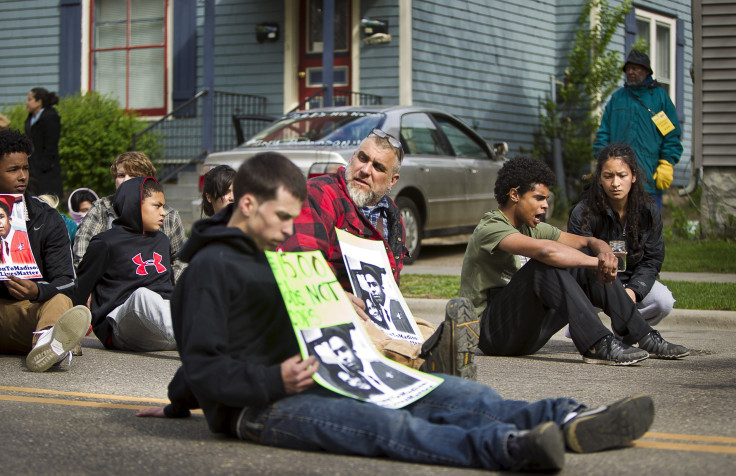 Students in and around Madison, Wisconsin, sought a symbolic justice Wednesday after learning authorities would not criminally charge Matt Kenny, the police officer who fatally shot unarmed biracial teen Tony Robinson in March. Public grade school and university students left or skipped classes in the morning to join a couple hundred people marching from the Williamson Street residence where Kenny killed Robinson to the Dane County Courthouse for a mock tribunal of the shooting case.
"Was Tony Robinson murdered and should Matt Kenny be charged with homicide?" the tribunal judge asked protesters who had gathered at the courthouse steps. "Yes!" they roared back, having heard arguments from mock attorneys for "the community" and for the city government.
The exercise, led by activists in the Young, Gifted and Black Coalition of Madison, might have been similar to a civics lesson that the students would get in their classrooms, where they were expected to be on Wednesday morning. But those in local middle and high schools seemed to have the support of school district officials to participate in the peaceful demonstrations, especially if their parents also approved.
"My mom called the school," said Tyla Hayes, a 15-year-old East High School student who helped marchers carry a "Justice For Tony" banner. She said Robinson, the 19-year-old who was killed in a confrontation with Kenny on March 6, was connected to her through family ties.
"We're going to keep protesting and marching peacefully to make sure that our voices are heard, no matter how long it takes," Hayes said in a phone interview.
Prior to the district attorney's announcement, the protesters demanded that Kenny be fired and charged with homicide. Police said Robinson, who was under the influence of several drugs at the time, physically assaulted Kenny before the officer shot him multiple times in the face, chest and arm. Friends who were aware that Robinson had taken drugs called police after he reportedly assaulted someone in an apartment on Williamson Street.
Students in cities around the U.S. have been a major presence at recent protests over the police-involved shootings of young black men, lending their voices to a nationwide debate over the use of lethal force and racial discrimination in law enforcement. In Madison, they appear to be doing that with support from schools Superintendent Jennifer Cheatham, who acknowledged the impact the decision by Dane County District Attorney Ismael Ozanne not to file criminal charges against Kenny would have on some students.
"We know that with the DA's announcement, many of our students will need to process what they are feeling and be able to talk about what happened in a safe, respectful and productive way," Cheatham said in a statement to parents Tuesday. "We want you to know that we are working to provide structured opportunities at middle and high school for students to discuss what happened."
But Cheatham also asked parents to keep their children in school if they felt their children could not "responsibly and safely" participate in the protests. "We ask that you encourage your student to stay in school during the school day as to not negatively impact their instructional time," she wrote in the statement.
The Madison School district has about 50 school sites and more than 27,000 students. A small fraction of the middle and high school students seemed to participate in Wednesday's demonstration. That's in contrast to hundreds of local high school and University of Wisconsin-Madison students who joined more than 1,500 demonstrators for a protest in the rotunda of the state capitol building March 9.
A 10-year-old student named Jasmine who spoke to a WKOW-TV reporter said she skipped a math class Wednesday to attend the Robinson demonstration.
"When my mom was young, she went to a lot of marches like this," said Jasmine, who made "Hold Cops Accountable" sign for the protest. "I feel like this is really important because we are the next generation. I really just wanted to come and kind of experience."
High school senior J.T. Ruffin, 18, who attended school with Robinson at Sun Prairie Area High, told the Wisconsin State Journal that he believed police used too much force to control someone who was "acting crazy on drugs."
"I've been down to Camp Randall Stadium, seeing people act way worse," Ruffin told the Journal. "They don't get shot."
© Copyright IBTimes 2023. All rights reserved.