Teens Embrace Anonymous Social Networks To Discuss Awkward Topics, Build Confidence: Study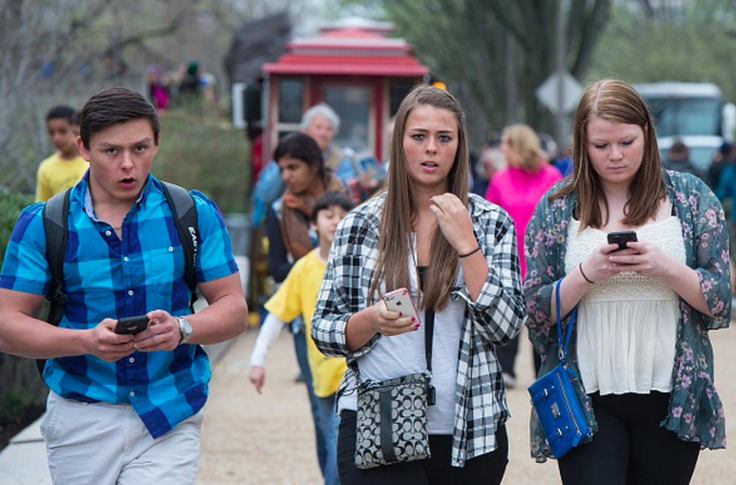 Most teenagers say they're confident about what they post on social media. About 79 percent of those polled in an online study released Thursday by Ask.fm and YouGov reported that they "rarely say things online they regret." But teens are also embracing anonymity.
That's an option on Ask.fm — a question-and-answer site owned by InteractiveActiveCorporation/IAC, and operated by Ask.com. The study has an inherent bias in that it was conducted online, but it highlights teens and their parents' perspectives on vanity, anonymity and bullying on social networks.
"Teens know what to use and know what their choices are," Catherine Teitelbaum, chief trust and safety officer at Ask.fm, told International Business Times. "They understand the digital footprint, that what they write will stay there, and they see ways they can express themselves that play out in different ways."
The survey, which polled 2,905 respondents (kids aged 13 to 18 and their parents) in the United States, United Kingdom and Ireland, found that 40 percent of teens found anonymity allowed them to talk about difficult topics. Only 4 percent said they would have talked about the same topics if their identity were tied to it.
Ask.fm allows for anonymity and boasts 150 million unique visitors as of March. But there have been other sites that have not fared so well. Anonymous social network Secret, for example, shut down in April. Secret's founder, David Byttow, wrote in a Medium post, "I believe in honest, open communication and creative expression, and anonymity is a great device to achieve it. But it's also the ultimate double-edge sword, which must be wielded with great respect and care."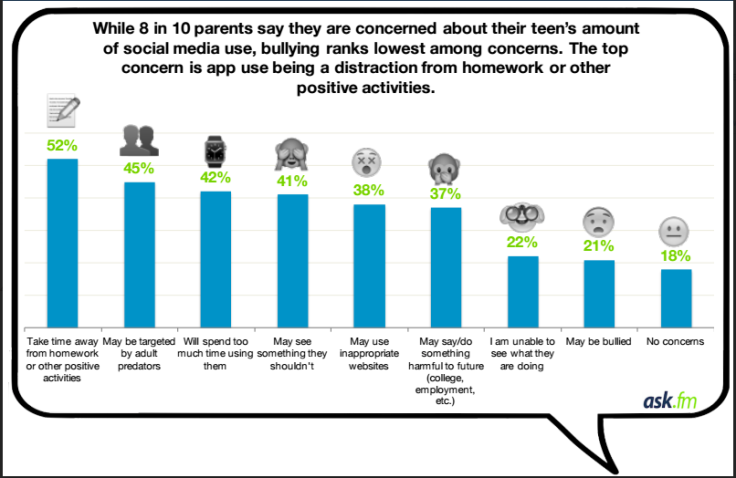 The reasons for wanting anonymity vary. Fifteen percent of teens reported certain topics are not ones they feel comfortable discussing publicly and 15 percent reported not wanting to "look dumb," the survey said. About 12 percent of those surveyed revealed that they use anonymity to learn what someone thinks of them.
But for sites to pass muster with consumers and the media, anonymity comes hand-and-hand with moderation tools. Yik Yak, an anonymous chatroom app popular on high school and college campuses, has been banned at some schools and has faced scrutiny for hosting racist and demeaning comments. Yet the app has moderation tools where users can report and block others. Handling anonymity with care must be a top concern for websites, Ask.fm's Teitelbaum said.
"We believe that baking safety into our anonymous process is necessary," she said. "We have a robust moderation system. For businesses, that functionality has to be backed in there upfront."
Moderation tools are what can empower teens to take control of a social network and their own use of it. About 52 percent of teens surveyed reported that they had blocked another person on a social network. And only 5 percent of teens said social networks should do nothing to address cyberbullying if it occurs. More teens reported experiencing bullying in person (38 percent) versus online (10 percent), the survey notes.
"There's a positive and usable role to anonymous features," Teitelbaum said. "We call it anonymity with responsibility."
© Copyright IBTimes 2023. All rights reserved.
FOLLOW MORE IBT NEWS ON THE BELOW CHANNELS