Terrell Owens: Broke and 'In Hell': How Being Too Trusting Ruined Him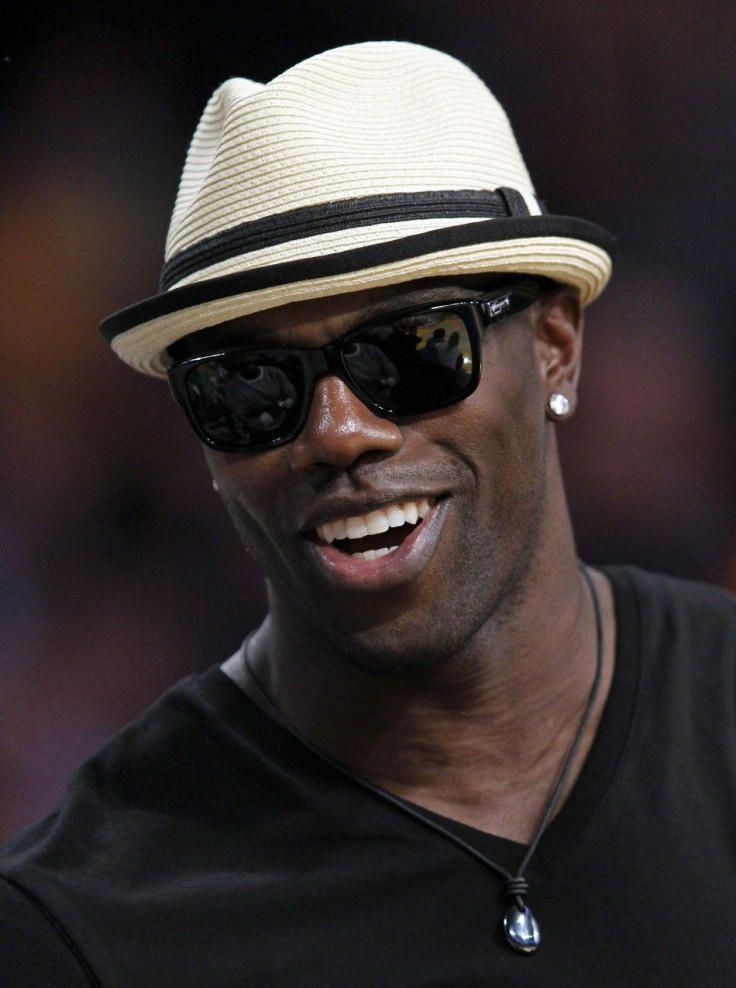 Former NFL wide receiver Terrell Owens is 38 years old and out of football, but not by his choice. A very brash personality, T.O. has alienated himself, and, in a GQ profile, describes himself as alone, desperate and broke. I'm in hell, he said.
Owens played 15 seasons in the NFL, most recently for the Cincinnati Bengals in 2010, where he played 14 games and had 72 catches for 983 yards. In the off-season that followed, he tore his ACL, and had surgery in April 2011. He was cleared to play again in October, and held a televised workout to showcase himself. No NFL teams showed up.
T.O. earned $80 million throughout his career but is now broke. He said he didn't spend lavishly, but that he trusted the wrong people, and it's landed him in financial trouble.
It's not a matter of having lived too large -- he was never the type to stockpile Ferraris or build himself a compound; the flashiest car he ever drove was a Mercedes, and while he indeed racked up a few homes that cost as much as $4 million, the only crib he classifies as even mildly sick by pro-ball standards was the one he bought in Atlanta to live in during the Philly off-season, says GQ. The problem, he says, is that he's by nature too trusting, loyal to a fault, despite everyone's carping that he's selfish. It's the sad old stereotypical song of the up-from-nothing black athlete: He let other people take care of things.
Many of his troubles he attributes to agent Drew Rosenhaus, who also represents such NFL players as Chad Ochocinco, DeSean Jackson and Frank Gore. According to Owens, Rosenhaus recommended financial advisers who lost his money in high-risk ventures. Owens also owned several houses and apartments that he believed he could rent out in a worst-case scenario, but those became dead weight during the housing market collapse. He also lost $2 million a venture that turned out to be illegal, though he was not aware of that.
I hate myself for letting this happen, Owens told GQ.I believed that they had my back when they said, 'You take care of the football, and we'll do the rest.' And in the end, they just basically stole from me.
He never had many friends -- teammates never called him to party, he says, wrongly assuming that he was 'too big' to socialize -- and now, 'I don't have no friends. I don't want no friends. That's how I feel,' GQ writes.
T.O. is also in court fighting a child support battle, with the four women he has four kids with. He currently owes $45,000 per month in child support, an amount, he said, he cannot afford. If there's anything I'm sorry about, it's getting involved with all that, he said. He said his biggest weakness is that he is not a very good judge of character.
Owens tried to reduce the amount of child support he paid when money became scarce, but three of the women sued him. He said his relationship with his children's mothers is so tenuous, that one of the women has never let him meet one of his sons.
T.O. now lives in an 1,800-square-foot L.A. apartment, and though he says he's never been diagnosed as depressed, he's been real down. However, he doesn't regret his decisions. To say I regret anything would be a slap to my grandmother's face, he said, referring to the woman that raised him.
Things may be looking up for him though. Last week, T.O. announced that he signed a six-figure contract with the Allen Wranglers of the Indoor Football League to play the 2012 season. The contract also comes with partial ownership of the team, and a possible door back into the NFL, as Wrangler GM Drew Pearson is a former Dallas Cowboys wide receiver.
He's a great player, a winner, and I'm a big fan, said Jon Frankel, Wrangler co-owner and T.O.'s new business partner. I want to make the Allen Wranglers the No. 1 attraction in Collin County.
The entire interview can be read here: http://www.gq.com/sports/profiles/201202/terrell-owens-nfl-football-wide-receiver
© Copyright IBTimes 2023. All rights reserved.