Tesla Model 3's AutoPilot Saves Man From Car Crash During Snowstorm
The latest verified incident of a Tesla Autopilot advanced driver-assistance system helping a driver avoid a potentially disastrous accident in dangerous driving conditions confirms this system's amazing ability to detect accidents before they occur.
A Tesla Model 3 owner driving along a snowstorm-swept road said the emergency braking feature triggered by Autopilot detected a stationary car in the middle of the road during a snowstorm before he did, and prevented a side-on collision with the car.
The Tesla driver said he didn't see the stalled car in time to take desperate evasive action. Instead, the Tesla Autopilot automatically took over. The driver shared on a Reddit post of the incident that even if the Autopilot feature is not activated, it still commands active safety features at all time, like emergency braking.
The whole incident caught on a dashcam shows the Model 3 hampered by poor visibility just narrowly miss the stalled car whose driver's side faced oncoming traffic.
"I don't think I was using EAP (Enhanced Autopilot), but I may have been. It (my car) started to brake before the stopped car came into view. When I swerved to right I could feel the Tesla keeping us straight avoiding a spin out like the car in front of us. I felt like I was the best driver in the world threading the needle," the driver shared.
The video shows the Model 3 slowing down before the stalled vehicle is visible to the driver, who now had time to swerve to the right to avoid a collision. This near-miss again proved that Tesla's front-facing sensors are efficient at detecting potential accidents before a driver does, even under the most atrocious driving conditions such as a near white-out.
The reason why Autopilot can see ahead of a car in front of a Tesla sedan is because of its advanced radar. The forward-facing radar on Enhanced Autopilot (EAP/AP2) can see 170 meters ahead of a Tesla.
In addition to the radar, a Tesla comes with 8 cameras covering a complete 360° around it and 12 sonars, also covering a complete 360° arc.
Autopilot 8.0, the newest iteration of this software, uses this forward-facing radar (and not cameras) as the primary sensor. It was upgraded in November 2016 to give the driver a more noticeable signal when it's engaged. It also requires drivers to touch the steering wheel more frequently as an added safety feature to guard against sleepy drivers.
Tesla said all its vehicles since the upgrade come with sensing and computing hardware known as Hardware version 2 (HW2), which can also be used for future fully autonomous operation.
Autopilot for HW2 cars was installed on all Teslas in February 2017. It includes adaptive cruise control, autosteer on divided highways, autosteer on local roads up to a speed of 35 mph, a new driving-assist algorithm and full-speed braking.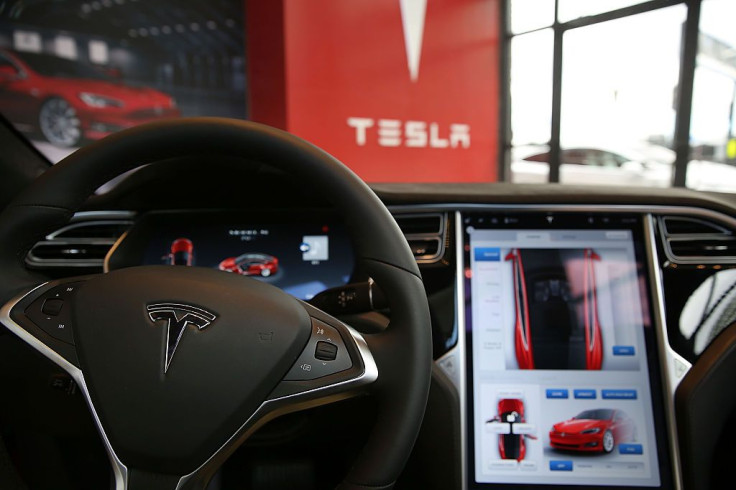 © Copyright IBTimes 2023. All rights reserved.