Tesla Motors Inc. (TSLA) Fourth Quarter 2013 Earnings: Five Things To Look For When The Model S Maker Announces Results On Feb. 19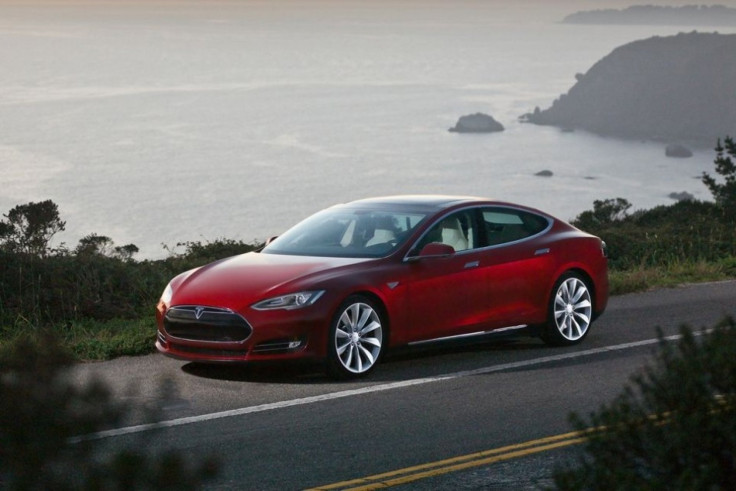 UPDATE, Feb. 18, 9 a.m. -- An analyst at Robert W. Baird & Co., the Madison, Wis.-based global financial services firm, released a bullish report on Tesla this morning.

"We believe several catalysts could drive the stock higher including 2014 delivery guidance, additional battery factory details, and a possibility for more info on a new production line," Baird analyst Ben Kallo wrote in a research note released Tuesday.
Kallo sees earnings per share coming in at 21 cents and estimates sales as high as 32,000 units in 2014. "Based on our channel checks," he added, "we believe TSLA is in a site selection process to determine which state will provide the highest tax benefits and subsidies for a battery factory."
Original story begins here:
As with many exciting startups, market watchers and investors aren't looking for the same guidance in Tesla Motors Inc. (NASDAQ:TSLA) earnings reports that they would seek in those of a seasoned, dividends-paying blue chip stock.
Profitability concerns will take a back seat to more important considerations right now for the automaker, namely progress on margin and revenue growth, sales and production volume, improvements in fixing vehicle-supply constraints and any updates on the highly anticipated Model X crossover.
Tesla will release its fourth quarter and full-year 2013 earnings on Wednesday after markets close in New York. Analysts polled by Thomson Reuters see earnings for the quarter ended Dec. 31 at $27.8 million, or earnings per share of 19 cents, on $663.3 million in revenue.
Excluding onetime charges, Tesla is expected to have lost 10 cents per share in the last quarter. The outlook among forecasters is varied, with Zacks and Standard & Poor's seeing Tesla gaining 4 cents per share excluding onetime charges while Bloomberg has that estimate as a 4-cent loss.
For the year, the Thomson Reuters poll expects the 10-year-old Palo Alto, Calif.-based automaker to report net profit of $85.7 million on $2.38 billion in revenue. Including one-time items, the company is expected to report a gain of 62 cents per share for the year; excluding the items, a loss of 73 cents.
The broad difference between the EPS and fully reported EPS is in part due to the company's resale value guarantee, a non-cash item that amounts to a future financial commitment that's based on a third-party (in this case, ALG automotive) estimate of the future residual value of a post-lease Model S. The company is reporting so-called Model S revenue-deferral due to this lease accounting as part of its own quarterly revenue accounting. It's something that Generally Accepted Accounting Principle (GAAP) frowns upon. The U.S. Securities and Exchange Commission requires all companies to use both GAAP and non-GAAP, and to emphasize the GAAP numbers, then explain the non-GAAP differences later in the report.
In the third quarter of 2013, revenue deferred due to lease accounting was $171 million, or 28 percent of the company's total revenue of $602.6 million in the three months ended Sept. 30. That's a two-percentage-point increase from the second quarter when the company first began revenue deferral due to lease accounting. It will be interesting to see how much this share has grown as a portion of total revenue in the last quarter of the year. That revenue is based on an assumption of the future residual value of some Model S sedans currently (and soon to be) in circulation. If those residual value estimates turn out to be too high, this could pose a problem later when Tesla is trying to recoup revenue of vehicles in the aftermarket.
Look At Gross Margin
One of the most important short-term metrics in the earnings will be how much the company is making on the sale of each vehicle.
There's gross margin, and then there's gross margin. One definition takes into consideration the revenue made from selling California ZEVs, or Zero Emission Vehicle Credits, and the other does not. In either case Tesla has done a good job increasing gross margins as it ramps up production and works out supply-chain kinks. The company reported 2012 gross margin of 7.3 percent. In the three months ended Sept. 30 it reported 23.9 percent, including the sale of carbon credits.
CEO Elon Musk said in a November conference call regarding his company's third-quarter results that he felt "pretty confident" about hitting 25 percent in the fourth quarter excluding ZEV credits, "unless there's some force majeure event." The gross margin forecast for the fourth quarter (excluding ZEV credits) stands at 25.2 percent and 21.6 percent for the year. If Tesla misses 25 percent for the quarter, it will be viewed negatively.
"TSLA is in our estimation better on-course now to meet its 25 percent 4Q margin target than at any time prior (we had earlier been skeptical this metric could be met)," said J.P. Morgan analysts led by Ryan Brinkman, in their latest research note from November.
Look At Unit Sales Volume
On Jan. 14, Tesla announced in a significant guidance statement that sales in the fourth quarter "were the highest in company history by a significant margin" at 6,900 vehicles. This is positive news, but it does not distinguish between global and U.S. sales and, unlike long-established mass-market and luxury automakers, Tesla doesn't provide a monthly sales performance summary.
California is Tesla's largest single market right now. According to the California New Car Dealers Association, 8,347 Model S sedans were registered in the state last year, well over a third of all Model S sedans delivered in the U.S. But state vehicle registration figures for three consecutive quarters in 2013 showed declines in Model S registrations, to 1,793 in the last three months of the year.
Tesla says it is addressing production constraints and is struggling to fill U.S. orders while also sending vehicles to key nascent markets in Europe and Asia. Watching California sales moving forward will help establish whether demand there has reached a plateau or whether there are just a lot of California buyers waiting for their cars to be delivered as Tesla expanded aggressively in 2013. (A recent survey of used car listings suggests current used, and very low mileage, Model S sedans are selling for more than the price for a new version with a waiting list.)
Unless Tesla's policy has changed, there will not be a detailed breakdown of unit sales in Wednesday's report beyond a quarterly estimate. Look for any guidance on global sales performance, however. Tesla may provide interesting details on China.
Europe, Supercharged
In Europe, the company is expanding its proprietary Supercharger network, which allows Model S owners to quickly recharge their batteries for free, in its most important market outside of the U.S. Tesla recently completed a coast-to-coast corridor that connects New York to Los Angeles via Chicago. Details in how it propagates its European network will be an important part of the report. Telsa has its focus on Northern European markets where consumers are more environmentally conscious and governments offer more enticing incentives for EV buyers -- at least for now.
What About That Battery Supply?
Tesla will likely address battery supply concerns in its report on Wednesday. Look for any mention of its relationship with Panasonic Corp. (TYO:6752), the company's primary supplier of its battery cells. Any commentary on battery supply constraints and how the company is dealing with it, such as any plans to build its own production capability, would be big and probably welcome news.
Tesla's stock price lost 21 percent in the fourth quarter but has gained nearly 32 percent to $198.23 per share as of market close on Friday.
© Copyright IBTimes 2023. All rights reserved.
FOLLOW MORE IBT NEWS ON THE BELOW CHANNELS