Tesla Motors Inc (TSLA) Stock Price: Time To Buy Shares? [VIDEO]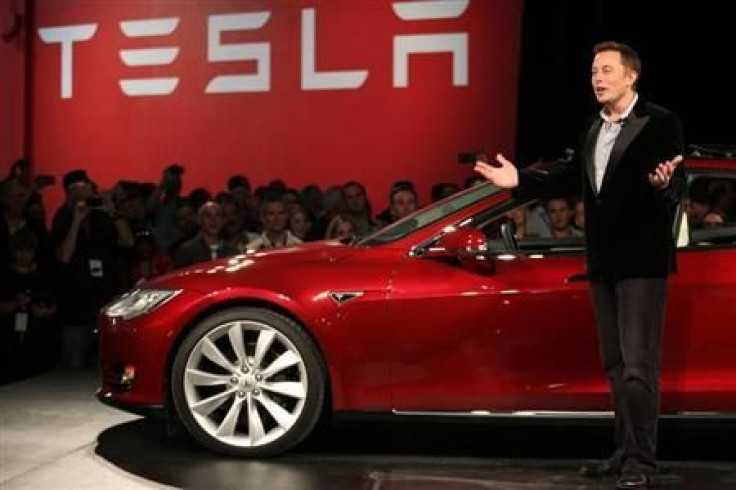 Tesla Motors Inc. (NASDAQ:TSLA) shares rose more than 6 percent in afternoon trading Friday after the electronic car maker reported fiscal 2014 second-quarter earnings of 11 cents a share, excluding items, on revenue of $858 million, compared with earnings of 2 cents a share on sales of $551.95 million a year earlier. The company posted earnings 7 cents above analysts' estimates as revenue also topped forecasts.
Wall Street expected Tesla on Thursday to report earnings of 4 cents a share after the closing bell, excluding items, on revenue of $810.57 million, according to analysts polled by Reuters.
"We have had an active first half of 2014, and the rest of the year is expected to be even busier," Tesla said in the company's second-quarter earnings statement. "Provided that we execute well and there are no serious macroeconomic shocks, Tesla's annualized delivery rate should exceed 100,000 units by the end of next year."
After the markets closed Thursday, Tesla posted a wider loss than expected as profits fell $61.9 million during the quarter (on a GAAP basis), or 50 cents a share, as revenue rose to $769 million. The company lost $30.5 million, or 26 cents a share, on revenue of $405.1 million during the same year-ago quarter.
Tesla stock opened Friday's session at $226.09 a share and rose as high as $237.50 in afternoon trading. The company closed Thursday's session down 2.5 percent at $223.30 in regular trading ahead of the earnings report. Investors were mixed in after-hours trading, as the stock rose about 1 percent following the announcement, but then reversed trend and fell nearly 2 percent. The stock then climbed again after Elon Musk, chairman and chief executive officer of Tesla, spoke with analysts during the company's second-quarter earnings call. Shares rose over 1 percent in pre-market trading on Friday.
"This stock almost doubled between the month of November and February of this past year," Mark Newton, chief technical analyst at Greywolf Execution Partners, told IBTimes. "It went from around $120 to nearly $260. It's since been consolidating. If you look at the options market, the volatility is up about 20 points from where the back month is. So it's trading at about 60 percent volatility. In this tight range it is anticipating that we could see a big move for Tesla and potentially a breakout at this bigger triangle."
Tesla said the company had $2 million net cash outflow from operations in the second-quarter, primarily due to an $82 million increase in finished goods inventory from cars in transit to Europe and China, and $15 million of cash used for leasing vehicles. Capital expenditures in the quarter totaled $176 million.
"I'm looking at $209 to $214 as being area on the downside, and that's right near July lows," Newton said. "It also hits a bigger trend line, so it's a five-point range of support. If it gets below there, we have the potential of seeing real weakness."
Model S Production and Model X Development
Tesla announced a new Model S/Model X assembly line planned to begin operation next week. The company hit a second-quarter record and delivered 7,579 Model S vehicles and built 8,763 cars during the period. The company said it is "on track" for more than 35,000 deliveries in 2014.
In addition, Tesla is expanding its Supercharging network, with the introduction of Supercharger stations in Canada and a substantial increase in the rate of deployment in Europe and China. Globally, the company just energized its 156th Supercharger station.
"In June alone, the Supercharger network passed a milestone, delivering more than 1 GWh of energy to Model S vehicles in the month, representing 2.7 million miles of driving," Tesla said. "Since inception, our customers have driven for free nearly 32 million Supercharged miles, the same distance as traveling to the moon and back, 65 times."
The company said development efforts remain on track for production of its SUV Model X in the spring of 2015 and anticipates having operational alpha prototypes ready by next week "in order to confirm design intent and beta prototypes to be ready later this year."
Tesla and Panasonic Announce Gigafactory Agreement
Tesla announced plans in February to build a $5 billion battery "Gigafactory" designed to reduce cell costs and, by 2020, produce more lithium ion batteries annually than were produced worldwide in 2013. The company had not yet announced where the factory would be located until Thursday.
Ahead of the company's earnings release, Tesla announced a partnership with Japanese electronics company Panasonic Corporation (OTCMKTS:PCRFY) to build the "Gigafactory" in the United States. Musk said in a letter to shareholders that site preparation has started for a location that could be used for the factory, which is expected to open in 2017.
"In June, we broke ground just outside Reno, Nevada, on a site that could potentially be the location for the Gigafactory," Musk said. "Consistent with our strategy to identify and break ground on multiple sites, we continue to evaluate other locations in Arizona, California, New Mexico and Texas."
Panasonic will invest in production equipment that it will use to manufacture and supply Tesla with battery cells, while the automaker will prepare and provide the land, buildings and utilities for the "Gigafactory," invest in production equipment for battery module and pack production, and be responsible for the overall management of the large-scale factory.
Expanding Model S Demand in China, Europe
Tesla said the number of deliveries in a quarter is influenced by three main factors: the company's ability to increase production, the allocation of that production among its North American, European and Asian markets, and the automaker's need to fill the in-transit pipeline for future deliveries in each region.
"The one thing to look for is China because they're a huge consumer, obviously, and I think the deal with Panasonic also with this battery plant has to be considered a positive as well," Newton said.
Tesla is "doubling its total global addressable market this year" by entering China and the right hand drive market. The automaker is delivering cars only in the areas around Beijing, Shanghai, Shenzhen and recently Hangzhou and expects to launch service and deliveries in additional cities in the coming months, including Chengdu and Guangzhou.
"You saw some real signs of slowdowns and real guiding down of their earnings over the last few months, and that's a little bit of a concern, but their revenues and I think the amount of cars they've been able to ship to China and Hong Kong, all these new markets that have opened up, is definitely encouraging," Newton said.
The right hand drive Model S launched in the United Kingdom in June and in Hong Kong last week, and Tesla expects to begin deliveries in Japan and Australia later this year.
Forward-Looking Guidance
Tesla said it plans to produce about 9,000 cars in the third-quarter, including the effect of the two-week production shutdown related to the transition to the new final assembly line at the Fremont, California, factory.
The company expects to deliver around 7,800 Model S vehicles during the period.
"We plan to invest between $750 million and $950 million in 2014, an increase of $100 million from prior guidance," Tesla said. "We continue to invest in additional production capacity, continued Model X and Model S development, Gigafactory construction, and further expansion of our sales, service, and Supercharger footprints."
Non-GAAP automotive gross margin in the current quarter is expected to be consistent with the prior quarter and the automaker estimates to lease about 300 cars in North America during the period.
Shares of Tesla Motors rose over 6 percent on Friday to $237.50 in afternoon trading.
"My thinking is we should see above average positivity in this stock just given the tight range it's traded over the last few months," Newton said. "So I'm looking for a breakout."
© Copyright IBTimes 2023. All rights reserved.