Tesla Motors (TSLA) Annual Shareholder Meeting: Five Takeaways From CEO Elon Musk's Shareholder Meet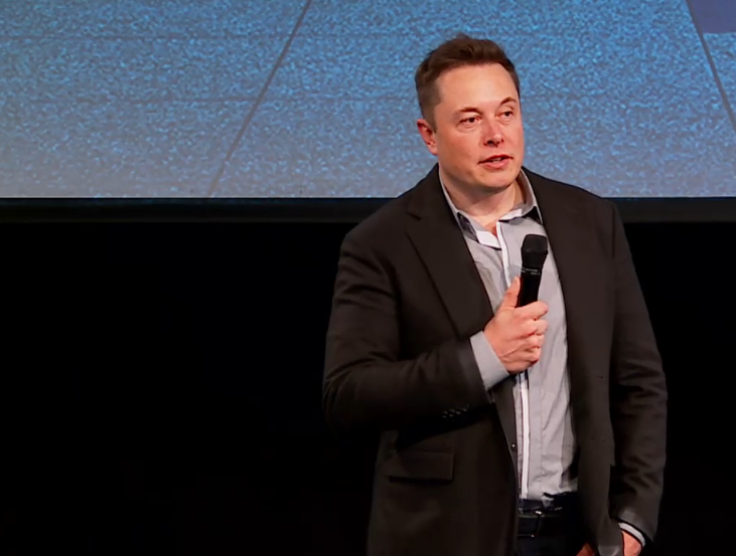 Tesla Motors Inc. CEO Elon Musk maintained his company's target of 55,000 vehicle sales for the year at his company's fifth annual shareholders meeting in Mountain View, California, on Tuesday. Speaking to crowded hall at the Computer History Museum, Musk also announced Chief Financial Officer Deepak Ahuja, who's been with the company since 2008, will step down later this year but assist in a "smooth transition" of his as-of-yet unannounced replacement.
"It seems like we'll be able to maintain roughly 50 percent average [sales] growth rate per year for several years to come," Musk said during his presentation.
At that rate, Tesla should deliver 55,000 cars to customers this year and about 82,500 in 2016. Tesla's sales growth is one of the most important metrics for measuring the company's progress toward selling 500,000 cars in 2020, the fastest sales ramp-up in automotive history.
Musk also said the Model X SUV is on schedule to begin deliveries to customers "in about three or four months." The company was expected to begin a small number of Model X deliveries to customers before the end of September.
Musk also said he would begin selling Tesla cars in Mexico before the end of the year, putting the company's marketing and sales flag in all three North American countries.
Here are five other major takeaways from Tesla Motors' shareholder meeting on Tuesday:

The Model X

Musk said company crash tests show the Model X could become the safest SUV in history. Utility vehicles have had a reputation for rollover risks because of their high centers of gravity. But the Model X architecture places a heavy battery pack beneath the floor, giving the SUV the same low profile as the Model S.
"It's very difficult to get the Model X to roll over," Musk said. The Model X will use the same dual motor drivetrain as the all-wheel drive Model S.
The Model 3
Tesla's planned $35,000 electric car due out in 2017 will utilize a single-motor rear-wheel drive "to keep the car as affordable a possible," Musk said. A dual-motor all-wheel drive option will be available as a premium add-on.
The newer base version of the Model S, the 70D, comes with all-wheel drive from two motors. It's currently Tesla's most popular version of the Model S, Musk said. The car went on sale earlier this year.
New 'Supple' Supercharger Cables
Tesla Motors operates a network of quick-charging stations that gives its customers complementary electricity. But the charger cables are bulky, something the company has been working to fix. The first thinner liquid-cooled cables were just deployed at a station in Mountain View.

"Instead of wrestling a good-size snake into the car, it's a really supple cord," said Musk. "It also has the potential of increasing the amount of power that can go through the cable in the future." This suggests Tesla wants future Supercharger stations to charge up cars faster. Currently it takes about 20 minutes to charge a car to 80 percent capacity.
Auto Steering Due By End Of Month
The Model S currently offers automatic emergency braking and blind spot warnings. Musk said a select few beta testers will get auto steering in their cars by the end of the month. The technology would allow the Model S to automatically steer and shift lanes under highway driving conditions.
The current Model S sedans have forward radar and 360-degree ultrasonic scanning ability out to about 16 feet in any direction. Musk says this isn't enough for fully autonomous driving, but it's adequate for more advanced driver assistance.
What about fully autonomous driving, the kind that lets you go to sleep and wake up at your destination?
"From a technical feasibility standpoint, I think it will be technically possible in approximately three years," Musk said. "It will take some time after that for regulators to accept that it's OK to just go to sleep in the car."
For that to happen, automakers will have to collect enough data to prove to regulators at state and federal levels -- not to mention foreign governments -- that computers drive better and more safely than humans. That, he says, "will take time."
Will SpaceX Go Public?
A shareholder in the audience wanted to know when or if Musk plans to hold an IPO for his space transport company, Space Exploration Technologies (SpaceX).
"If you're talking about something really long term, like building cities on Mars ... I think it would be not super loved by the public markets," he replied. "SpaceX will go public once we have regular flights to Mars."

Two of Musk's three companies, solar energy services provider SolarCity and Tesla, are publicly listed. But SpaceX is closest to Musk's dream of interplanetary human colonization -- and also the most wildly ambitious.
FOR FREE to continue reading
✔️ Unlock the full content of International Business Times UK for free
offer available for a limited time only
✔️ Easily manage your Newsletters subscriptions and save your favourite articles
✔️ No payment method required
Already have an account?
Log in
© Copyright IBTimes 2023. All rights reserved.