Tesla Reportedly Delivers First Model S Sedan For $410,915 To Mainland China Customer [PHOTOS]
Price tag includes delivery charges from Hong Kong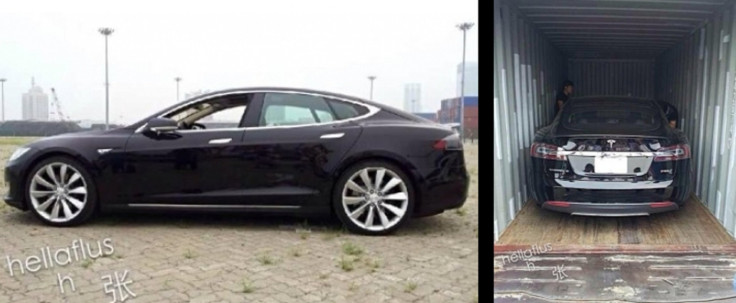 The first Tesla Model S delivered to a customer in mainland China is reportedly going to a 24-year-old who runs a luxury wedding car-rental service in eastern Dongyang city, Zhejiang province.
Here are two photos of a Tesla Model S luxury electric sedan allegedly being unloaded from a shipping container in China. They were posted on "Hantian Racing," an account on the Chinese microblogging site Sina Weibo.
The South China Morning Post and the Chinese-language Qianjeng Evening News investigated, and here's what they found.
- The man behind Hantian Racing is a car fanatic and director of a car factory in Zhejiang.
- He allegedly has access to a lot of cars, because of his profession, but, "finding them all boring," decided to order a Model S for delivery from Hong Kong.
- The price tag, including delivery charges: 2.5 million yuan ($410,915)
- Chinese Customs confirms that the car was in Shanghai on Thursday en route to the customer.
- Qianjeng Evening News says lack of charging stations in mainland China is a big issue for the viability of the brand.
Tesla Motors Inc (NASDAQ:TSLA) has been taking pre-orders from China since August. Pre-orders must be delivered from Hong Kong until Tesla has fully set up its Beijing branch, expected by the end of the year. The South China Morning Post says Hong Kong has "over 300" pre-orders, more than the total number of electric vehicles currently there.
FOLLOW MORE IBT NEWS ON THE BELOW CHANNELS