Tesla Reveals New Jobs Listing, Gigafactory 3 Needs Engineers
Tesla Inc. has lots of jobs for engineers. The only thing is, these jobs are in Shanghai, China.
The latest sign Tesla's Gigafactory 3 in Shanghai is about to open for business soon is one of the fruits of a charm offensive launched by Tesla CEO Elon Musk during his recent visit to China from Aug. 30 to Sept. 2.
Musk went to China to attain three aims: attend the 2019 World Artificial Intelligence Conference (WAIC) in Shanghai on Sept. 1; open the China office of The Boring Company; and hold high-level talks with Chinese officials wielding influence over Giga Shanghai. Needless, to say he accomplished all three.
Giga Shanghai's push to recruit the talent it needs is underway but a recent tweet announcing a multitude of vacancies for engineers shows how serious Tesla is at getting the core brainpower it needs. This tweet over the weekend was for people to fill in jobs in the Engineering Team.
The job listings from Tesla China's Careers page saw openings for Body/Closures Engineers, Exterior/Lighting Engineers, Chassis Engineers, Interior Engineers, Vehicle Test Drive Engineers, Distribution Engineers, and Thermals Engineers, among many others.
Akin to the incredibly rapid construction of Gigafactory Shanghai, which only began last January, the search for employees is proceeding quickly apace. Giga Shanghai will assemble the Tesla Model 3 and Model Y. It will also produce the electric battery packs for these electric vehicles (EVs).
Tesla intends to start the production of its affordable Model 3 in the factory by November. It will then quickly ramp-up production in phases, starting with the production of 3,000 EVs per week.
Leaked images and video released last month show the interior of Tesla Gigafactory 3. It also reveals for the first time Tesla is already making the necessary preparations for trial production runs of its Model 3. Tesla continues the rapid installation of manufacturing equipment and robots at the factory.
More important, these images show two partly-built Model 3s on an assembly line surrounded by various types of equipment.
Analysts said the photos show Giga Shanghai is ready to begin trial assemblies of the Model 3. Considering groundbreaking for this massive factory only began in January, the production of two test EVs in the space of just eight months is nothing short of incredible.
Tesla announced the deal to build Gigafactory 3 with the Shanghai municipal government only in October 2018. Groundbreaking for the plant, which Musk attended, took place in January.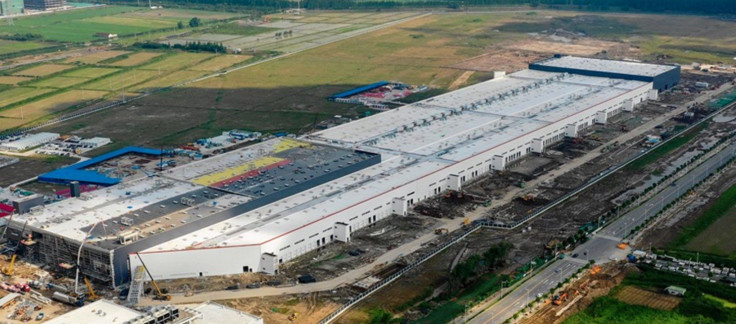 © Copyright IBTimes 2023. All rights reserved.