Tesla (TSLA) Stock Keeps Soaring As Analysts And The Teslots Keep Pumping Up The Price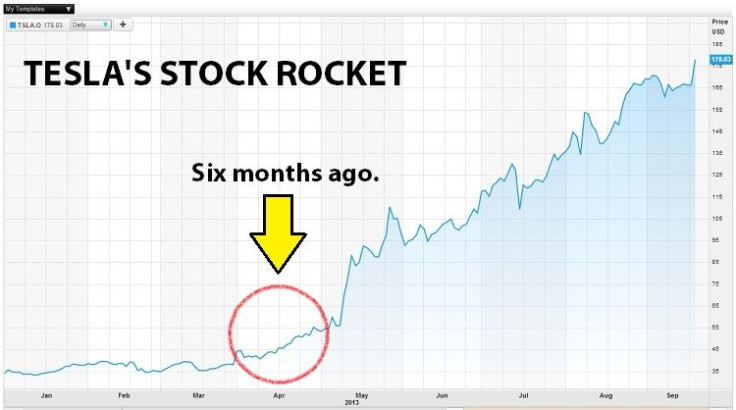 Is this a bubble alert?
Tesla stock is trading to the tune of about $1 billion a day, sometimes greater than the value of all other car companies combined. It's gained almost 490 percent of its value over the past 12 months, over 400 percent in the past six months, about 80 percent since June and almost 10 percent this week.
On Friday, the price touched the all-time high for the second day in a row, hitting almost $186 a share. This is the kind of momentum that strikes concern in the hearts of traditional, conservative buy-and-hold investors but seems All-American though the eyes of statistically less successful short-term traders.
Tesla Motors Inc. (NASDAQ:TSLA), the maker of the world's first all-electric full size sedan to top 200 miles in range, the critically acclaimed Model S, may be capturing hearts and minds in the same way Apple Inc. (NASDAQ:AAPL) converted millions of people into die-hard fanatics, but with over a month to go before the company will tell the world how far it's gotten to meeting its annual goals in its quarterly earnings report, the stock's price explosion seems to be driven largely by analysts telling potential investors that the stock could go higher before it starts to retreat.
Helping pump up the price of the stock: The ceaseless chatter from the die-hard Teslanaires and Teslots, as well as the occasional coy comment from CEO Elon Musk. A day after Musk boldly declared to the Financial Times in a report published Tuesday that he would have auto pilot in his cars by 2017 that could handle 90 percent of all driving, Musk took to his Twitter account, issuing a call to arms for engineers, a "Help Wanted" that suggests the autopilot plan hasn't yet entered any formidable stage of solid development.
Thursday's 7 percent TSLA gain came after Deutsche Bank analysts Dan Galves, Rod Lache, Mike Levin and Patrick Nola issued a buy recommendation, saying in their research report that the stock could still rocket to $200 over the next 12 months.
"Based on conversations with [Tesla] mgmt and monitoring information available on Tesla owners' blogs, we believe that the company is on-track to modestly outperform Q3 margin expectations, that demand has continued to grow in the U.S. and Europe . . . and that the production rate at Tesla's factory has continued to increase," the report said.
Then -- big surprise -- investors rushed to their E*Trade accounts and piled nearly $12 onto the price of a share. That momentum continued on Friday despite no new relevant information. The Deutsche Bank note came out a day after Morgan Stanley said the stock was overweight, meaning investors should hold but not necessarily buy.
"Incremental buyers are scared to wade in," said Morgan Stanley's Adam Jonas in the note co-researched by Ravi Shanker, Yejay Ying and Paresh Jain. "It's understandably hard to put fresh money to work with a stock chart that looks like Tesla's."
Tesla is in line to meet its gross margin and sales target for the year. It's reportedly fixing supply bottleneck issues, is churning out over 500 cars a week, and sending many of them to Europe as it begins its global unveil.
But it has yet to make a profit purely from selling cars rather than boosting itself into the green with carbon credit sales in California and some creative (but of course completely legal and transparent) non-GAAP accounting measures.
The company's third-quarter results will be released in early November. Analysts polled by Thomson Reuters expect net income of $12 million, or 11 cents per share, on revenue of $518 million. Gross margin is expected to grow to 22.6 percent compared to negative 16.6 percent in the same quarter last year; Musk has said he will meet or break 25 percent by the end of the year.
But whether you're a Tesladdict or not, one thing is clear: There is a rational price for a share of Tesla stock, and it's either already above that or it's reaching critical mass.
© Copyright IBTimes 2023. All rights reserved.