Texas Anti-Islam Backlash: Armed Protest Group Publishes Personal Details Of Muslims And 'Muslim Sympathizers'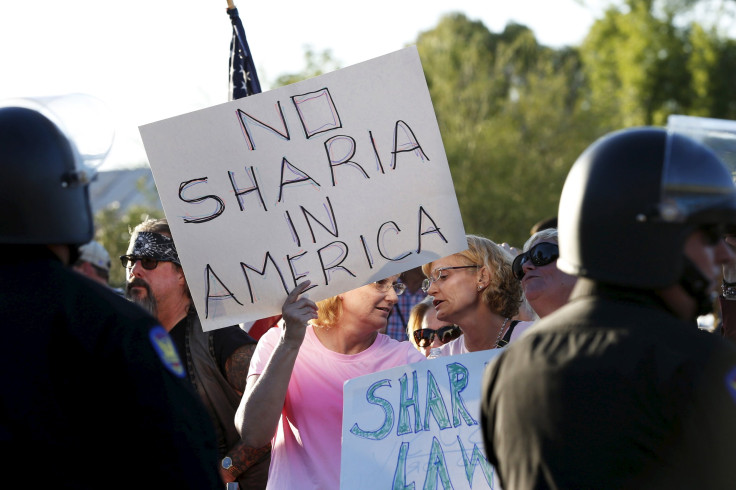 The leader of a group of armed anti-Islam protesters in Texas listed the names and addresses of dozens of local Muslims and "Muslim sympathizers" on its Facebook page Wednesday. Tensions in north Texas erupted after the Nov. 13 Paris attacks that were claimed by the Islamic State group, also known as ISIS.
The group, which calls itself the Bureau of American Islamic Relations, staged an armed protest outside an Islamic center in the Dallas suburb of Irving last Sunday. Stepping up the harassment, the group listed more than 50 names of those who "stood up for Sharia tribunals." ​
The people named on the list, which was posted by David Wright III -- the leader of the protest designed to intimidate Muslims -- were those who had asked the Irving City Council not to support the "American Laws for American Courts" bill, backed by Mayor Beth Van Duyne, because it would go against their religion.
"We should stop being afraid to be who we are! We like to have guns designed to kill people that pose a threat in a very efficient manner," Wright reportedly wrote on his personal page, before posting the list.
According to reports, a counter-rally is planned for Saturday outside the Islamic Center of Irving, to protest against those harassing Muslims.
The atmosphere at last week's protest was "very threatening. They had AR-15 [rifles], they had their faces covered," Alia Salem, executive director of the Dallas-Fort Worth branch of the Council on American-Islamic Relations (CAIR), said, according to the Guardian.
Salem also reportedly said that CAIR has "gotten a large increase in hate-crime reporting" since the Paris attacks that killed 130 people and injured hundreds others. She also reportedly said that at two events, she herself was verbally abused. Torn pages of the Quran were also thrown at a mosque in the Austin suburb of Pflugerville.
CAIR's national headquarters in Washington issued a statement Tuesday saying it "has received more reports about acts of Islamophobic discrimination, intimidation, threats, and violence targeting American Muslims (or those perceived to be Muslim) and Islamic institutions in the past week and a half than during any other limited period of time since the 9/11 terror attacks."
It attributed the increase to "the Paris attacks and to the mainstreaming of Islamophobia by political candidates and lawmakers in the run-up to the 2016 general election" as well as several politicians calling for the U.S. to stop accepting Syrian refugees, who are fleeing ISIS violence in the Middle East.
© Copyright IBTimes 2023. All rights reserved.