Texas Flooding 2015: Padera Lake Dam Near Midlothian Leaking, Could Break Shortly, Officials Warn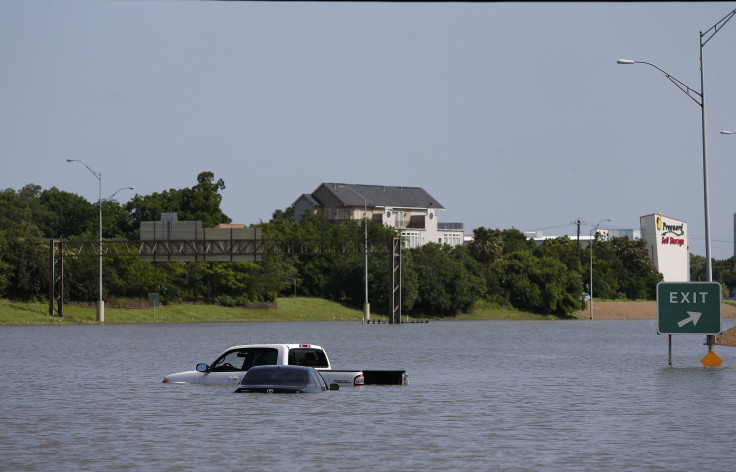 A dam in Texas could break after recent severe rains created a leak, officials warned Wednesday as the National Weather Service issued a flash flood warning for the area and a local police chief suggested the dam could fail that same morning. Some residents downstream of Padera Lake in Midlothian, in northeast Texas, were told to evacuate as a precaution after water began flowing over the dam.
"All of us are watching it very closely," said Stephanie Parker, emergency management coordinator for Ellis County. She told CBS DFW that the situation was under control – crews were reportedly pumping water from the lake – and the overflowing water was not dangerous, adding, "The best case-scenario is happening and we hope it continues to do so."
If the dam breaks, officials expected not a gush of water but a slower release into Joe Pool Lake in Grand Prairie, north of Midlothian, local media reported. The dam, made of earth, has been in the process of being rebuilt for the past year.
Water was already pouring from a relief structure at Padera Lake Wednesday morning.
Flood waters have taken days to recede after heavy rains and storms swept through Texas and Oklahoma Sunday and Monday.
"It was literally a large wall of water that came down the Blanco River and destroyed everything in its path," Will Conley, commissioner for Hays County, in central Texas, told USA Today. The wall of water, a record 42 feet tall, began rising rapidly Sunday evening and swept away dozens of houses, as well as people.
At least 17 people in Texas and Oklahoma have died as a result of the storms. In the town of Wimberly, Texas, more than 1,000 homes were damaged or destroyed. Hundreds of people have been displaced.
Meteorologists have warned that the storms ravaging Texas and Oklahoma are not yet over and that Houston in particular would be pummeled again with heavy rains Wednesday. The National Weather Service issued flash flood warnings in multiple Texas counties. Some Texas officials predict that flooding from the rains could last for weeks.
© Copyright IBTimes 2023. All rights reserved.