Texas And Oklahoma Floods 2015: How Global Warming Makes The Flooding More Destructive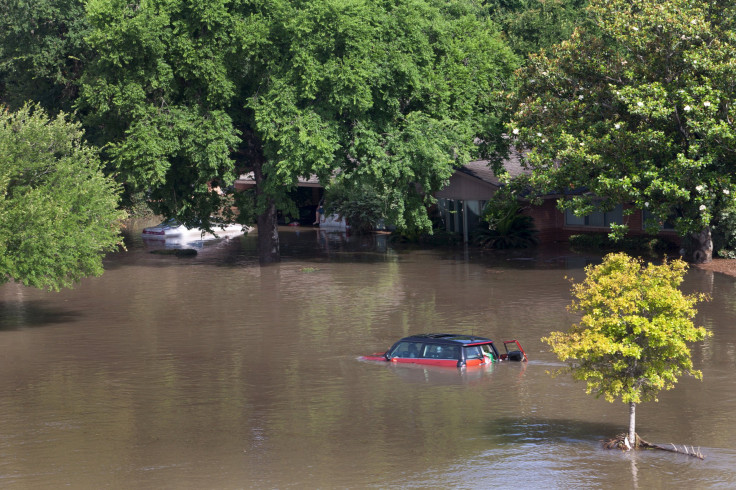 The rainclouds and steady showers first seemed like a blessing when they arrived in drought-stricken Texas earlier this spring. But near constant rainfall in recent weeks has turned the ground into a soggy sponge, one that's unable to absorb moisture and is increasingly prone to flooding.
The waterlogged landscape is partly to blame for the weather-related destruction in Central Texas, where fierce storms and tornadoes have dumped record amounts of rain, swelling rivers and covering roads.
At least seven people were killed in Texas and Oklahoma over Memorial Day weekend, and a dozen or more were still missing by Tuesday afternoon. The Blanco River crested above 40 feet at one point during the storm -- more than triple its normal flood height. Emergency crews in boats and helicopters have rescued residents near Austin and Houston, and thousands of Texans remain displaced after their homes were damaged or destroyed.
Above-average rainfall in recent weeks has hamstringed the soil's ability to soak up stormwater, leading to greater flooding than would've otherwise occurred in some places, said Jameson Courtney, a floodplain manager in the City of Austin's Watershed Protection Department.
During a six-inch rainfall, for instance, three inches would normally be absorbed by the ground while the remaining three would create runoff, he explained. "Now, all the rain that falls becomes runoff," Courtney said. "Today, a three-inch rain would have the same effect that the six-inch rain would if we were drier."
Take the town of Fredericksburg, about 80 miles west of Austin, which has seen eight inches of rain in the past 30 days -- more than triple the average rainfall of 2.5 inches for the month of May. The nearby Pedernales River surged three feet above its flood stage Saturday.
In Wichita Falls, between Dallas and Oklahoma City, the city had its wettest May in history, with rainfalls reaching nearly 14 inches so far this month, compared to the average 3 inches for all of May. While the rains came as a welcome respite from years of drought, replenishing the city's barren drinking water supplies, residents were forced to evacuate their homes this weekend as the Wichita River crested at 21 feet Sunday.
Severe flooding isn't uncommon in Central Texas, even if this week's storms are more extreme than usual.
Meteorologists call the area between San Antonio and Austin "Flash Flood Alley" for its unique geographic and climatic conditions. In the region, a line of low hills along the Balcones Escarpment tends to trap warm air blowing in from the Gulf of Mexico, putting it on a collision course with incoming moisture from the Pacific Ocean or cold fronts moving southward. When storms brew, the rains speed down the sloped creeks and watersheds, causing massive flooding within just hours.
More than 140 people died from flooding events in Texas between 2000 and 2013, accounting for 15 percent of all flooding-related deaths in the U.S. over that time, according to the National Weather Service, a division of the National Oceanic and Atmospheric Administration.
"Texas in general goes back and forth from being very drought-stricken, to where we get these heavy rainfalls that occur within a few hours," said Russell Persyn, a watershed engineering manager with the San Antonio River Authority. "When you swing in these other directions, it's a big dramatic change."
The above-average rainfall and recent floods in the state were largely fueled by a dip in the jet stream, a river of fast-moving air that cuts across the continent and affects rainfall and thunderstorm intensity. The trough above the western United States is clashing with Gulf Coast air, setting off flooding in Texas and the Plains region, said Dave Schwartz, a meteorologist with The Weather Channel in Atlanta.
He said severe storms like the ones ravaging Texas and Oklahoma are expected to become more frequent and severe in the coming decades due to global warming. As people burn more oil, coal and natural gas for fuel and energy -- boosting greenhouse gas emissions -- the planet's average surface temperatures are projected to warm, elevating sea levels and altering weather patterns, global climate scientists say.
"Torrential downpours and events like this are consistent with the general theory of global warming," Schwartz said. Given the growing threats, cities and states "have to plan for the potential for more emergency types of events," he added.
Persyn said San Antonio County has made "significant strides" in flood-control infrastructure, investing $500 million in recent years to improve drainage systems and emergency response operations. His agency has developed a radar system to help forecast where and when floods might strike.
Still, predicting flash floods is difficult to do, given their swift and severe nature. When an intense rainstorm hit San Antonio over Memorial Day in 2013, the San Antonio River went from a flow of about 50 cubic feet per second to more than 80,000 cubic feet within an hour, Persyn said. Floods also strike in different areas, he added, noting that the 2013 flood hit central San Antonio while massive floods in 1998 and 2002 struck to the east and west of the city, respectively.
Courtney, the floodplain manager in Austin, said the city has bolstered its efforts to warn residents about flood dangers. The city puts out online and radio ads urging people to "Turn Around, Don't Drown" -- given that the bulk of flooding-related deaths occur when vehicles are stranded or inundated. Austin's website, ATXfloods, lets residents see which roads are safe to cross and which roads are flooded or at risk of flooding.
As of Tuesday, more than 400 out of 1,000 road crossings were closed due to flooding in Austin. "During our past few flood events, people who remain in their homes and seek higher ground or get on their roof end up to be in a safer position than people who get into vehicles and drive away," Courtney said.
FOR FREE to continue reading
✔️ Unlock the full content of International Business Times UK for free
offer available for a limited time only
✔️ Easily manage your Newsletters subscriptions and save your favourite articles
✔️ No payment method required
Already have an account?
Log in
© Copyright IBTimes 2023. All rights reserved.