Flash Flooding In Southern US: Houston's White Oak Bayou Level Rises; Tornado Warning In Jefferson Parish, Louisiana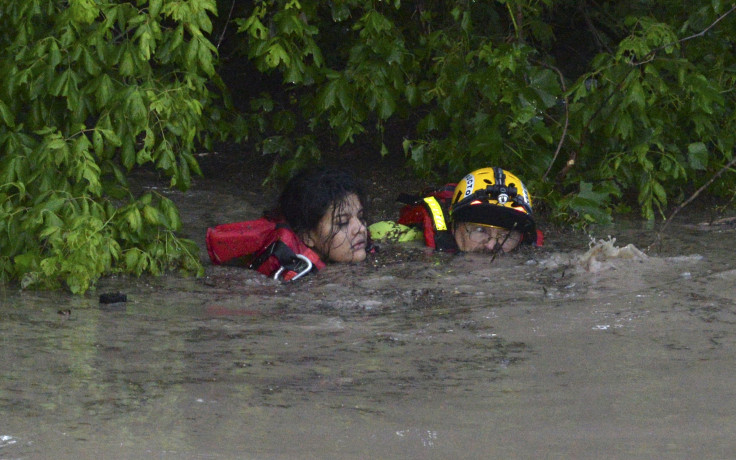 Update as of 5:40 a.m. EDT: Metro rail and bus services have been suspended in Houston due to flooding as heavy rain continued across Texas early Tuesday. The services will resume after flood waters recede and weather conditions improve, Houston's public transportation service announced on its Twitter account.
Residents in Harris County have been urged to remain indoors on Tuesday morning as an emergency flash flood warning was issued for the southwestern part of the county and northeast Fort Bend County, the Associated Press (AP) reported.
Meanwhile, evacuations are reportedly underway in Austin, Texas, as rising flood waters threatened several homes. Some residents were rescued by crews using boats and helicopters, AP reported, citing the Austin American-Statesman.
Update as of 3:50 a.m. EDT: A flash flood emergency has been extended through 5:15 a.m. EDT for Houston, to include the southern and eastern parts of the city, the Weather Channel reported early Tuesday. The Houston area had reportedly received between 6 to 10 inches of rain by early Tuesday, while forecasters predicted more rainfall.
Original story:
Water level in White Oak Bayou, one of the several waterways in Houston, Texas, climbed 25 feet in nearly two hours as heavy rain continued in the area following a severe storm, the Weather Channel reported early Tuesday. It added that this could flood Interstate-10 north of downtown shortly.
A flash flood emergency declared Monday for southwest Harris County in Texas was later extended for a slightly larger area from downtown Houston into Fort Bend County by the National Weather Service. Authorities reportedly said that hundreds of homes were flooded in the western part of the Harris County as rains continued. The Weather Channel reported that several employees were trapped in The Galleria shopping center in Houston due to flash flooding. Nearly a dozen remain missing along the Blanco river, about 100 miles west of Houston, a local media report said.
"This is the biggest flood this area of Texas has ever seen," Texas Gov. Greg Abbott said on Monday after flying over the Blanco river area, according to Reuters. "It is absolutely massive - the relentless tsunami-type power of this wave of water."
Texas' emergency management reportedly said that over 8 inches of rainfall was recorded in Houston's Buffalo Bayou in three hours. At least five people were killed in flash floods that swept through Texas and Oklahoma over the weekend, while thousands were displaced and hundreds of homes were destroyed as the severe weather led to record-setting flash floods.
More rainfall is predicted in parts of Texas that have been devastated by the deadly storms.
Early on Tuesday, a tornado warning was issued for Jefferson Parish in southeastern Louisiana, the Weather Channel reported. Flash flood warnings were issued Monday for a number of counties in Texas, Oklahoma and Mississippi, as well as Louisiana.
© Copyright IBTimes 2023. All rights reserved.