Thai Stock Exchange Moves Some Of Its Services To Shopping Mall, AeroThai Readies Contingency Plans After Shutdown Threat From Protesters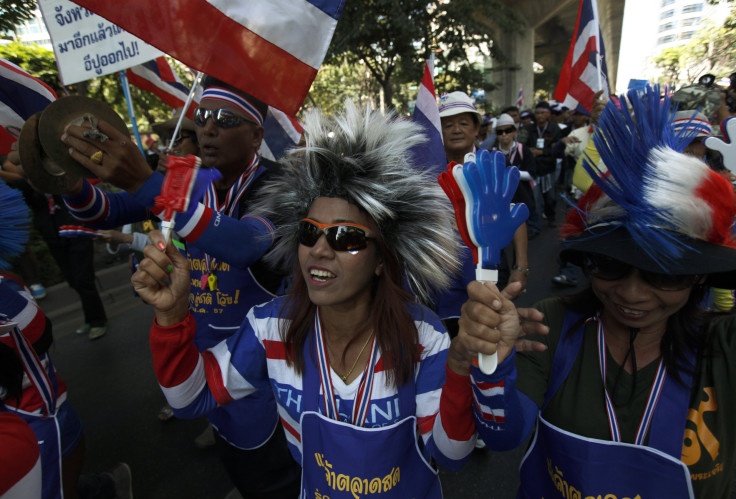 The Stock Exchange of Thailand, or SET, on Wednesday moved some of its staff from its main building to a shopping mall, while the country's air-traffic communications body prepared contingency plans to ensure continuing operations, following threats from opposition protesters to seize the buildings as part of their ongoing struggle to force the government out of power.
The SET, in a statement, said that its customer services division had been moved to a shopping mall on the same road where the bourse's main building is located. The SET has an administrative office in the mall. The Students and People Network for Thailand's Reform, a faction of hard-line rebel protesters fighting to oust Prime Minister Yingluck Shinatawatra's government, had said earlier on Monday that they might seize the SET building, and also the offices of Aeronautical Radio of Thailand, or AeroThai, on Wednesday in a bid to increase pressure on the embattled government.
The SET "has temporarily re-located its contact and customer services to Esplanade shopping center, Ratchadapisek Road, Bangkok, replacing the SET building on the same road, due to the current political situation, starting from January 15 until further notice," the bourse said, in a statement.
AeroThai officials said that the organization had back-up operations in place to ensure air traffic is not disrupted if the protestors shut down its main building in central Bangkok.
"AeroThai has prepared contingency plans to handle any situation that may affect our service ... For en-route services AeroThai has set up a back-up centre working parallel to our primary system," Prajak Sajjasophon, the company's president, told Reuters. "We can assure you services will not be affected if protesters force our headquarters to shut down operations," he added.
Tensions have mounted in the southeast Asian country after the anti-government struggle, which began late last year again turned violent this month injuring several people. Thousands of protesters have camped in key locations and streets in the capital, Bangkok, for the past three days with an aim to shut down the capital and bring down the government before the general elections scheduled for Feb. 2.
Meanwhile, earlier on Wednesday, at least two people were injured in an apparent attack on anti-government protesters camped on a street in downtown Bangkok. In a separate incident that occurred overnight, a grenade exploded in a residential compound owned by former Prime Minister Abhisit Vejjajiva. No injuries were reported from the incident, and Vejjajiva, head of the Democrat Party, who resigned last month to join protestors, was not home at the time, Al-Jazeera reported.
The anti-government protesters accuse Yingluck's government of corruption and have demanded that she step down. Yingluck, in an attempt to ease tensions has dissolved the parliament and called for fresh elections and has insisted on continuing as head of a caretaker government until the elections. In turn, the protesters vehemently oppose the move and demand that she hand over power to a non-political entity before the elections.
"I've stressed many times I have a duty to act according to my responsibility after the dissolution of Parliament," Yingluck said, according to Al-Jazeera.
Yingluck also confirmed Wednesday that she will go ahead with the elections as planned in response to some reports that the elections might be called off.
"I'd like to say right now I am not holding on (to my position) but I have to keep political stability. I'm doing my duty to preserve democracy," she said, according to Al-Jazeera.
Thailand's elite and main opposition groups despise Yingluck's government, while she enjoys wide support among the country's poor and middle class for the populist social welfare programs launched by her government and her ousted brother, Thaksin Shinawatra, who is in a self-imposed exile to escape a prison term in a corruption case.
© Copyright IBTimes 2022. All rights reserved.
FOLLOW MORE IBT NEWS ON THE BELOW CHANNELS