Thanksgiving Cost 2014: Lower Fuel Prices Keep Feast Under $50 As Average Turkey Dinner Bill Up Slightly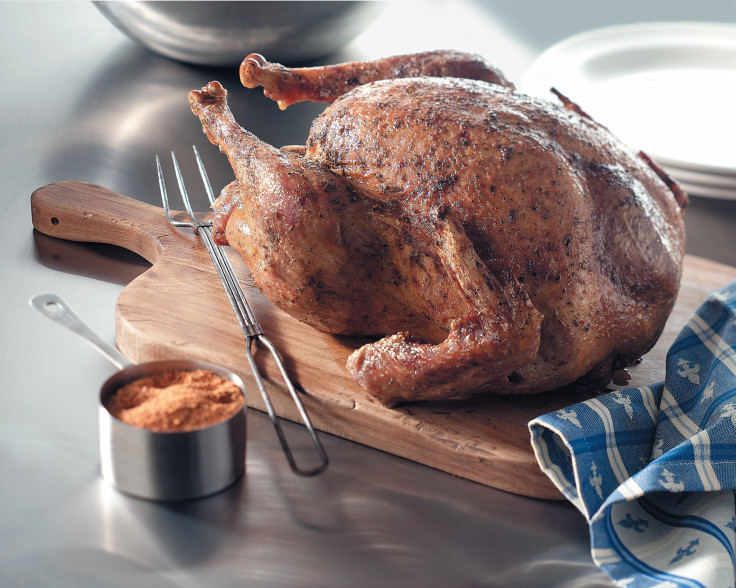 The average cost of feeding 10 people for Thanksgiving has risen slightly from last year, in part because of lower turkey production and higher wholesale prices of some turkey dinner staples, according to the American Farm Bureau Federation. The average price of a turkey dinner in 2014 is $49.41 -- about 37 cents higher than in 2013.
Every year since 1986 the federation has released an "informal gauge of price trends around the nation" for Thanksgiving Day groceries. According to their surveys, the average cost of a turkey dinner in the past 28 years peaked in 2012 at $49.48. The menu accompanying the turkey has remained unchanged and is quintessentially American: sweet potatoes, peas, stuffing, cranberries, rolls and pie.
The modest bump in price this year for a turkey and all the trimmings can be blamed on increased prices for dairy products, sweet potatoes and pumpkin pie mix, the federation said. The average collective price of those key Thanksgiving dinner ingredients rose 25 cents compared with last year. Coffee, sugar and eggs account for another 28-cent jump from 2013.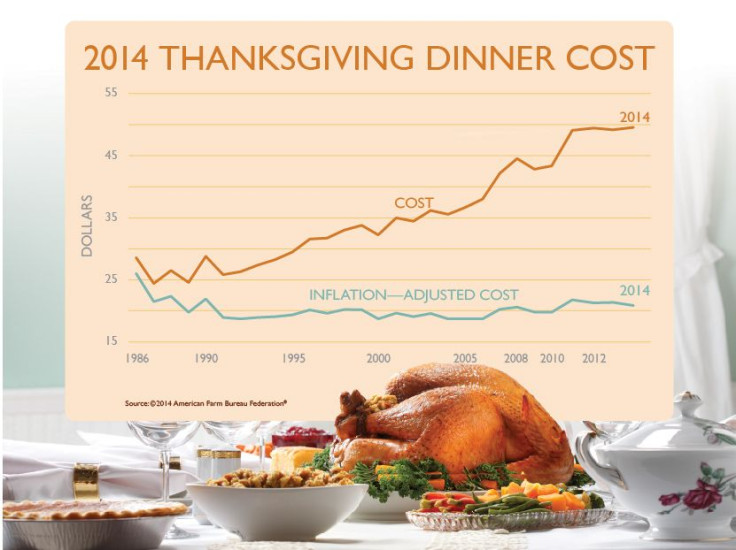 Although turkey production has dipped somewhat, the average price of a 16-pound turkey has fallen by 11 cents. Additionally, sinking gas prices across the country have kept down the costs of other turkey dinner basics, like stuffing mix, pie shells and dinner rolls, according to the Associated Press.
In total, Americans can give thanks that a Thanksgiving feast can still be done for under $50. "America's farmers and ranchers remain committed to continuously improving the way they grow food for our tables, both for everyday meals and special occasions like Thanksgiving dinner that many of us look forward to all year," federation deputy chief economist John Anderson said in a statement. "We are blessed to be able to provide a special holiday meal for 10 people for about $5 per serving -- less than the cost of most fast-food meals."
© Copyright IBTimes 2023. All rights reserved.