Theo Epstein, Curse Killer: How Chicago Cubs Exec's 'Moneyball' Approach Sparked NLCS Run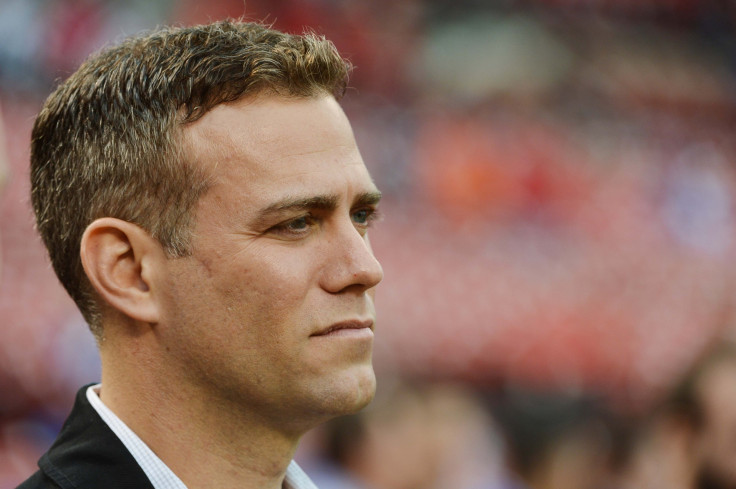 Theo Epstein, architect of a ragtag group of young Chicago Cubs sluggers and resurgent veterans, has affirmed his reputation as baseball's resident curse killer -- regardless of whether the Cubs overcome their 3-0 deficit against the New York Mets in the National League Championship Series. The 41-year-old executive used his data-based approach to bring the once-hapless Cubs within striking distance of ending their centurylong championship drought, just as he did for the Boston Red Sox in 2004.
Epstein, like longtime Oakland Athletics executive Billy Beane, is a noted proponent of sabermetrics, or the use of nontraditional statistics -- like on-base percentage -- rather than old-school measures of production like home runs, to identify inexpensive yet productive players. The 2015 Cubs are a prime example of data-driven roster construction, with their emphasis on young sluggers like Kris Bryant and Kyle Schwarber and bargain-level reclamation projects like ace pitcher Jake Arrieta.
But to characterize Epstein solely as a statistics guru is to oversimplify his multilayered approach to running a baseball team. Since joining the Cubs as president of baseball operations in 2011, Epstein, with the blessing of team ownership, has made full use of Chicago's large-market resources to affect top-to-bottom, innovative change in an organization previously known for its traditionalist mindset. With a revamped scouting department and coaching staff to go along with his data-driven player analysis, Epstein has rebuilt the Cubs to suit his vision. For Wrigley Field faithful long bereft of winning baseball, the future is bright.
"I don't brand Theo as the sabermetrics guy who remade the Red Sox and is remaking the Cubs on that basis. I think he's much broader than that," said Vince Gennaro, president of the Society of American Baseball Research, who consults MLB teams on roster construction and business efforts. "He's a great leader, and a great leader looks at all the pieces."
Chicago Cubs | PointAfter
Beane, tasked in the early 2000s with transforming the lackluster A's on a shoestring budget, adopted stat-based bargain hunting out of necessity. In both Chicago and Boston, Epstein has had access to resources that most other executives have not, and that reserve of cash has undoubtedly played a role in his success. The Cubs spent nearly $100 million more on player salaries this season than the Athletics, according to USA Today.
Jon Lester, the veteran starting pitcher, left the A's for the Cubs last offseason when Epstein lured him away with a 6-year, $155 million contract. Epstein's financial leverage as compared to other stat-centric baseball executives isn't the only factor in his success, but it has certainly helped.
"When you look back at Theo's career, the core difference between his work and that of other teams is he has been in bigger markets," said Ben Ryan Shields, a sports analytics expert and lecturer at the Massachusetts Institute of Technology's Sloan School of Management. "The budget that he has to work with is larger. For any general manager, even if you do ascribe to sabermetrics principles, budget still matters."
But as any Los Angeles Dodgers fan can attest after the failure of the team's $230 million experiment this season, it's not the size of the budget, but how you use it. Epstein built a revered baseball operations structure in Boston that has largely remained competitive since he left, most notably with a 2013 World Series win. When Cubs Chairman Tom Ricketts handed him the keys to the kingdom in 2011, Epstein had to start from scratch, without even the customized stat analysis software, known as Carmine, that he developed while in charge of the Red Sox. The Cubs were slow to embrace sabermetrics under previous general manager Jim Hendry, employing just one full-time advanced statistician until 2010, according to the Chicago Tribune.
Epstein rebuilt the Cubs' baseball operations department with an obsessive attention to detail. He hired Jed Hoyer as general manager and Jason McLeod as vice president of player development. He replaced older scouts, many of whom did not know how to use Microsoft Excel, with new scouts with knowledge of advanced metrics and cutting-edge player assessment. Cubs officials use video technology to test prospects on pitch recognition and other measures of ability. Everyone, from Epstein's inner circle to regional scouts to team manager Joe Maddon, is on board with the overall mission.
"He's clearly hiring very smart people to do very good analysis, and that helps him in every trade, every draft and every signing they do," said Andy Andres, a sabermetrics expert and senior lecturer at Boston University. "He's very serious about very good analysts. They take that extremely seriously. A lot of clubs sort of 'get a guy.' Theo wants the best, so he will go out and get the best. But he's also mindful of scouting and player development as well."
Jake Arrieta | PointAfter
Several of the 2015 Cubs' key contributors are byproducts of this organizationwide attention to detail. Chicago's rookie position players -- most notably Schwarber, Bryant and Addison Russell -- accounted for a league-best 11.1 wins above replacement (WAR) in 2015. In other words, the Cubs won 11 more games this season than they would have if their rookies were replaced with an average player at their position.
Schwarber, the burgeoning slugger with a Ruthian swing and keen eye at the plate, is a case study in Epstein's ability to assess young talent. At 6 feet tall and 235 pounds, he does not possess the prototypical build for a middle-of-the-order major league bat. He isn't particularly athletic, and his speed on the base paths is passable at best.
Schwarber was a catcher in college but wasn't seen as a particularly strong fielder. Most scouts projected him as a mid-first-round pick in the 2014 draft. Epstein took Schwarber at fourth overall, a move that baffled the baseball establishment.
"People thought it was a huge reach. They thought he had a very good bat. I think Theo thought he had an elite bat," said Gennaro. "This is a guy who has the potential be a future perennial all-star. There weren't a lot of other teams who believed that."
More than one year and a position change later, Schwarber, who starts for the Cubs in left field, is a crucial part of Chicago's lineup. He leads all postseason hitters with a 1.444 on-base-plus slugging percentage and his five home runs rank second.
But no player has exemplified the Cubs' unlikely run to the NLCS more than Arrieta, a 29-year-old journeyman who washed out of the Baltimore Orioles' system in 2013. At the time, Arrieta had a 7.23 earned run average -- the traditional measure of pitcher success in the major leagues. Unperturbed, the Cubs placed him in their rotation and found their new ace.
Under Epstein's leadership, the Cubs have targeted players with low fielding independent pitching, or FIP, ratings. The advanced stat measures performance based only on a pitcher's strikeout, walk and home run rates, in order to isolate the pitcher's individual ability from the performance of his fielders. Chicago's team FIP of 3.30 in 2015 was the best in all of baseball.
Arrieta's rise could have been blind luck, or it could have been a testament to stat-based research. Arrieta's ERA was high in Baltimore, but his FIP was relatively low. He blossomed in 2015, leading all pitchers with 22 wins and posting a microscopic 1.77 ERA and 2.35 FIP. He allowed just nine earned runs in 15 starts in the season's second half, at the height of the Cubs' playoff push, and threw a complete-game shutout in Chicago's win over the Pittsburgh Pirates in the NL Wild Card game. And he did all of this for the low, low salary of $3.63 million.
"If anything epitomizes 2015, it's the rookies -- Russell, Bryant and Schwarber -- and the Arrieta trade," said Andres, the sabermetrics expert. "Those guys added a lot of value that people didn't see in the beginning of the year."
This week, the Cubs stand on the brink of elimination against the Mets, another franchise in the midst of an unlikely championship run. But with Epstein at the helm, Chicago fans and executives have reason to be optimistic that their decadeslong nightmare will soon end.
"He has a lot of those traits that great leaders have. He's a very good listener, he processes information very well, he knows what he doesn't know and he knows where to get that information," said Gennaro. "He's the kind of guy you'd want running any business. He's the kind of guy who could be the CEO of a lot of companies."
© Copyright IBTimes 2022. All rights reserved.
FOLLOW MORE IBT NEWS ON THE BELOW CHANNELS