There's A New Israeli Government, And Here's Who's in It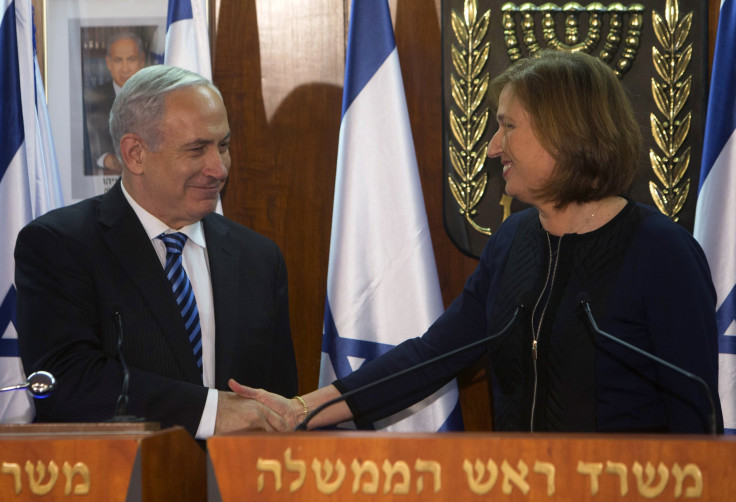 Just in time for Friday night, the beginning of the Jewish Sabbath and the impending Saturday deadline, Israel's politicians finalized the next coalition government.
There will be 22 ministers in total, making this one of the smallest Israeli governments in recent history. The last government, also under Netanyahu, had 30 ministers, Jerusalem Post said. This also marks the first time recently that there are no Ultra-Orthodox Jewish parties in the government, which means chances are higher that the Ultra-Orthodox Jews in Israel may soon have to begin serving in the military, a requirement for every secular Israeli from which the religious are currently exempt.
Here's who's in and who's out.
The Coalition
- Led by Likud-Yisrael Beiteinu alliance, which holds 31 seats in the Knesset, Israel's parliament
- Yesh Atid (There Is A Future), led by Yair Lapid, with 19 seats
- Bayit Yehudi (Jewish Home), led by Naftali Bennett, with 12 seats
- HaTnuah (The Movement), led by former Foreign Minister Tzipi Livni, with six seats
The Ministers
- Agriculture and Rural Development: Yair Shamir, Yisrael Beiteinu
- Communications: unassigned
- Culture and Sports: Limor Livnat, Likud or Uri Orbakh, Bayit Yehudi
- Defense: Moshe Ya'alon, Likud. Ya'alon, who was vice prime minister and minister of strategic affairs in the last government, is the former chief of staff of the Israel Defense Forces
- Economics and Trade: Nafatali Bennett, head of Bayit Yehudi (Jewish Home)
- Education: Rabbi Shai Piron, second-in-command of Yesh Atid
- Energy and Water: Uzi Landau, Yisrael Beiteinu
- Environmental Protection: Amir Petez, second-in-command of HaTnua
- Finance: Yair Lapid, head of Yesh Atid
- Foreign Affairs: Prime Minister Benjamin Netanyahu himself will act as foreign minister, as the current minister, Avigdor Lieberman, is being charged with fraud, the BBC reported.
- Health: Yael German, Yesh Atid
- Home Front Defense: Silvan Shalom, Likud
- Housing & Construction: Uri Ariel, Bayit Yehudi -- Jewish Home is known for having a very pro-settler stance on development in the West Bank, so its control of the Housing Ministry will likely signal even more settlement plans.
- Immigration: Sofa Landver, Yisrael Beiteinu
- Information and Diaspora: unassigned -- will go to Bayit Yehudi
- Interior: Run by Likud, likely will be Gideon Sa'ar, who held the position in the last government but is currently at the center of a sex scandal
- Justice: Tzipi Livni, head of small center-left HaTnua party -- Livni is known to be a dove on the issue of the Palestinians and the two-state solutions and claims to have gotten very far in her talks with the Palestinians during her time as foreign minister, but several reports have said that any and all deals with the Palestinian Authority will have to be routed through Netanyahu first.
- Public Security: Yitzhak Aharonovich, Yisrael Beiteinu
- Science and Technology: Yaakov Peri, Yesh Atid
- Strategic Affairs: Yuval Steinitz, Likud -- Steinitz was finance minister in the last government. The Ministry of Strategic Affairs is specifically designed to deal with the perceived threat of a nuclear Iran.
- Transportation: It's undetermined, but the Jerusalem Post reports that Israel Katz of Likud will maintain his post as minister of transportation.
- Tourism: Uzi Landau, Yisrael Beiteinu, who also holds Energy and Water
- Welfare and Social Services: undetermined, will be held by Likud
In total, Likud-Beiteinu controls 11 ministries, Yesh Atid and Bayit Yehudi each hold four, and HaTnuah holds two.
Both Lapid and Bennett, the rising stars of the last election in January, were reportedly angling for a deputy prime minister position, but Netanyahu decided that he did not want any deputies in this government.
Outgoing Environmental Minister Gilad Erdan was offered the Energy and Water Ministry, the Jerusalem Post said, a position with more political clout than the Environment Ministry, but turned down the offer.
The Opposition
- Labor, led by Shelley Yacimovich, with 15 seats -- Early in the negotiations, Yacimovich was offered a position in the coalition but chose to turn it down in favor of being the leading party in the opposition.
- Shas, an Ultra-Orthodox party, with 11 seats
- United Torah Judaism, an Ultra-Orthodox party, with seven seats
- Meretz, a left-wing Zionist party, with six seats
- United Arab List -- Ta'al, an Israeli Arab party, with four seats
- Hadash, an Arab socialist party, with four seats
- Balad, an Israeli Arab party, with three seats
- Kadima, former stronghold of the left wing, with two seats
In total, the opposition holds 52 seats in the 120-seat Knesset.
© Copyright IBTimes 2023. All rights reserved.
FOLLOW MORE IBT NEWS ON THE BELOW CHANNELS