Thousands Rally In Ethiopia Against ISIS Killing Of Ethiopian Christians In Libya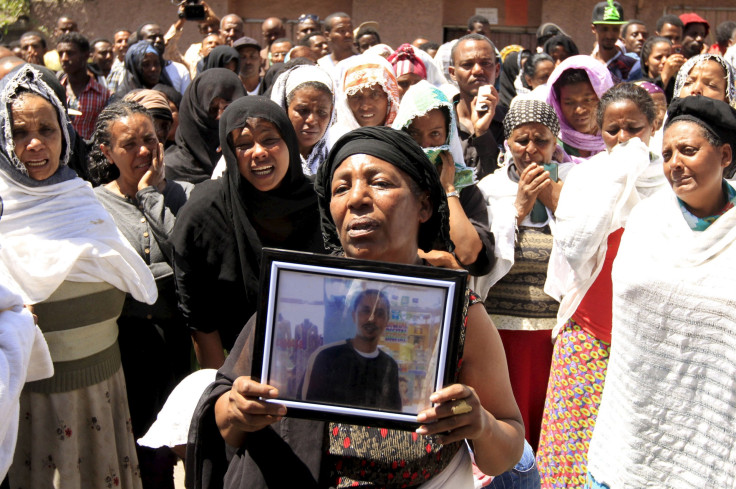 Thousands of Ethiopians gathered in the capital of Addis Ababa on Wednesday for a rally to protest the killing of Ethiopian Christians in Libya. There were reports of violence at the government-sponsored gathering at Meskel square, where protesters hurled rocks and scuffled with police, leading to the detention of some people, Reuters reported.
Citizens of the majority-Christian country gathered in the square holding placards, which read: "We want revenge for our sons' blood," referring to the mass execution of Ethiopian Christians shown in a recent video released by the Islamic State group, the Associated Press reported.
The ISIS video, released on Sunday, showed fighters holding two groups of people they described as "followers of the cross from the enemy Ethiopian Church," before beheading and shooting them. The video purportedly showed the killing of some 30 Ethiopian Christians in Libya.
Ethiopia reportedly confirmed that the people executed in the video were its citizens.
The killings were widely condemned abroad, with Pope Francis speaking out against the "continuing martyrdom being so cruelly inflicted on Christians in Africa, the Middle East and some parts of Asia," according to Reuters.
The U.S. also condemned the killings as an act of "vicious, senseless brutality."
The scuffles at the rally reportedly began moments after Prime Minister Hailemariam Desalegn finished his speech, where he urged Ethiopians to avoid making dangerous trips across the Sahara to Europe, calling it a "death journey."
"We should strengthen our resolve against any form of terrorism and extremism," he said, Reuters reported.
While protesters largely condemned the actions of the extremist group, several anti-government slogans were also reportedly seen at the rally. "Where is the African Union? Where are the Ethiopian defence forces?" read one placard, according to Agence France-Presse.
© Copyright IBTimes 2023. All rights reserved.