Thousands In Singapore Queue To Pay Tribute To Lee Kuan Yew, Government Extends Visiting Hours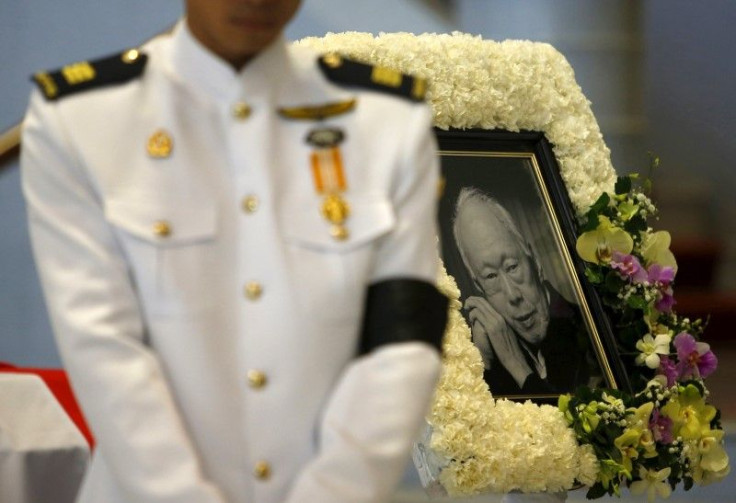 Thousands of people in Singapore gathered in queues on Wednesday to pay respect to their founding father Lee Kuan Yew, who died in Singapore General Hospital on Monday. The funeral for the 91-year-old former premier will be held on Sunday in Mandai Crematorium and people can pay tribute to the late leader at the Parliament House until Saturday.
Lee's body had earlier been kept in Istana, the compound where the offices of prime minister and president exist, for a private family mourning period. Thousands of people had already left flowers at Istana's gates, and signed books of condolence, BBC reported. Several long queues had been formed on the route from Istana to the Parliament house, as people hoped to see the late leader in the hour-long gun carriage procession on Wednesday.
"In view of the large crowd, a long waiting time can be expected. We seek the understanding of members of public to remain orderly and be patient, and to follow the directions of the marshals on the ground," police officials said, according to the Straits Times.
As of 2:00 p.m. local time (2:00 a.m EDT) the public was expected to queue for eight hours to pay respect, according to government website Remembering Lee Kuan Yew. The visiting hours have also been extended until midnight, the website said.
Lee's son Lee Hsien Loong, Singapore's current prime minster, also announced that the country has named a new orchid -- Aranda Lee Kuan Yew -- after his father. The orchid is on display at the Parliament House, BBC reported. Orchid is also Singapore's national flower.
"This is the last opportunity," Mariam Mohammed, one of the residents, waiting in queue, said, according to Reuters, adding: "I would love to have met him in person to thank him personally. But I hope he knows we are grateful for what he has done."
Lee is credited with transforming Singapore into a financial hub and one of the world's wealthiest nations on a per capita basis.
© Copyright IBTimes 2023. All rights reserved.