Thursday's Stock Market Close: US Equities Mixed, As Nasdaq Rises Ahead Of Tech Earnings, Dow Drops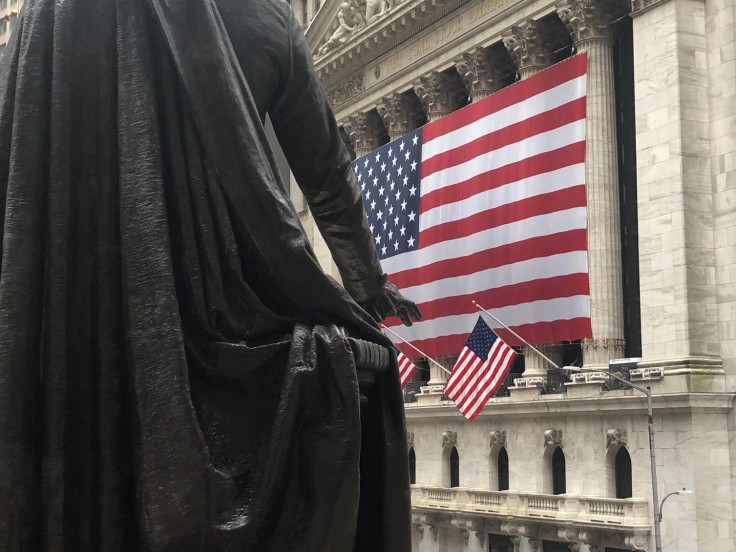 KEY POINTS
The U.S. economy plunged by 32.9% in the second quarter, the largest decline ever recorded
The Labor Department said initial jobless claims totaled 1.434 million last week
Four tech giants – Apple , Facebook, Amazon and Google parent Alphabet, will post earnings after the close
U.S. stocks closed mixed on Thursday as traders dealt with a historic plunge in gross domestic product and another increase in jobless claims, but big tech shares rose ahead of key earnings after the close.
The Dow Jones Industrial Average dropped 225.92 points to 26,313.65, while the S&P 500 fell 12.22 points to 3,246.22 and the Nasdaq Composite Index gained 44.87 points to 10,587.81.
Thursday's volume on the New York Stock Exchange totaled 3.71 billion shares with 1,001 issues advancing, 80 setting new highs, and 1,985 declining, with 13 stocks setting a new low .
Active movers were led by Kandi Technologies Group Inc. (KNDI), General Electric Co. (GE) and Taoping Inc. (TAOP).
The U.S. economy plunged by 32.9% in the second quarter, the largest decline ever recorded.
However, economists surveyed by Dow Jones projected a drop of 34.7%.
Prior to the release of the GDP data, Michael Gapen, chief U.S. economist at Barclays, said: "It should be a pretty awful number, mainly because of the collapse in personal spending early in the quarter. [But] none of that is new news and markets have been expecting a catastrophic dive in [second quarter] GDP. Really it just tells you how deep the hole was so you know how far you have to go to climb out of it -- 70% of the economy is consumption."
The Labor Department said initial jobless claims totaled 1.434 million last week -- the second straight week that initial claims climbed.
Traders are anxiously awaiting earnings results from four tech giants – Apple (AAPL), Facebook (FB), Amazon (AMZN) and Google parent Alphabet (GOOG) – after the closing bell.
"Friday [trading] is going to be crazy," said Dan Niles, founder of AlphaOne Capital Partners. "If anybody misses their numbers, that's not going to be good."
Niles added: "If they make some comments that advertising spending is starting to slow in the last couple of weeks, how are people going to take it? With stocks up this much and so many people owning stocks in the retail market, they might not be as informed on what they own. That could create some really wild action."
"The stock market has to look forward and most economic data looks backwards," said David Bahnsen, chief investment officer of The Bahnsen Group. "Investors should be prepared for a choppy process of data digestion, but not be surprised that the market feels the future is better than the present and that unprecedented stimulus and liquidity exist to drive valuations."
"What you're seeing in the data and in the market reaction is the roll-off of the extra unemployment insurance is a pretty big deal," said Tom Hainlin, global investment strategist at Ascent Private Capital Management. "There's a lot of expectation for Congress to come through [with more stimulus]. That's why those recovery sectors, energy, financials and materials, are the ones that are off today."
Overnight in Asia markets finished mixed, as China's Shanghai Composite index slipped 0.23%; Japan's Nikkei-225 dropped 0.26% and Hong Kong's Hang Seng Exchange fell 0.69%.
In Europe markets finished lower, as Britain's FTSE-100 dropped 2.31%, while France's CAC-40 tumbled 2.13% and Germany's DAX plunged 3.45%.
Crude oil futures fell 2.76% at $40.13 per barrel, Brent crude rose 0.32% at $43.39. Gold futures slipped 0.41%.
The euro rose 0.45% at $1.1845 while the pound sterling climbed 0.72% at $1.3091.
The yield on the 10-year Treasury plunged 5.87% to 0.545% while yield on the 30-year Treasury fell 3.3% to 1.201%.
© Copyright IBTimes 2023. All rights reserved.