Tibetan Monks Self-Immolate to Protest Chinese Rule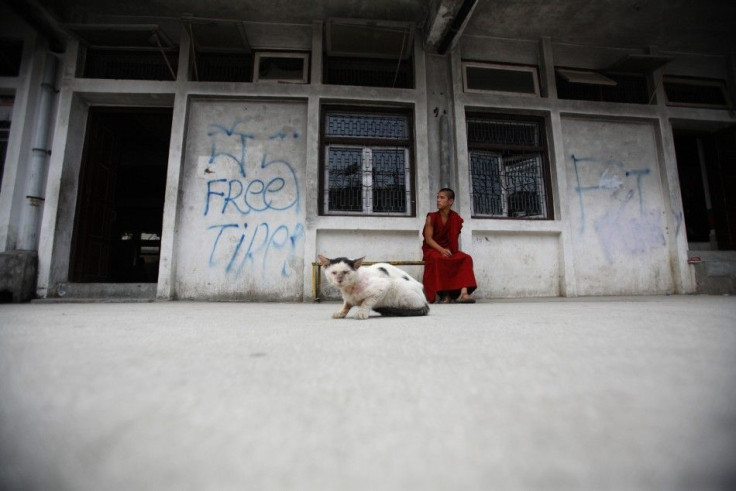 Another Tibetan monk has self-immolated in protest over China's rigid rule over the mountain nation.
According to FreeTibet.org. three monks have tried to burn themselves to death in the past week – a total of five have done so over the past six months.
According to Free Tibet, the most recent victim is believed to be only 17 or 18 years old. A member of the Kirti Monastery of Ngaba County in eastern Tibet, he set himself alight on Oct. 3 near the vegetable market in Ngaba Town.
BBC identified the monk's name as Kalsang Wangchuk.
Kalsang was reportedly holding a photograph of the exiled Dalai Lama and shouted: There are no religious rights and freedom in Tibet.
The local police reportedly doused the fire and took him away.
"His upper body is said to be very damaged," Free Tibet stated.
"Ngaba town is said to be under police and military control, nobody can enter or exit the town."
On Sept. 26, Free Tibet added, two other youthful monks from the Kirti monastery, Lobsang Kalsang and Lobsang Konchok also self-immolated.
Lobsang Kelsang's brother, Phuntsog, another monk from Kirti monastery, died after setting himself alight in March.
A growing number of Tibetans clearly feel that this is the only way that they can be heard, said Stephanie Brigden, the director of Free Tibet, according to BBC.
She described the wave of self-burnings as a worrying and absolutely unprecedented development.
"[These acts of self-immolation] shows not only the level of suffering and desperation of Tibetans, but also the extreme actions they are willing to take to draw the world's attention to the situation in Tibet," Free Tibet commented.
BBC reported that Chinese officials have reacted to the acts of self-immolation by increasing security at the Kirti monastery, starting criminal probes of the incidents and criticizing the behavior of the monks.
Some Tibetans are also appalled by the self-immolation.
Thubten Samphel, a spokesman for the Tibetan government-in-exile in Dharamsala, India, said Tibetan Buddhism does not condone self-harm.
Whatever the reason for this, it's a very strong and desperate indication that the people there are totally unhappy, he told BBC.
Chinese authorities heavily restrict the presence of foreign media in Tibet, thereby making accurate and timely report from the isolated kingdom difficult.
© Copyright IBTimes 2023. All rights reserved.