Tibetans, Allies Dispute China's White Paper On Human Rights Conditions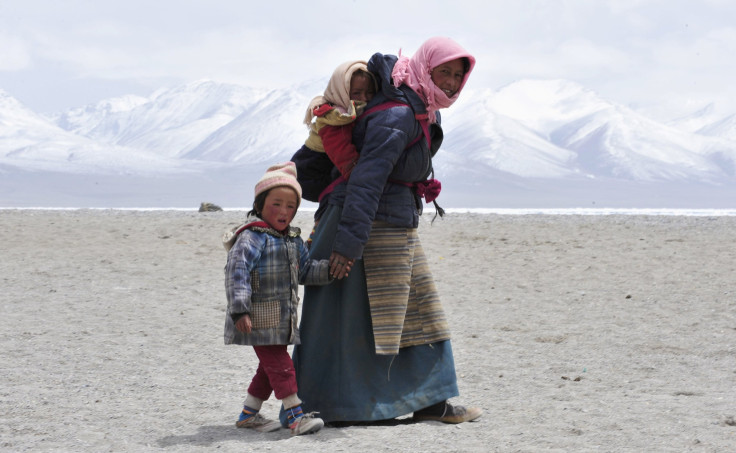 China has released its annual white paper on the state of human rights conditions in the country. Published across state-run media, the report takes an overview of the progress that was reportedly made in 2014 -- all while Tibetans and their activist allies say the government continues to marginalize and exploit the ethnic group.
On the same day as the release of the white paper, British activist group Free Tibet released a statement saying that ongoing construction efforts put forth by Beijing have polluted the only water source in the Tibetan village of Shadrang. The report says that various infrastructure and mining projects have disrupted the natural habitat and have had a profound effect on resources for local residents.
"Infrastructure projects in Tibet are motivated by China's focus on resource exploitation, not the interests of Tibetans," Alistair Currie, campaigns and media manager for Free Tibet, said in a statement. "Roads and highways facilitate the movement of equipment and workers in, and extricated resources out. Pollution, destruction of the environment and land-grabbing are part and parcel of the economic exploitation of Tibet, and of little concern to China's government. This is a deep source of grievance to Tibetans and increasingly a flashpoint for protest."
Despite these criticisms suggesting a differing view on the human rights situation in China, the lengthy report gave a mostly positive outlook on human rights issues.
"The tremendous achievements China has made in its human rights endeavors fully demonstrate that it is taking the correct path of human rights development that suits its national conditions," the report read. China's central government has taken very public, notable efforts to rectify issues with the treatment of the elderly and disabilities, while improvements or awareness about other human rights issues are less easy to pinpoint.
When it comes to the "rights of ethnic minorities," the white paper cites an increased representation of ethnic minorities in civil servant roles as a sign of better response to the needs of the community. The report says Tibetans "or other ethnic minorities" account for just over 70 percent of the government officials in the Tibetan Autonomous Region. The report also claims that cultural services for ethnic minorities are growing. However, reports on the ground still seem to differ.
In late May, 37-year-old Sangy Tso, a mother of two, self-immolated in political protest "against those Chinese officials who are constantly torturing Tibetans in the area," Free Tibet reported. The group said it was the fifth confirmed account of self-immolation in Tibet in 2015.
© Copyright IBTimes 2022. All rights reserved.
FOLLOW MORE IBT NEWS ON THE BELOW CHANNELS