Tiger's Verlander Not Available for Decisive Game Five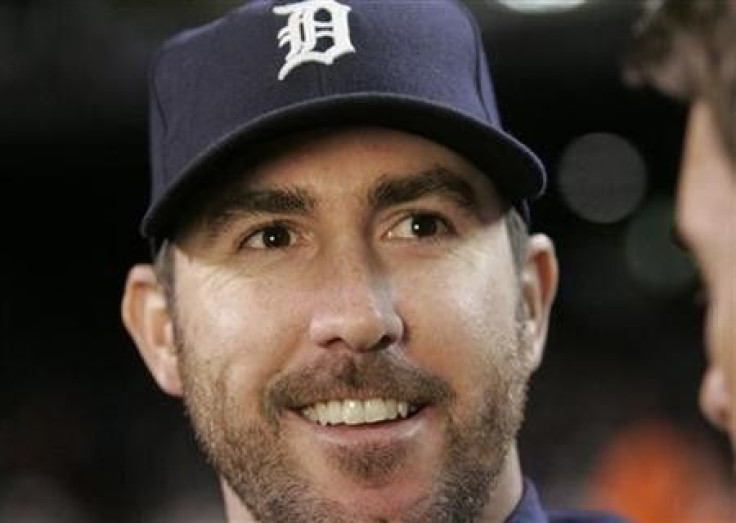 Detroit Tigers manager Jim Leyland Wednesday ruled out using ace Justin Verlander in Thursday's deciding Game Five of the American League division series against the New York Yankees.
Verlander, who went 24-5 during Major League Baseball's regular season and led all American League pitchers in earned run average, wins and strikeouts, was the winning pitcher in Monday's Game Three duel against New York's CC Sabathia.
Detroit's Doug Fister, who was 11-13 overall in the regular season, including 8-1 after coming to Detroit in a trade with Seattle, is scheduled to start against New York's Ivan Nova (16-4) for the decisive fifth game.
Verlander, a hard-throwing right-hander who is unaccustomed to pitching on short rest, threw 120 pitches in the Tigers' 5-4 win at Comerica Park in Detroit.
Leyland was asked directly if Verlander would be available to pitch during Thursday's game that will put the winner into the AL Championship Series against the Texas Rangers and send the loser home for the winter.
No, said Leyland.
Leyland had originally hoped to start Verlander in the opening game of the best-of-five series and again in a possible Game Five, but the schedule was thrown off by rain that forced a suspension of the opener midway through the second inning.
Still, the Tigers skipper said he was not disappointed that the schedule limited his use of Verlander during the series.
No, that's just the way it played out. I don't think it's disappointing. I'm thankful everybody got to see him, Leyland said. To be honest with you, our fans got to see that game that Verlander pitched. So it worked out pretty good.
Yankees manager Joe Girardi, by contrast, said he expected to have all hands on deck for the series decider, including Sabathia, who tossed 106 pitches in Monday's losing effort.
I would think that I would, but ... I have to check with him, Girardi told reporters about his big left-hander.
I can check with him today (but) it doesn't matter how he feels today, it matters how he feels tomorrow. I would expect I would have him.
Girardi said even A.J. Burnett, who was the starter and winner of Tuesday's Game Four, could be available if need be.
A.J. would probably be the one guy you would have to be careful, he said. But I would say in case of emergency he's available, too.
© Copyright Thomson Reuters 2023. All rights reserved.