Tikrit Battle: ISIS Fighters Burn Oil Fields Amid Iraqi Offensive Against Islamic State Control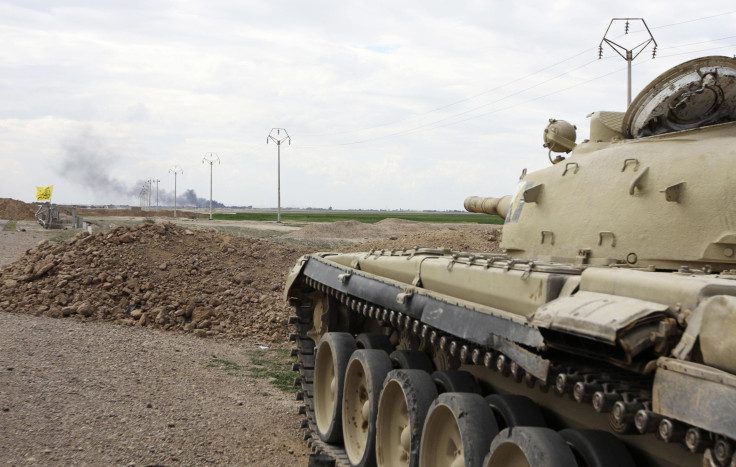 The Islamic State group has set ablaze oil wells outside Tikrit in an attempt to blunt an assault by Iraqi combined forces, which launched a large-scale offensive to retake the city this week. The militant group torched wells in the Ajil field northeast of Tikrit to protect its fighters from aerial attacks by military helicopters, Reuters reported.
Witnesses said black smoke could be seen wafting above the Ajil field since Wednesday afternoon, the third day of the offensive overseen by the government of Iraqi Prime Minister Haider al-Abadi, who promised Tikrit's liberation was near. The Ajil field had produced 25,000 barrels of crude per day before its takeover in June by the militant group formerly known as either ISIL or ISIS. Since then, the Islamic State group has pumped a lower daily volume of oil because of fears its extraction techniques could ignite associated gas, Reuters said.
The Ajil field lies about 20 miles outside Tikrit, on which Iraqi troops, Iranian-supported Shiite militias and Sunni tribesmen are currently advancing as they seek to retake Saddam Hussein's hometown. The combined force has been slowed by explosive devices laid along the roads leading to the city as well as by Islamic State group suicide bombers.
As the combined Iraqi force attempted to encircle the extremists in the city, thus cutting off their supply lines, the Islamic State group released a new video Thursday claiming to show its fighters beating back the assault. "Here we stand in central Tikrit, that's the mosque of the martyrs behind us ... You claimed, as usual, that you raided the Sunnis and their homes ... By God, you have lied," the militant group said in its message.
The battle for Tikrit is seen as a decisive step toward turning the tide against the Islamic State group, which currently controls about one-third of Iraq's territory. "It's a test to see if the Iraqi security forces are up to really going after a major urban area," retired U.S. Army Col. Harry Schute told CBS News.
© Copyright IBTimes 2023. All rights reserved.