Tim Tebow Has Good Quarterback Mechanics, Says Coach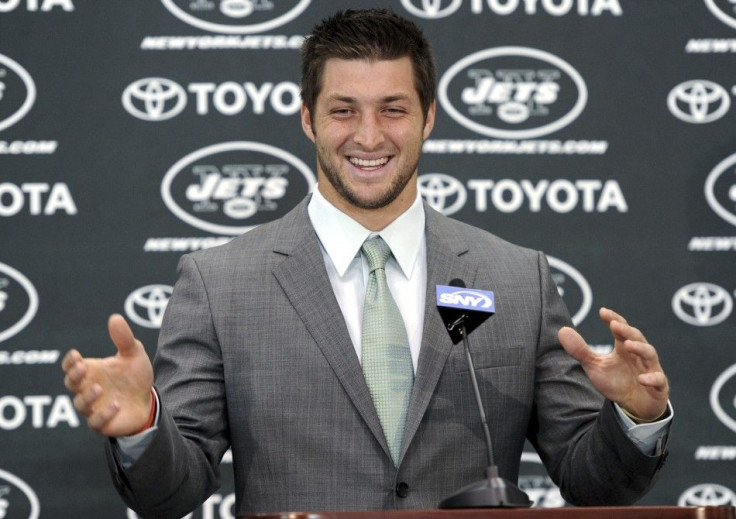 Tim Tebow's passing mechanics might not be as bad as everyone believes, according to the Jets' quarterbacks coach.
Matt Cavanaugh told the New York Daily News that he believes Tebow can be very good as a quarterback.
I was pleasantly surprised when I saw him over an extended period of time ... not just watching him play on film, Cavanaugh told the Daily News. I think he's certainly got the arm strength. He has good mechanics. They're getting better every day.
Tebow, who was acquired from Denver for a third-round draft pick, was roundly criticized for his poor quarterback mechanics last season. He was known for throwing a few passes in the dirt as the Broncos modified their offense to be more rushing-centric to suit Tebow's playing style.
The Jets acquired Tebow for a similar reason -- to run the Wildcat and to run on third, fourth down situations -- but the organization has oozed compliments about the young quarterback's progress with mechanics.
I think with Tim, he's more focused right now in the offseason on just working on the fundamentals of trying to be rhythmic in the pocket, the quarterbacks coach said said. So (he) can be using the mechanics that (he) wants to be using. We started to toy a little bit with some of the other things that will happen to you . . . And he's shown great progress. I'm real pleased with him.
Jets offensive coordinator Tony Sparano also recently praised Tebow for his progress and said that he has made eye-opening progress since he coached him two years ago in the Senior Bowl.
Whether Tebow has actually made major progress or the Jets are just trying to artificially inflate his confidence won't be known until training camp starts up in the summer. He'll backup Jets starting quarterback Mark Sanchez, but may get up to 15 to 20 snaps per game in a variety of different offensive sets.
© Copyright IBTimes 2023. All rights reserved.