Is Tintin Racist? After Brussels Terror Attacks, Cartoon Becomes Curious Symbol Of Unity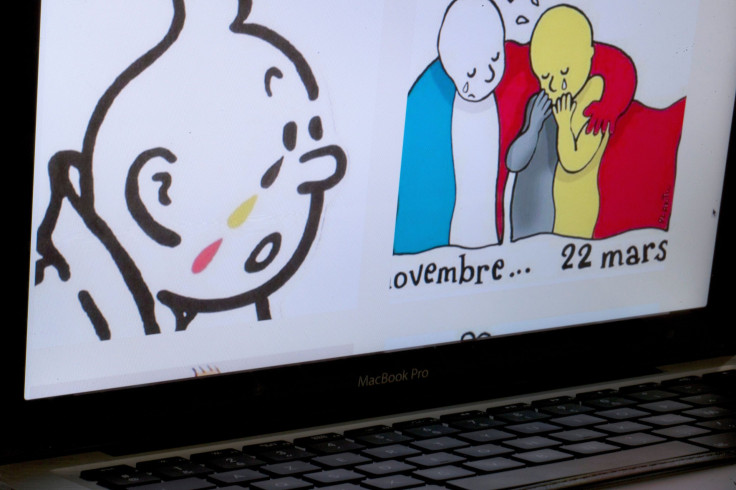 Tintin, the protagonist of the popular cartoon series "The Adventures of Tintin" by Belgian artist Hergé, has within hours become a global symbol of unity on social media after the terror attacks in Brussels Tuesday that left at least 30 people dead and well over 100 wounded. But the cartoon's checkered past makes it an odd candidate for such positivity.
The image of the cartoon character Tintin crying was widely shared on social media in the hours following the tragedy in Brussels. Hergé, the pen name of cartoonist Georges Remi (1907-1983), is national icon in Belgium. His cartoon series, popular all over the world, has become one of the country's proudest cultural exports, fueling an industry of theme restaurants and other tourist spots in Belgium. Steven Spielberg even directed a film adaptation of a Tintin story, "The Adventures of Tintin: The Secret of the Unicorn," in 2011.
But Tintin's image is not so simple. As Nathan Hamelberg, member of the Betweenship group, an organization that analyzes social messages in youth content, told the Guardian in 2012: "I think there are several layers [in the comics] that are problematic. ... First of all, there are the early books that are blatantly and openly racist, like 'Tintin in the Congo.' As a second layer, there are things that would be considered racist today but that were quite normal in Hergé's time."
Indeed, "The Adventures of Tintin," which follows the exploits of a Belgian boy reporter and his loyal dog, feature some questionable colonial and racial overtones. In the "Tintin in the Congo" comic Hamelberg references, Tintin is framed as helping to bring sophistication and civilization to the more primitive African natives, who are depicted with an exaggerated, dark skin tone. The comics have also been accused of perpetuating negative Jewish stereotypes, offensive Native American stereotypes, anti-communist propaganda, and hostile attitudes towards Muslim-African nations. A library in Canada caused a stir in 2015 when, in response to those content questions, it moved the popular comic into the adult section.
The Islamic State terror group has taken responsibility for the terror attacks in Brussels Tuesday, pushing tensions over the influx of Muslim refugees from Syria and other countries into Europe back to the spotlight. World leaders have called for unity in response to the tragedy, while some far-right leaders blamed the attacks on refugee policies.
"This is another reminder the world must unite," said U.S. President Barack Obama Tuesday while delivering a speech in Cuba. "We must be together, regardless of nationality or race or faith, in fighting the scourge of terrorism."
© Copyright IBTimes 2023. All rights reserved.
FOLLOW MORE IBT NEWS ON THE BELOW CHANNELS