Todd Haley's Wife: Nude Sexting Photos Of Chrissy Haley Allegedly Leak, How Will Scandal Impact Steelers OC Todd Haley? [PHOTOS]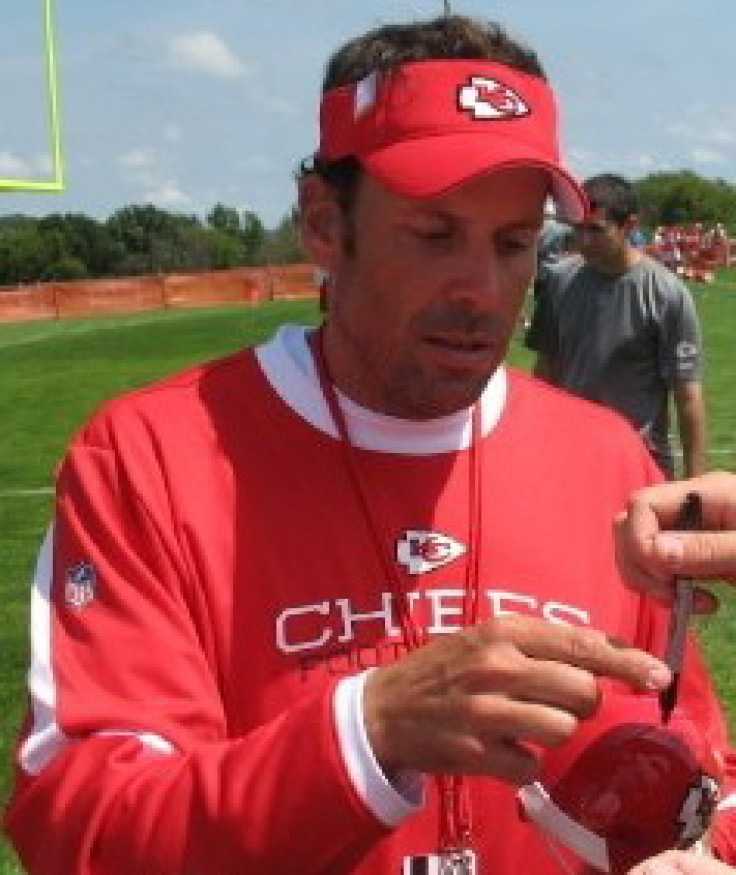 A report suggests that Chrissy Haley, the wife of Pittsburgh Steelers offensive coordinator Todd Haley, may have sent nude photos to a man other than her husband.
A photo that allegedly depicts a topless Chrissy Haley has leaked to the Internet, sports blog Terez Owens notes. The report also insinuates that Todd Haley and his wife are swingers.
"This is allegedly a pic of Haley's wife, Chrissy, sending some pics to a man not named Todd," Terez Owens' report says. "The rumor has always been [that] these two swing with the best of them [sic]."
The alleged nude photos of Todd Haley's wife, Chrissy Haley, can be viewed here. Be warned; the photos are NSFW.
The rumors of the nude photos escalated this week, as several blogs ran their own reports on the story. Gossip blog In Flex We Trust noted that Haley has been sending photos of herself "to 'taken' men," and posted new photos that allegedly depict the Steelers coach's wife. Those NSFW photos can be viewed here.
It's unclear if the alleged nude pictures of Chrissy Haley are legitimate. Neither Todd Haley nor his wife has publicly responded to the rumors. The couple have five children together.
This isn't the first time in 2013 that Todd Haley has been in the news for dubious reasons. In September, the Steelers offensive coordinator came under fire after allegedly autographing a fan's napkin with the phrase, "Go Steelers! Chiefs Suck!!," Deadspin reported. Haley coached the Chiefs from 2009 to 2011, and was reportedly spotted at the bar with his wife.
In an interview with the Kansas City Star, Haley confirmed that he had written the message on the napkin, but called it a "non-issue."
"I wrote something about my former team that I probably shouldn't, so there was no incident," Haley said. "I was very surprised when I came to work this morning that it was an issue."
The alleged nude photos of Chrissy Haley were leaked at the worst possible time for Haley, as the Steelers have sputtered their way to an 0-4 start this season. Pittsburgh's slow start, coupled with Haley's rumored rift with quarterback Ben Roethlisberger, could eventually cost the offensive coordinator his job.
© Copyright IBTimes 2023. All rights reserved.