Torrey Smith And Wife Chanel Williams Announce Pregnancy With 'We're Prego' Instagram Picture [PHOTO]
Baltimore Ravens wide receiver Torrey Smith and his wife, Chanel Williams, found an inventive way to announce on Instagram that they're expecting their first child.
Smith, 24, and his wife, both alumni of the University of Maryland, broke the news on Monday while posing during a spaghetti dinner.
In the photo, Williams and Smith each have their eyes wide open in mock surprise. Between them on the table is a jar of Prego tomato sauce with a sheet of paper attached atop that says, "We're" -- to spell out, "We're Prego." Williams confirmed the message with a more obvious Instagram caption. "Hahahha yep we're pregnant," she wrote.
Smith also posted the "We're Prego" photo on his Facebook, Twitter, and Instagram accounts, adding a caption of his own. "Can't believe she got me to take this pic … but it's a blessing so I'm with it."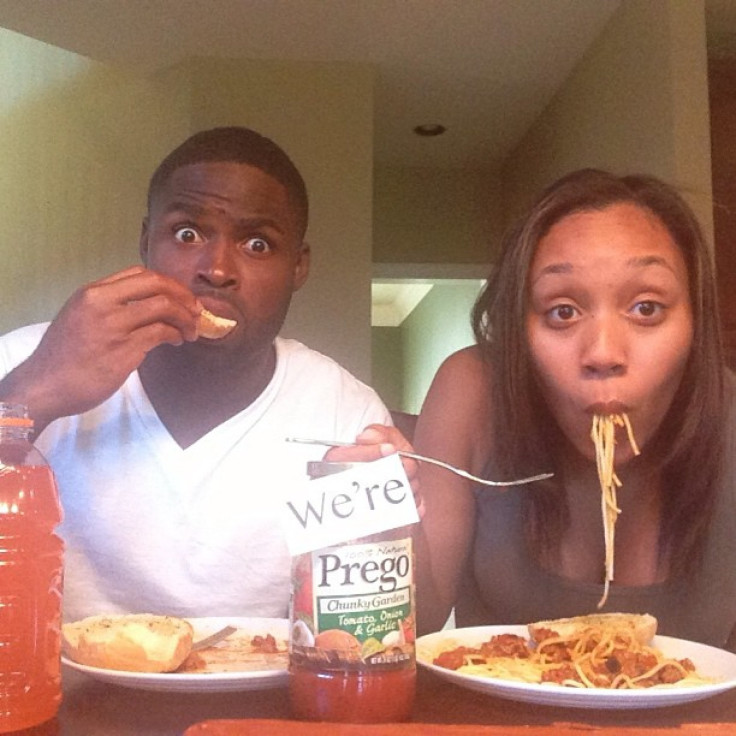 The photo has been a big hit on Instagram. In less than a day, Smith's photo garnered nearly 25,000 likes.
Smith and Williams dated for several years before getting married on July 11, 2013, according to the Ravens' official website. On the day of the ceremony, Smith took to Instagram to express his excitement. "Today I'm marrying my best friend, I feel like the luckiest person on earth," he wrote. "It's crazy how things work out and you cross paths with people. Thankful for having her in my life. Looking forward to our future together."
Smith played a major role in the Ravens' Super Bowl victory last season, catching 49 passes for 855 yards and eight touchdowns. Through four games this season, Smith has amassed 21 catches for 435 yards and a touchdown.
FOLLOW MORE IBT NEWS ON THE BELOW CHANNELS