Tomahawk Missile Use Against ISIS, Khorasan In Syria Suggests Highly Accurate US Intelligence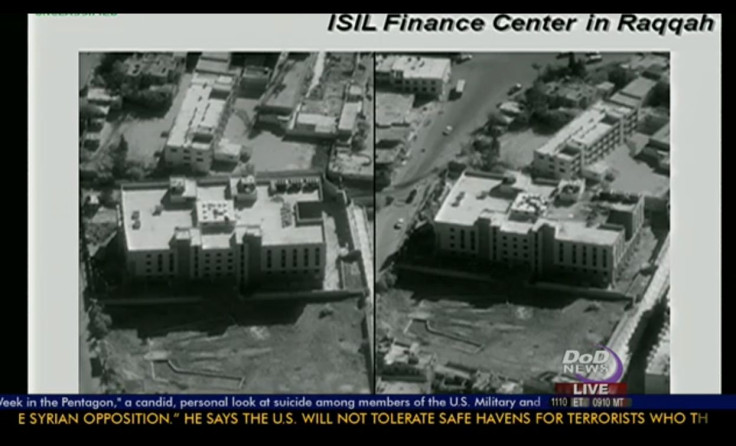 The use of the highly precise Tomahawk cruise missile in airstrikes targeting the Islamic State group and the Khorasan terrorist group in Syria reveals that the U.S. has detailed on-the-ground intelligence. The missiles are typically employed to hit large buildings surgically without destroying them or their surroundings, and post-strike pictures distributed by the Pentagon indicate that U.S. planners knew in detail where to hit when they started the anti-ISIS offensive Monday.
Officials with the U.S. Central Command said 47 Tomahawk missiles were launched in the strikes, and were aimed at taking out fixed locations in the country.
"At 8.30pm ET the USS Arleigh Burke and Philippine Sea [a destroyer and cruiser] launched Tomahawks at targets in and near Aleppo and Raqqa. Khorasan group compounds comprised the majority of those strikes," said Gen. William Mayville, Joint Staff director of operations, at a Pentagon briefing Tuesday.
The strikes, according to defense officials, were part of 14 that targeted ISIS headquarters, training compounds, supply trucks, storage facilities and a finance center -- a standard military strategy aimed at weakening the fundamental support network of enemy forces. Once that network is disabled, fighters working under the umbrella of the Free Syrian Army will have an easier time conducting attacks against ISIS.
"You don't use Tomahawks against small moving targets, only fixed buildings, or possibly ships," said Steve Zaloga, a missile expert for Teal Group, a Virginia-based military and aviation analysis firm. "I think more broadly, the Tomahawk has typically been used where you don't want to lose any aircraft, so you'd send it into areas with enemy air defense or that is deep behind enemy lines."
While Navy Rear Adm. John Kirby, the Pentagon press secretary, said the Pentagon was "not in a position to provide additional details at this time," the use of the Raytheon-built missile was a strong indicator that the U.S. has a different strategy against ISIS in Syria than it did in Iraq.
Unlike the airstrikes conducted in Iraq, against moving targets such as trucks, ISIS soldiers and other armored vehicles, the Tomahawk is not effective at hitting moving targets. It instead receives data from satellites and ground intelligence, allowing it to hit its targets with precision from up to 2,500 km (1,550 miles) away.
The cruise missile has been used to great effect in previous Middle East conflicts, namely the first Gulf War in 1991 and the 2003 invasion of Iraq. It was also used in the 2011 offensive in Libya, and positioned in the Mediterranean aboard ships as the U.S. pondered strikes against Syria after the Obama administration accused President Bashar Assad's government of killing its own people with chemical weapons.
The U.S. Navy acknowledged two weeks ago that the Tomahawk-carrying destroyer USS Cole had entered the eastern Mediterranean, giving rise to rumors that an attack might be imminent in the region. However, it does not appear at this stage the destroyer was used in the offensive, according to what Pentagon officials said Tuesday.
© Copyright IBTimes 2023. All rights reserved.