Tony Dungy Wouldn't Have Drafted Michael Sam: 'I Wouldn't Want To Deal With All Of It'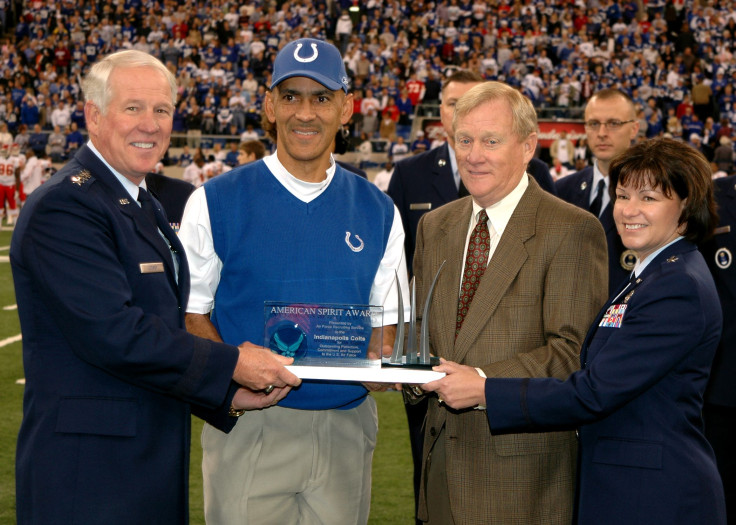 Tony Dungy, former NFL head coach and current NBC football analyst, said that he wouldn't have drafted Michael Sam, the NFL's first openly gay player, if he were still in charge of a team.
Speaking to the Tampa Tribune regarding the NFL's renewed focus on locker room behavior in the wake of the Miami Dolphins' 2013 bullying scandal, Dungy said that he would've avoided Sam in the 2014 NFL Draft. The 24-year-old Sam became the first openly gay player in league history when the St. Louis Rams selected him in the seventh round of this year's draft.
"I wouldn't have taken him," Dungy told the Tribune's Ira Kaufman. "Not because I don't believe Michael Sam should have a chance to play, but I wouldn't want to deal with all of it. It's not going to be totally smooth. […] Things will happen."
Previously, Dungy supported Sam's bid to join the NFL. In a February interview with an NBC affiliate in Wabash, Illinois, the 58-year-old expressed his belief that sexual orientation shouldn't affect a player's ability to compete in the league.
"The NFL has always been based on merit, and I think that will continue to be the case whether it's Michael Sam and the issue of homosexuality or anything else," he said. "Guys who produce and play well will be welcome in the league."
However, Dungy spoke out against gay marriage in 2007 while accepting an award from the Indiana Family Institute. "We're not trying to downgrade anyone else. But we're trying to promote the family – family values the Lord's way," he said.
Despite a standout career at the University of Missouri, in which he was named the 2013 SEC Co-defensive Player of the Year, Sam was the 249th of 256 players to be selected in the 2014 NFL Draft. While a lack of ideal size and a subpar showing at the NFL Draft Combine likely contributed to his fall, some have suggested that NFL teams wanted to avoid Sam over concerns that his sexual orientation would serve as a locker room distraction.
Sam will begin his bid to earn a spot on the Rams roster when St. Louis opens training camp on July 25.
© Copyright IBTimes 2023. All rights reserved.