Top Officials From Anti-ISIS Coalition To Meet In Canada: Sources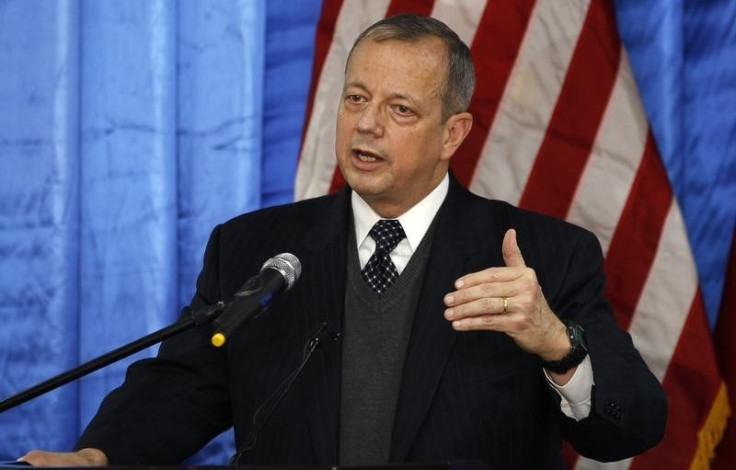 Senior officials from the U.S.-led coalition battling Islamic State forces will meet in Canada this week to discuss how to improve the effectiveness of the campaign, two sources with knowledge of the meeting said on Monday.
They said those who will take part in the closed-door gathering in Quebec City on Thursday include retired General John Allen, appointed by U.S. President Barack Obamato build a coalition against the militant group.
A spokesman at the U.S. embassy in Ottawa said he could not comment.
Earlier this month Allen urged Turkey to do more to stop jihadists crossing its border withSyria. Turkey and the United States are now working on plans to jointly sweep Islamic State fighters from a strip of land along the Turkish border.
The Quebec City meeting of the so-called anti-ISIS Coalition Small Group will focus on all aspects of the struggle against ISIS, both military and political, the two sources said.
Fighter jets from the United States and Canada are striking against ISIS targets in Iraq andSyria and both nations are also training Iraqi fighters.
Western powers say their efforts alone will not defeat the group, insisting Iraq needs to do more, and the Quebec meeting will assess Baghdad's actions.
Foreign ministers from the Coalition Small Group last month met Iraq's prime minister, who complained the coalition had not done enough to tackle Islamic State, which holds about a third of the country.
The Small Group comprises about 20 nations, including Australia, Bahrain, Egypt, France,Germany, Italy, Jordan, Kuwait, Qatar, Saudi Arabia and the United Arab Emirates.
© Copyright IBTimes 2023. All rights reserved.