Top US General: Unwise To Share Intelligence With Russia On Syria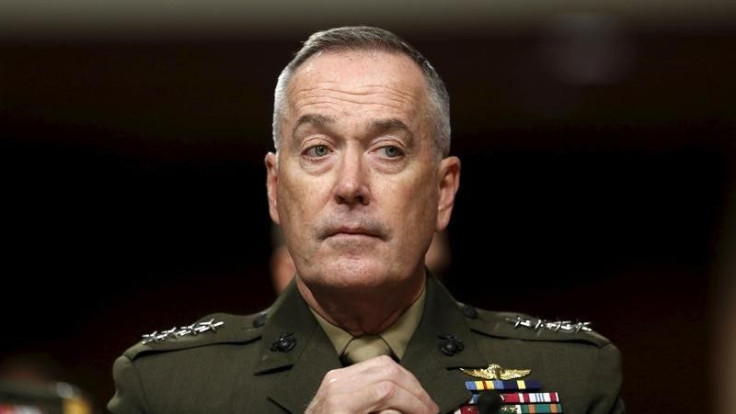 The top U.S. general told Congress on Thursday it would be unwise to share intelligence with Russia and stressed that would not be one of the military's missions if Washington and Moscow were to ever work together against Islamist militants in Syria.
The United States and Russia clinched a ceasefire deal earlier this month that held out the possibility of joint targeting of militants after a cessation of hostilities and delivery of humanitarian aid.
The text of one of several related documents, published on Thursday by the State Department, said both countries would "share intelligence and develop actionable targets for military action" against the al Qaeda-linked group formerly known as Nusra Front.
It also called for "independent but synchronized efforts" in the fight against Islamic State.
But Marine Gen.Joseph Dunford, the chairman of the U.S. military's Joint Chiefs of Staff, suggested any such military coordination at a so-called "joint integration cell" would be extremely limited. The military, he said, had no intention of forging an intelligence sharing arrangement with Russia.
"I do not believe it would be a good idea to share intelligence with the Russians," he told the Senate Armed Services Committee, without elaborating.
The ceasefire quickly collapsed, making the possibility of future cooperation between the former Cold War foes look remote.
Still, U.S. critics of the deal warned that working with Russia on targeting could risk linking Washington to any Russian misconduct in the war. The Pentagon has repeatedly accused Russia of crude bombing techniques that result in civilian casualties.
The United States and Russia are on opposite sides of the 5-1/2-year-old war in which more than 400,000 people have died and 11 million displaced, with Moscow backing Syrian President Bashar al-Assad. Washington has called for him to step aside.
Both countries share a commitment to defeat Islamic State militants who control parts of Syria and Iraq and have sympathizers worldwide.
U.S. intelligence officials also have voiced concerns about sharing precise information on the positions of U.S.-backed rebel forces, given that Russia has targeted them in the past.
Criticism From McCain
Republican Senator John McCain, the committee's chairman, fiercely criticized the possibility of future cooperation and called U.S. Secretary of State John Kerry, who brokered the ill-fated deal, "delusional" for seeking it.
"It would mean that the U.S. military would effectively own future Russian airstrikes in the eyes of the world," McCain said.
One document published by the State Department said the two countries would share information on things such as training camps, storage sites for weapons and concentrations of personnel from Nusra Front.
"The process of target development through the JIC and airstrikes against Nusra targets by Russian Aerospace Forces and U.S. air forces will be ongoing and continuous," the text read. (http://bit.ly/2d8hlqq)
Advocates for the initiative have said the world has run out of good choices in Syria's war.
Critics say recent events in Syria provide numerous reasons to be skeptical of cooperation.
Dunford criticized an attack on an aid convoy on Monday, calling it an "unacceptable atrocity."
"I don't have the facts. What we know are two Russian aircraft were in that area at that time. My judgment would be that they did (it)," Dunford said. He said a Syrian government role could not be completely ruled out.
Russia has denied involvement. Assad, in an interview with AP News, said that Russia was not behind it and suggested that "militants" and "terrorists" were to blame.
© Copyright Thomson Reuters 2023. All rights reserved.