Tory Leadership: Theresa May Announces Bid, Boris Johnson Says Will Not Run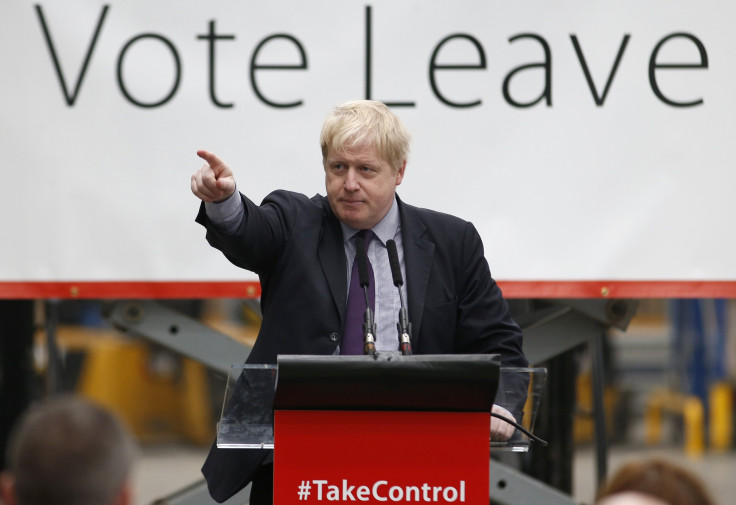 UPDATE: 6:55 a.m. EDT — Former London mayor Boris Johnson announced Thursday that he is not running for the leadership of the Conservative Party, effectively taking himself out of contention to replace David Cameron as the next prime minister.
UPDATE: 4:45 a.m. EDT — Home Secretary Theresa May spoke about Brexit while announcing her run to succeed David Cameron, saying that there will be no second EU referendum.
"The result means that we face a period of uncertainty that needs to be addressed head on," she said about the Brexit vote.
Original story:
Theresa May and Boris Johnson are set to announce Thursday that they are in the running to replace David Cameron as leader of the U.K's Conservative party and prime minister of Britain. Cameron announced his decision to step down after the U.K. voted in favor of a Brexit last week.
Home Secretary May, who will make the announcement first, said she would put a high-profile leave campaigner in charge of a new Brexit department. May, who has been home secretary since 2010, wrote in the Times newspaper that she was capable of "uniting Britain" and mending the gap exposed by the Brexit result.
"Following last week's referendum, our country needs strong, proven leadership to steer us through this period of economic and political uncertainty, and to negotiate the best possible terms as we leave the European Union," she wrote.
Former London mayor Johnson, who successfully led the campaign to leave the EU, will make his own declaration just half an hour before the deadline for nominations closes. He is expected to show an "optimistic vision" for the country after the Brexit vote, saying that leaving the EU will be an opportunity to "believe in ourselves and the values of our country," BBC reported. Johnson is reported to have the support of 100 members of the parliament for the contest to succeed Cameron.
Work and Pensions Secretary Stephen Crabb has also announced his leadership, promising a "One Nation" Conservatism. Crabb says he believes that he has the capability to heal the "bad blood" in the Conservative Party since the EU referendum.
"I really worry about the future of our divided United Kingdom," Crabb wrote in an article in the Daily Telegraph setting out his agenda. "We will enact the British people's wishes on the EU."
"The verdict was clear; there is no going back. A second referendum is out of the question. What the country needs now is a clear direction, not further instability,' he added.
© Copyright IBTimes 2023. All rights reserved.
FOLLOW MORE IBT NEWS ON THE BELOW CHANNELS