Tough Arizona-Style Immigration Laws Pose New Issues for High Court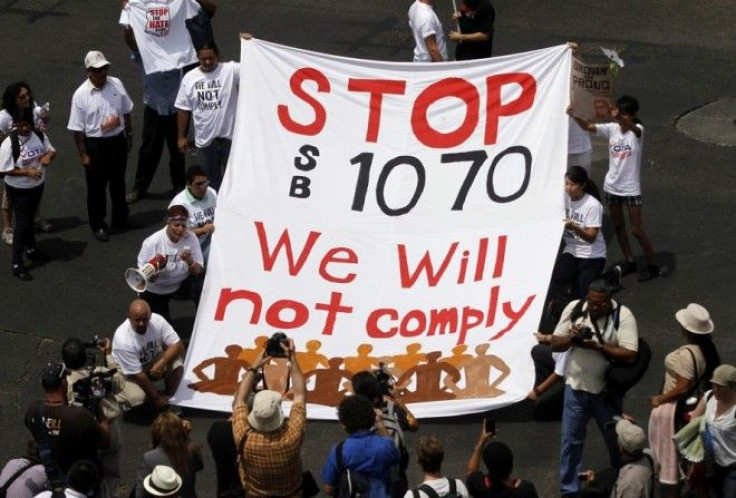 The U.S. Supreme Court will meet later this week to decide whether the justices will hear Arizona's case with the Department of Justice over its stringent anti-immigration law.
Arizona Gov. Jan Brewer, a Republican, petitioned the high court in August to take its case in an effort to get an early injunction blocking the law's more onerous provisions overturned.
Expectations that the justices take Grand Canyon State's case are low. There are pending cases from the Justice Department challenging Arizona-style anti-immigration laws in other states and there has yet to be a split among the appellate courts that the high court needs to address.
But the fact that Arizona has already reached a petition stage is a sign that an immigration battle could end up on the Supreme Court docket in the near future. A case over these new laws, which grant local police power to detain and check the immigration status of anyone suspected of being in the country without authorization, would be new terrain for the Supreme Court.
Several years ago, states never attempted to pass such tough immigration laws, says Ben Winograd of the American Immigration Council Legal Action Center.
Can-You-Top-This-Conservatism Laws
Now, states seem like they are trying to compete with one another to devise the toughest law to drive out largely Hispanic immigrant population. This can be attributed in part to Kris W. Kobach, an Ivy League-educated constitutional lawyer who is currently serving as Kansas' Republican secretary of state and is of counsel to the Immigration Reform Law Institute.
He is the brain behind Arizona's anti-immigration law, SB1070, and also a hand in Alabama's HB56, considered one of the harshest anti-immigration laws in the nation.
Such laws are now in six states, including Utah, South Carolina, Indiana and Georgia.
They need test cases, Winograd said, referring to Kobach and IRLI. It's all about finding experimental litigation to get this issue to the Supreme Court.
Mike Hethmon, general counsel at IRLI--the legal arm of the Federation for American Immigration Reform and a clearing house for states and localities seeking advice on anti-immigration laws--somewhat agrees.
There are local lawmakers and constituents, concerned about the economy or spikes in crime, who are supportive of efforts to drive out immigrants.
Immigration is also a relatively new experience for many of these states, unlike border or coastal states, which have a deeper history with a large immigrant population.
Test cases is an accurate way to put this, he told the International Business Times, adding that some jurisdictions are grappling with these immigration issues for the first time. The constituency we feel we represent have been excluded from the courts.
The Preemption Test
Much of IRLI and Kobach's work crafting legal defenses for state and local immigration laws to fight federal preemption challenges rests on a 1976 landmark Supreme Court case, De Canas v. Bica.
That ruling described a three-part test for determining when the U.S. government trumps a state: if the law attempts to regulate immigration; Congress intended to occupy the field and kick states out of a particular area; or if the statute interferes with federal law.
The opinion from Justice William J. Brennan noted the high court had established immigration regulation as unquestionably exclusively a federal power but never decided that state laws dealing with immigrants is automatically stepping onto the U.S.' turf.
As the De Canas Court explained, states possess considerable authority to act in ways that affect immigration without being preempted by the Immigration and Nationality Act, the controlling federal law at the time, Kobach wrote in a 2008 Georgetown Immigration Law Review article.
More than 30 years after De Canas, Chief Justice John G. Roberts also recognized in a May ruling that the decision gave states broad authority to regulate employment. This decision, Chamber of Commerce v. Whiting, upheld a 2007 Arizona law penalizing businesses that intentionally hire undocumented workers.
Unlike De Canas, however, Arizona's 2007 law was challenged under the Immigration Reform and Control Act of 1986, the Reagan-era law that offered legal status to millions of undocumented immigrants.
The law also prohibited businesses from employing undocumented workers and banned states from punishing employers who hire them, except in the context of licensing rules. Arizona' 2007 law, the high court ruled 5-3, fell into that licensing exemption.
Does Chamber v. Whiting Boad Well For Arizona?
Hethmon, the general counsel to IRLI, called Chamber v. Whiting the most significant decision for proponents Arizona's 2010 law, SB1070. He said that Roberts' opinion--joined by the high court's three other conservatives and Justice Anthony M. Kennedy--went beyond a mere reading of federal law and rejected the argument that Congress intended to preempt Arizona's immigration employment law.
The Chamber v. Whiting decision, which concerned a local employment law, led the justices in June to require a lower appeals court to examine two Hazleton, Pa., ordinances targeting the housing and employment of immigrants that had been struck down. Kobach defended the Pennsylvania city in federal court.
It sends a clear message that the principles that [the high court] articulated in the Whiting case aren't to be applied just narrowly to employment law, IRLI's Hethmon told the IBTimes.
Other attorneys argue against such broad interpretations, maintaining that Chamber v. Whiting is too narrow to be applied to other preemption cases like the Justice Department's SB1070 challenge.
One shouldn't take away from the Chamber of Commerce case too broad a view of how it changed preemption, said Lindsay Harrison, a Jenner & Block partner in the firm's appellate and Supreme Court practice.
Cecillia Wang, director of the ACLU's Immigrants Rights Project, which has sued to stop Arizona-style laws in six states, contended that Arizona's SB1070 is preempted because Congress intended to keep states from arresting or detaining illegal immigrants outside of a limited set of circumstances.
It's clear that Congress intended for states not to have the kind of wide-ranging power that the states are trying to give themselves through laws like SB1070 or HB56 [in Alabama], she said.
© Copyright IBTimes 2022. All rights reserved.
FOLLOW MORE IBT NEWS ON THE BELOW CHANNELS