'Trademark Troll' Zhan Baosheng Tried To Take Other Company Names; Will This Help Electric Carmaker Win Its Trademark Case?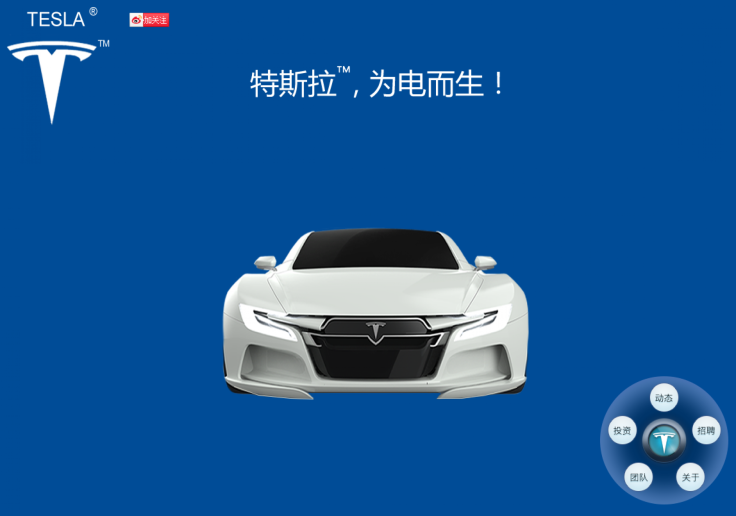 Two companies are using Tesla's T-shaped logo in China right now, but only one can do so legally. Zhan Baosheng's "Tesla" electric car website is back online in China after vanishing from the web last week, and the site continues to use the distinctive Tesla badge of the Palo Alto-based maker of the critically acclaimed luxury electric sedan.
Beneath the Chinese-language slogan "Tesla, Live For Electricity" is an image of what is ostensibly a concept electric sedan that Zhan claims he will build with the help of the state-owned Chinese carmaker Guangzhou Automobile (GAC), maker of the Trumpchi brand of electric hybrids.
Zhan has claimed that the site depicts a legitimate enterprise seeking investors to build an electric car for the Chinese market named after the father of alternating current Nikola Tesla. Critics call Zhan a trademark troll, a pejorative used for people who rush to China's Trade Mark Office to lay legal claim to company logos and names.
At the same time, Tesla Motors has moved forward promoting its name in China as it puts the finishing touches on what will become its largest showroom, in Beijing's Parkview Green Mall. Though Tesla is not yet commenting on the case, the showdown between Tesla CEO Elon Musk and Zhan is coming to a head because Musk has said he intends to be selling his car in China by January.
The dispute will rest on whether Zhan can defend himself from accusations of so called "bad faith" trademark registration; in other words whether or not Zhan register the word "Tesla," its Chinese equivalent, 特斯拉, Tesla's "T" shaped badge, and Tesla's logo (which includes the badge and the distinct font spelling out "TESLA") with the intention of blackmailing Tesla.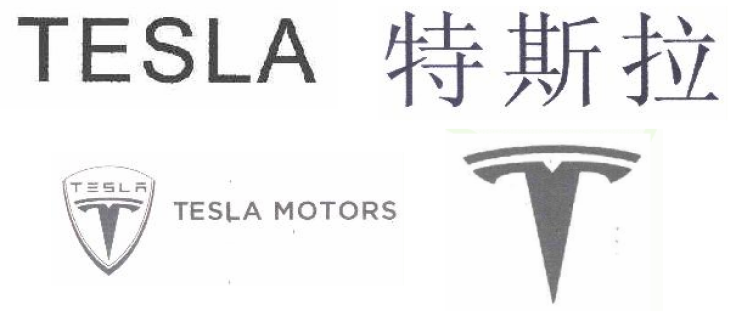 According to these documents, Zhan's legal rights to the trademark are currently in "review of adjudication on opposition," meaning that the trademark office has not yet granted Zhan the trademarks because they have been challenged, presumably by Tesla.
Like most countries, excluding the U.S., Britain and former British colonies, China uses the "first to file" principle in its trademark law, which essentially means that the first person to have a trademark registration approved locally owns the rights to that trademark. That right may be challenged in court based on whether the plaintiff – in this case Tesla Motors – can prove in court that the defendant acted in bad faith by registering a trademark in order to hold it blackmail.
Another factor that will affect the outcome of this dispute is whether a court can be convinced that when Zhan first applied for the Tesla trademarks back in 2006 the brand was not well known in China at the time, an important distinction in trademark law. If Zhan can assert the Tesla brand was not widely recognized in China at the time of his filing, it would bolster his case. This particular aspect of trademark law puts so-called "mid-tier" companies at a disadvantage that brands like Ford or McDonald's don't have because those large multinationals have heavy global brand recognition.
According to the trademark office's online database, Zhan applied for trademarks for three other companies, suggesting a pattern of trolling that Tesla could use to prove bad faith.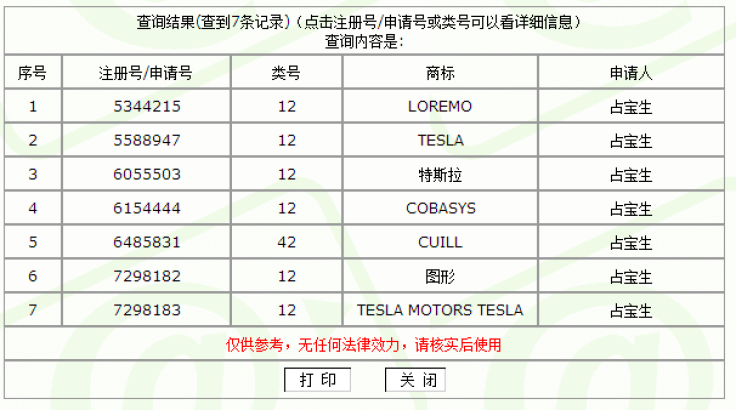 In 2006, Zhan filed for the Loremo trademark. Loremo was a Marl, Germany-based automaker founded in 2000 that focused on creating prototype vehicles with low weight and air resistance. By 2010 the company was inactive, citing lack of capital financing.
In 2007, Zhan requested the Chinese trademark for Cobasys LLC, a supplier of nickel metal hydride batteries and battery control systems for automotive applications. The company owns more than 100 patents related to NiMH battery technology.
A year later, Zhan attempted to file a trademark for Cuill, a now defunct search engine founded in 2008 by former employees of Google Inc. (NASDAQ:GOOG).
In addition to Zhan's history of filing trademark registrations, he's also a prolific claimer of domain names. He currently not only owns the URLs tesla.com.cn, teslamotors.com.cn and tesla.cn. He also owns several beauty and cosmetics-themed web addresses that all point to this site.
© Copyright IBTimes 2023. All rights reserved.