Trampled To Death By Cows: It Happens More Often Than You Think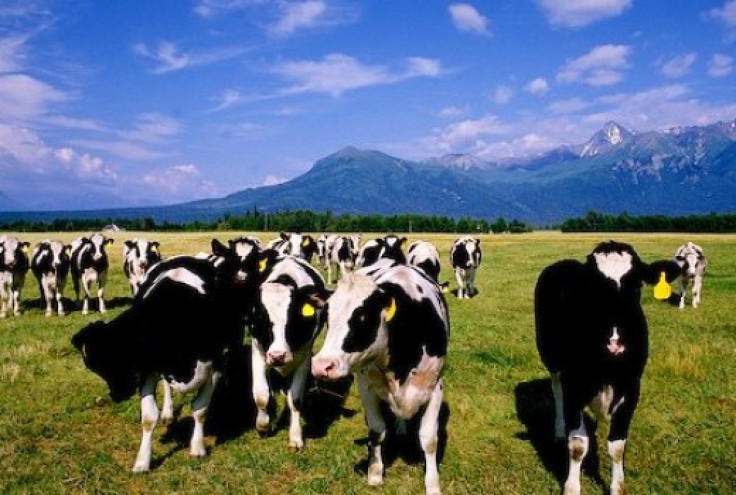 A woman who was walking her dog in a rural field in Wiltshire, in the southwest of England, was trampled to death by cows.
Wiltshire Police said "there do not appear to be any suspicious circumstances" surrounding the death of the woman, who was identified as 68-year-old Sandra Wiltshire, a resident of Chippenham, the village where the incident occurred.
The dog apparently survived the attack and will be treated by a veterinarian.
While the tragic incident certainly has its bizarre and even humorous elements, the danger posed to humans by cattle -- generally viewed as slow and docile creatures -- is no joke.
Several people across Britain have been gravely injured, even killed, by stampeding and charging bovine.
Earlier this summer, a 46-year-old male hiker in County Durham in the northwest of England, suffered life-threatening injuries after he was trampled by cows. The man suffered a fractured skull and chest injuries in the incident.
"He and his wife were just walking on a public footpath when they were attacked by cows," said a local ambulance official.
"He climbed over a stile [set of steps] on to the other side of the stone wall, then he just collapsed. His wife somehow escaped uninjured. He's done very well to get up and get away from them. How he's got out alive, I do not know. He's very, very sick."
Three years ago, the deaths of four people trampled by cows within a period of two months led Britain's principal farming union to issue a warning.
The National Farmers Union (NFU) said in a statement that cows can become dangerous, especially in the presence of their calves, or if human walkers are accompanied by dogs.
"The cattle are interested in the dog, not the walker," said Robert Sheasby, rural surveyor at the NFU.
"As the cattle try to get the dog, there's a high chance they will get the walker too."
In that summer of 2009, a veterinary surgeon named Liz Crowsley was crushed to death by a mob of cows in the Pennine Hills, while walking with her two dogs.
In Derbyshire, a 65-year-old man named Barry Pilgrim was trampled to death by a cow. Soon afterwards, near Cardiff, Wales, a 63-year-old woman named Anita Hinchey, who was also walking her dog, met a similar fate.
In the fourth such attack, a 75-year-old farmer named Harold Lee was killed by his own herd of cows in the hamlet of Burtle in the West Country. Reportedly, the cows may have become unnerved by the sound of a passing ambulance siren.
Perhaps the most high-profile incident of a cow attack occurred in June 2009 when the former Home Secretary David Blunkett was badly injured after cow charged at him and his guide dog in a field in England's Peak District.
The NFU and the Ramblers' Association (a British charity that promotes hiking) both cautioned that when passing through a cow field, walkers should release dogs from their leashes.
NFU also noted that the risk of cow-trampling is especially high in the spring, when calves are very young and their mothers are extraordinarily protective.
"It has to do with spring and autumn calving," said Sheasby.
"In the autumn, cattle will be coming into winter housing but in spring you want them out grazing the grass."
Reuters reported that Britain has about 7.5 million cows.
A blogger named RickRidesHorses, the author warns that cows are very fast, heavy, powerful creatures and many people are unable to escape the advance of a herd.
An estimated 20 people are killed in the U.S. by cows annually, he added.
Rick suggests the following measures to avoid being trampled to death by the creatures: avoid entering fields with cows; let go of your dog if cows charge; don't try to outrun cows; run downhill if it's possible; and make yourself as loud and big as possible.
© Copyright IBTimes 2023. All rights reserved.